Seriously Quiet Beach at Robert Moses State Park Is Worth the Schlep
Long Island's southern shore boasts plenty of beaches, but if you're looking for a true "get away from it all" shore, consider the five-mile stretch of picturesque oceanfront at Robert Moses State Park.

This Fire Island gem, just 90-minutes from Midtown by car, offers four "Fields," or beaches, for visitors to choose from, each with its own character, crowd and various amenities. Two are "radio-free," making your quest for a peaceful family daycation a bit more attainable. Check out our insider info and tips, including how to get there via public transportation.
The Scene: The beach at Robert Moses State Park is organized into four sections: Fields 2, 3, 4 and 5. All are similar in terms of layout, however, my family generally heads to Field 2 as it tends to be the least crowded. It's right near the park's 18-hole pitch and putt course, so it's fairly tranquil on its western side. Like all beaches, the earlier you arrive, the quieter it is, and Field 2 is just a 10-minute walk from the parking lot. That said, many families opt for the much-busier Field 5, because it's home to many of the park's attractions, including a playground. Fields 3 and 4 are radio-free zones, so they also tend to be less noisy.
RELATED: Top 5 Beaches for NYC Families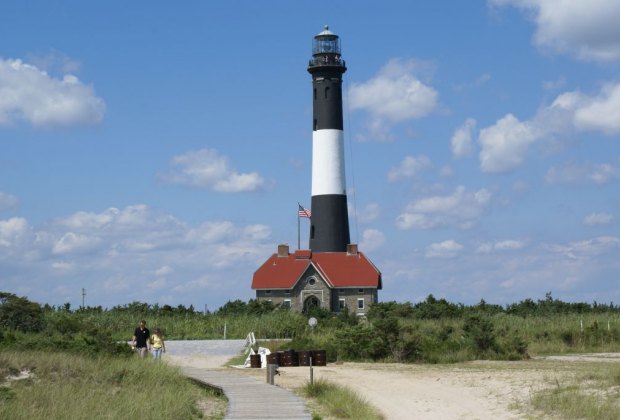 The historic Fire Island Lighthouse offers lovely views of the park.
Attractions and Bathrooms: Field 5 is the beach's eastern-most section, and is closest to the iconic Fire Island Lighthouse. Kids will enjoy scoping out the pretty dunes and frequent wildlife sightings (rabbits! deer!) along the boardwalk nature trail that leads to the lighthouse. Read about the lighthouse's history upon arrival, or intrepid families who climb to the top (kids must be at least 42-inches tall) will be rewarded with fantastic panoramic views. Field 5 also boasts a large, colorful playground with multiple slides and climbing structures. At Field 4, there are volleyball courts and bike rentals. Picnic and grilling areas are peppered throughout the beach.
Each Field has a bathhouse with restrooms and water spouts to rinse off your feet. Bring wipes and hand sanitizer as the bathrooms aren't that clean, especially as the day wears on.
Surfing and fishing are allowed in designated areas, and all Fields offer free Wi-Fi. But what are you doing on your phone, anyway?!
RELATED: 10 Best Beach Playgrounds in Long Island
Food: Snacks and drinks are available for purchase at the Field 4 concession, so if that's not where you're going, you're better off packing a picnic. All you'll find at Field 2 is the ice cream guy who roams the shore.
Cost: Parking is $10 per car during peak summer days at this state park. It drops to $8 after Labor Day week. Rent chairs and umbrellas for $10 each.
Getting There: Robert Moses State Park is about a 90-minute drive from Midtown Manhattan, depending on traffic. Each Field has its own lot with multiple beach access points. No car? The Long Island Rail Road offers a Robert Moses State Park summer package that includes train tickets to the Babylon station, with connecting bus service to the beach.
Find more seasonal activities, including a roundup of NYC beaches reachable by subway in our Summer Fun Guide.
(Top image by Paul Albertella via Flickr)
Places featured in this article:
---
Robert Moses State Park