New Splash Pad at Jones Beach is Sure to Delight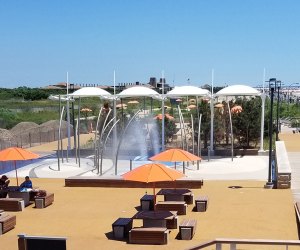 Let your kids spray away the heat and sprint away their energy against a sapphire horizon studded with beach umbrellas at Jones Beach State Park's new splash pad. The facility is located at the Central Mall area by Parking Field 4 and opened in late June.
Toddlers, school-aged kids, and tweens will revel in their ability to push the round buttons and send water cascading through stalk-shaped pipes and pattering to the ground, where it gurgles up around their feet.
This showery diversion is a great addition to Long Island's top sprinkler parks for kids and another reason why Jones Beach, in central Nassau, is one of our favorite Long Island beaches for families.
"The water sprays for six minutes," says Jeffrey Mason, assistant director of Jones Beach State Park. "And the next time someone presses a button, it sprays in a different pattern. The concept is that the poles are different sizes to make them look like blades of grass on a dune." The pipes spritz fresh, recycled water on playground patrons.
RELATED: Boardwalk destinations on Long Island sure to delight kids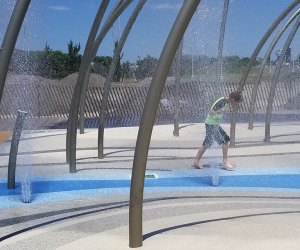 The splash pad is an alternative to an ocean cool down.
The pad is conveniently located next to the Boardwalk Cafe, where junior beachgoers can nosh on chicken tenders or fries and parents can savor paninis or Thai noodles. Picnic tables with apricot umbrellas line the splash pad, making it a great stop for a pre-ocean nibble or post-sand castle cool-down.
A dedication ceremony on June 21, 2018 celebrated the opening of the cafe and splash pad. The water play area is also adjacent to a gaming section with shuffleboard courts and ping pong tables, and a short walk from the beach shop and ice cream stand. Global element park developer Wild Play plans a ropes course abutting the splash pad that is expected to include zip lines. Construction on the course should begin late in summer 2018, and be ready for climbing and zipping in summer 2019.
RELATED: Thrill to a pair of new water rides at LI's Splish Splash

What child wouldn't welcome a day at the splash pad?
While the splash pad is FREE, Jones Beach charges $10 for parking. The water play area opens along with the rest of the beach at 6am each day, and begins shutting down at about 11:15pm.
To get to Jones Beach, take the Northern State Parkway or Southern State Parkway to the Meadowbrook Parkway south or Wantagh Parkway south exits. Both the Meadowbrook and Wantagh parkways merge into Ocean Parkway near Jones Beach, and you can follow the signs to Field 4. Alternatively, visitors can take the Long Island Rail Road to the Freeport station (on the Babylon branch) and transfer to the N88 shuttle bus into the park. Round trip is $21 for adults from Penn Station or Brooklyn with substantial discounts for children.
Photos by the author