New Water Slides at LI's Splish Splash Are Sure to Thrill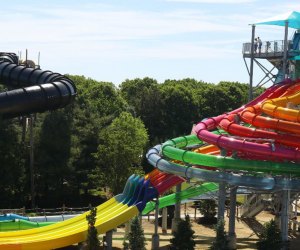 Riptide Racer is the ultimate water racing slide. Four participants line up at the tippy top and race headfirst on mats down enclosed tubes. The aerodynamic mats were created especially to reach warp-like speeds. It's a mad dash to the finish line down these uber slick flumes to see who will capture the title of "Ultimate Riptide Racer."
Then head over to Bombs Away, the aqua-launch dueling slides, where two racers line up on 300-foot-long slides perched 50 feet in the air. Get a good look at the whole park and more from this vantage point before the floor—and your jaw—drops beneath you. The translucent looping tube allows guests to peep outside while getting soaked inside. After falling 26 feet per second, see which racer slides in first.
RELATED: More great things to do with kids and families in Riverhead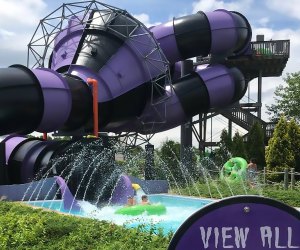 Ready for more thrills? Head into the darkness in Dr. Von's Tunnel of Terror.
Still feel the need for speed? Take a gnarly trip down Bootlegger's Run, the only water coaster in New York State or black out in Dr. Von's Tunnel of Terror, a water slide in the dark with whooshing and whirling 360-degee spins and—gulp —a 40-foot drop.
Meander around the 96-acre park to experience 20 water slides, two wave pools, a large kiddie area, a 1,300-foot lazy river, tropical bird show and more. Toddlers and thrill seekers alike will find their spot at this outdoor oasis.
Explore Nearby
Get deep discounts at Tanger Outlets in Riverhead and then have some fishy fun at the Long Island Aquarium. Rev up your engines at Riverhead Raceway to catch a demolition derby or take a break indoors at Safari Adventure for climbing and bouncing fun.
Photos courtesy of Splish Splash