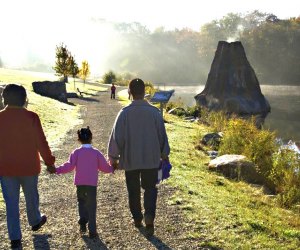 Summer Day Trips for Long Island Families
While there are plenty of things to do on Long Island during the summer months, sometimes it's nice to change your routine and explore a different area. And how lucky are we, that there are so many kid-friendly destinations just a ferry, train, or car ride away? Families can spend the day exploring these locations and all they have to offer.
Here are a few of our favorite easy getaways from Long Island, including nearby Connecticut, New Jersey, Rhode Island, New York City, and upstate New York destinations.
And for what's happening back on Long Island, be sure to check out our Summer Fun Guide.
Sign up for our FREE newsletters to get posts like this delivered to your inbox.
Note: Travel distances assume the absence of traffic. But congestion might be inevitable on a summer weekend.
New York City
The number of family-friendly happenings in New York City on a given day is enough to overwhelm most parents. The city boasts top-notch museums, creative play spaces, amazing parks and playgrounds, and even amusement parks, all of which pump out fun children's programming year-round. Even NYC restaurants get into the game, hosting kids play spaces, events, and cool DIY opportunities such as ice cream and chocolate making. In fact, there are at least 100 must-do things to share with your kids in New York City before they grow up. And don't forget to check out all the spots where kids can eat FREE.
Family theater abounds on Broadway. Kids can see the world in miniature at Gulliver's Gate near Times Square. Last year the Brooklyn Children's Museum introduced a new hands-on exhibit, ColorLab, a family art studio that is open Thursdays through Sundays.
Elsewhere in New York State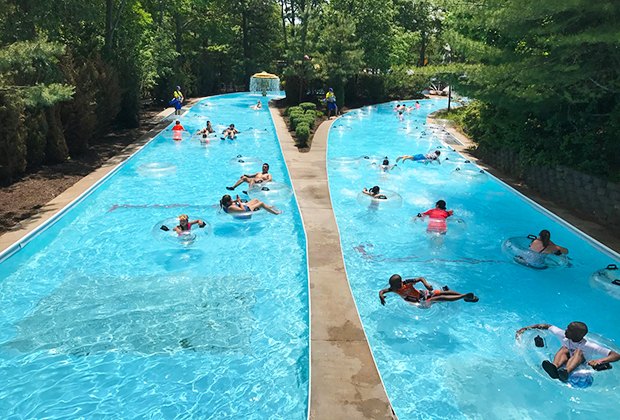 Float along Splish Splash's lazy river for a relaxing thrill. Photo courtesy of the park
The East End
A day trip out east offers plenty of great places to explore with the family, including scenic lighthouse visits. There are about 20 lighthouses from New York Harbor to Montauk and the North Fork, including four you should not miss. Our Hamptons and North Fork family guide offers plenty of day trips to enjoy, including farm stands, petting zoos, family-friendly beaches, and more. What water-loving child wouldn't appreciate a visit to Splish Splash? Or a chance to see the sharks at the Long Island Aquarium? Best of all, it can be accessed from central Suffolk in less than an hour.
Hudson Valley
The Hudson Valley is a year-round destination for families all across the tristate area. It's loaded with natural beauty, including parks, lakes, and mountains, as well as delicious food, wonderful art museums, theaters, and play spaces. We rounded up 30 things to do with the family in the Hudson Valley, which can be reached in about two hours from central Long Island.
Kartrite Amusement Park — Monticello
It's just a 90-minute drive to New York's biggest water park. Attractions include a jungle lazy river, awesome water slides, and a Puddle Duck Lagoon for the teeniest visitors. There's even a spa, where mom can chill, and a nice selection of dining spots within the water park. Dry kids can check out the arcade, bowling alley, or a variety of arts and crafts activities. Specials include an AAA member rate, an advanced purchase rate, and a special military and service rate.
RELATED: 100 Things to Do With Kids on Long Island Before They Grow Up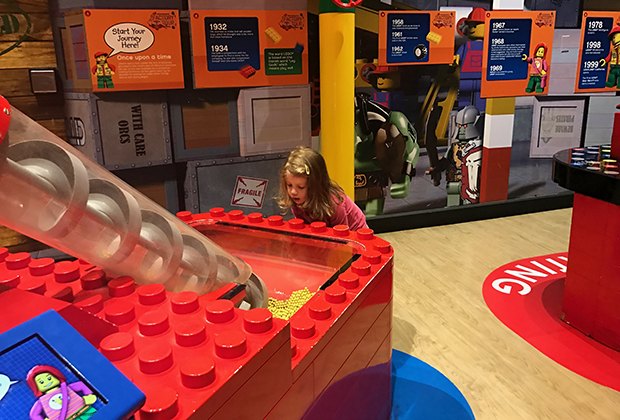 Your child can channel his or her design creativity at LegoLand in Yonkers. Photo by Rose Gordon Sala
LegoLand Discovery Center — Yonkers
Visitors can enjoy a 32,000-square-foot indoor destination featuring more than 3 million Lego bricks, two Lego rides, hands-on play areas, a 4-D cinema, and a massive play structure to explore. There is also a build-and-test area that allows participants to build cars and race them around the track. It's about a 90-minute car ride from central Long Island.
SplashDown Beach — Fishkill
Pack up the car and spend a splashy day upstate at this water park, located about a 90-minute drive from New York City. Attractions for all ages include a tide pool, lazy river, and a variety of larger and smaller water slides. Daily rates are $33.99 for those 42 inches tall and over. Discount rates are available after 3 pm, or for seniors. A season pass pays for itself in three visits. Make a day of it and visit Cracker Barrel or the I-84 diner for breakfast.
Connecticut
Bridgeport
Bridgeport might not pop up on your bucket list of day trips. But with an easy ferry connection from Port Jefferson, minor-league baseball and hockey games, children's theater, and more, Long Island families are increasingly making a day of it in Connecticut's largest city. We've featured what you need to know when taking a day trip to Bridgeport, including 25 of our favorites things to do there.
RELATED: FREE Outdoor Movies for Long Island Kids, Summer 2019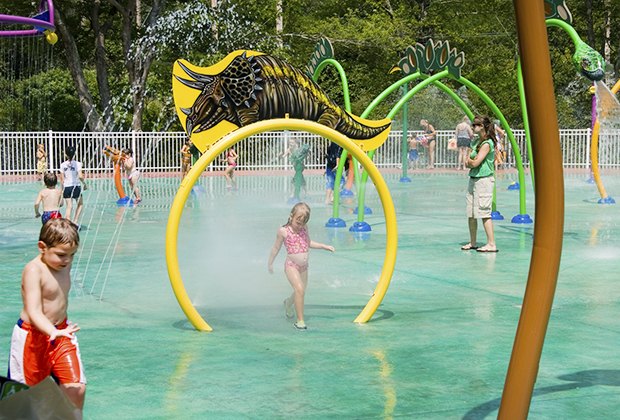 See the "dinos" lurking in the woods and then cool off in the splash pad at Dinosaur Place. Photo courtesy of Dinosaur Place at Nature's Art Village
Dinosaur Place at Nature's Art Village — Montville
Dinosaur enthusiasts will find plenty to like at this prehistoric explorium, where 1½ miles of trails are lined with make-believe dinos. There's also a playground fit for a T-rex, a moon bouncer, and New England's largest splash pad. Nature's Art Village can be accessed via both the Port Jefferson and Orient Point ferries.
RELATED: Nature Centers Sure to Delight LI Kids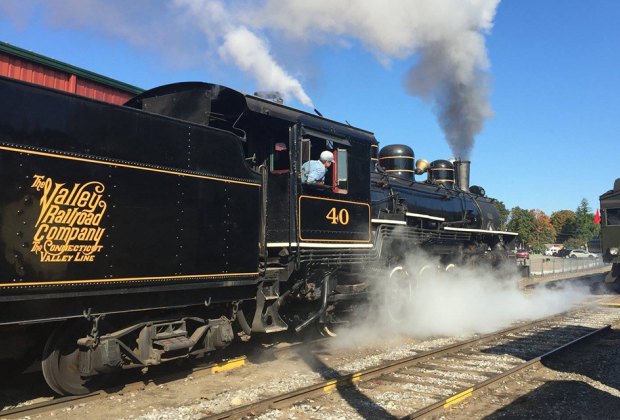 All aboard for a ride back in time on the Essex Steam Train in Connecticut. Photo courtesy of the Essex Steam Train and Riverboat
Essex Steam Train and Riverboat — Essex
Ideal for the Thomas the Tank Engine fan in your life, a real steam locomotive pulls vintage coaches through the Connecticut villages of Essex, Deep River, and Chester. A riverboat, the Becky Thatcher, takes passengers on a 75-minute cruise along the Connecticut River. Essex is a mere 25 minutes from the New London ferry terminal.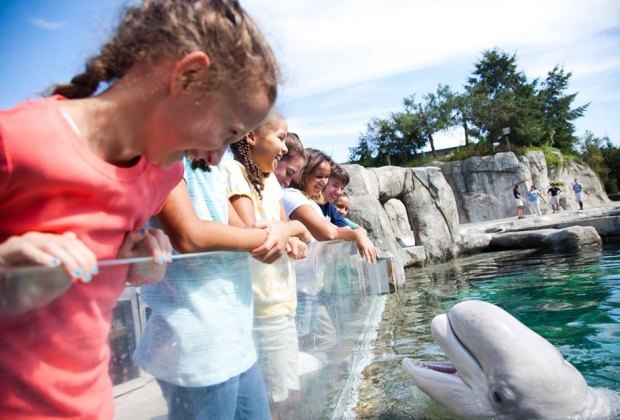 Delight in New England's only collection of beluga whales at Mystic Aquarium. Photo courtesy of the aquarium
Mystic Aquarium — Mystic
Similar to the Long Island Aquarium in Riverhead, children with an aquatic curiosity will delight in the fish, sea lion, stingray, and penguin exhibits. Mystic Aquarium also boasts New England's only collection of beluga whales. The aquarium offers educational programs for children and families, and discounted admission for those who are planning to also visit Mystic Seaport.
Mystic Seaport — Mystic
Founded in 1929 to celebrate America's maritime history, Mystic Seaport has become a national center for marine research and education. Included on the facility's 19 acres are a re-created 19th-century coastal village, a working shipyard, and more than 500 historic watercraft, including the 1841 whale ship Charles W. Morgan. Both Mystic destinations can be accessed easily from the Orient Point-New London ferry.
RELATED: Guide to LI's Best Parks and Playgrounds

Get scooped up on one of the construction-like rides at Diggerland USA. Photo courtesy of Diggerland USA
New Jersey
Cape May Zoo — Cape May
Located a two-hour drive from New York City, the zoo in Cape May features guided tours, animal encounters, and pavilion rentals. The zoo is absolutely FREE, and is open every day of the year except for Christmas. A nearby adventure park will let athletic kiddos climb away on ropes courses and zip lines. If you are staying a little longer, the community of Cape May is known for its pristine beaches and quaint shopping.
Diggerland USA — West Berlin
For those families with kids who just can't get enough of construction machines, Diggerland USA is the place. This construction-themed adventure park lets kids and adults ride and operate real-life construction equipment. And this season the park introduces five new attractions, including a zip line, farm tractors, and a 60-foot high hydraulic lift ride, making this nearly three-hour drive worth it. Diggerland is open on weekdays from 10am until 6pm. It stays open until 7pm on weekends.
Field Station: Dinosaurs — Leonia
This outdoor, dinosaur-themed adventure park features more than 30 life-sized, realistic dinosaurs that come to "life." There are also a number of interactive stations, including a geology table, where kids dig through native stones to find items that resemble fossils planted by staff. Expect a 90-minute drive from central Long Island.
Six Flags Great Adventure — Jackson
It's about an hour-and-a-half drive from Long Island to the magic of Six Flags Great Adventure. Your ticket includes kids' rides and family rides, as well as animal attractions. Check out the dining both in and near to the park, as well as awesome outlets close by.
Rhode Island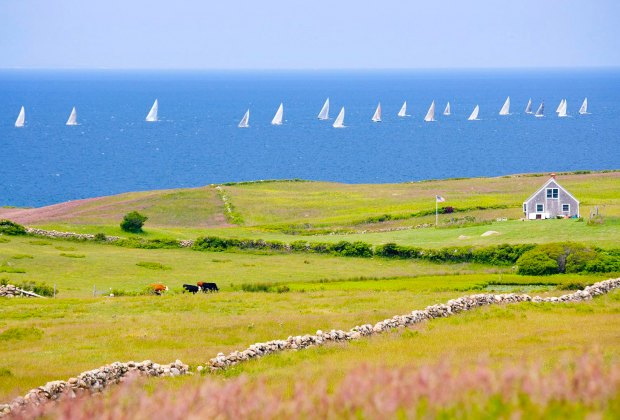 awe
Is it Ireland? Scotland? No, it's Block Island, off the Rhode Island coast. Photo courtesy of Block Island Tourism Council
Block Island
Consider taking your child to Crescent Beach near Old Harbor, a two-mile expanse that locals call Baby Beach for its gentle surf and tide pools crawling with fiddler crabs. For older children, try Benson Beach for boogie board and kayak rentals. Hikers appreciate Rodman's Hollow on the southwest corner of the island, a scenic collection of wetlands, forests, and fields ideal for family hiking and rare-bird watching. Bring a bicycle or rent one at the ferry terminal on the island. The ferry ride from New London is about 90 minutes; add another hour-plus to cross from Orient Point to New London. A ferry connects directly from Montauk during the summer and early fall.
Newport
With its opulent mansions, art galleries, and antique dealerships, Newport might seem more like a CEO's getaway than a child-friendly destination. But look closer and you'll find plenty for kids from toddlers to teens. Take a narrated cruise around Newport Harbor aboard the Amazing Grace; or visit Fort Adams, the nation's largest coastal fortification, whose open acreage is perfect for picnic and play time. Enjoy the cliff walk along the bluffs for great views of the Atlantic Ocean. If music's your thing, the Newport Folk Festival is a big draw in July and even has live music for kids. Newport is about four hours by car from central Long Island or just over an hour from the New London ferry terminal.
Whale-Watching Tour on Frances Fleet — Narragansett
Thirty minutes from Providence or Newport, this excursion could be the highlight of a weekend getaway. This whale-watching tour is a bit more expensive than others, but it's also longer, at 4½ hours. You're likely to see finbacks, and other possibilities include humpbacks, minke, pilot, false killer, and even a sei whale. If you don't see a whale, you'll receive a voucher for another whale trip or a discount off a deep-sea fishing trip. Narragansett is less than an hour from the New London ferry terminal.
Massachusetts

Indulge in 19th-century life at Old Sturbridge Village in Massachusetts. Photo courtesy of the village
Old Sturbridge Village — Sturbridge
Old Sturbridge Village, the largest outdoor history museum in the Northeast, depicts a rural New England town of the 1830s. Included in its 200 acres are more than 40 original buildings, including homes, meeting houses, a school, farm, and three water-powered mills. Children can interact with farm animals and the museum's costumed staff. A picnic area is available, and you can feed your sweet tooth with the museum's famous 1830s-era cookies and ice cream. Sturbridge is about 90 minutes from both the New London and Bridgeport ferry terminals.
The Amazing World of Dr. Seuss Museum — Springfield
From Green Eggs and Ham to The Lorax, there are few things more iconic to childhood than a Dr. Seuss book. Relive your and your children's favorite books at this museum dedicated to the life and work of the Springfield native. Little ones will delight in the chance to take a picture with life-sized sculptures of characters such as Horton and the Cat in the Hat, and explore the many interactive exhibits over two floors. Don't forget to head outdoors for even more Seuss sightings at the Dr. Seuss National Memorial Sculpture Garden. Museum admission includes entry to four other Springfield museums that are adjacent to the Dr. Seuss Museum, making this a five-for-one value deal well worth the 90-minute drive from either the Bridgeport or New London ferry terminals.
A version of this story first was published in 2015. Writer Rebekah Yahoves contributed additional reporting.