All the Top Summer Day Trips Near Long Island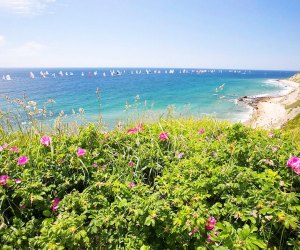 6/26/22
- By
Natalie Ferro Aurigema
Looking for the best day summer day trips near Long Island? Here is a comprehensive list of all your options.
While there are plenty of things to do on Long Island during the summer months, sometimes it's nice to change up your routine and explore a different locale. And how lucky are we that there are so many kid-friendly destinations just a ferry, train, or car ride away?
Here are a few of our favorite easy getaways from Long Island, including nearby Connecticut, New Jersey, Pennsylvania, Rhode Island, New York City, and upstate New York destinations.
To keep tabs on what's happening back on Long Island, be sure to check out our Summer Fun Guide.
NYC has plenty of exciting destinations to explore for all age groups. Might we suggest a day trip to the charming Little Island or the bewitching Harry Potter New York? If you're looking for one-of-a-kind playgrounds, kids will love exploring The Battery Playscape, which is three times the size of the original playground it replaced. If that's not enough to have you heading for a westbound LIRR train, check out this list of 50 things we can't wait to do this summer in NYC.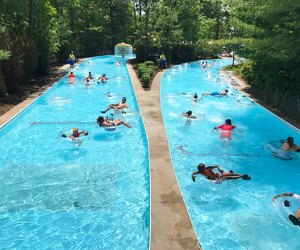 Float along Splish Splash's lazy river. Photo courtesy of the park
Day Trip Destinations Elsewhere in New York State
You don't have to leave Long Island to check out everything the East End has to offer. The East End is known for its wineries, and quite a few of them happen to be family-friendly. If wine isn't your thing, sample a brewery. Jamesport Farm Brewery and Long Island Farm Brewery, which is adjacent to Waterdrinker, are perfect for a sunny day with the family. Our Hamptons and North Fork family guide offers plenty of day trips to enjoy, including farm stands and pick-your-own destinations, petting zoos, family-friendly beaches, and more. What water-loving child wouldn't appreciate a visit to Splish Splash? Or see some sharks and tackle The Eye-Opener at Long Island Aquarium? Best of all, it can be accessed from central Suffolk in less than an hour.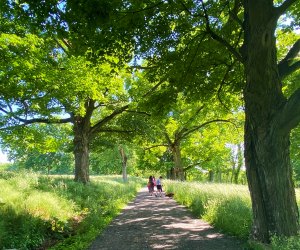 Rockefeller State Park has miles of trails. Photo by Sara Marentette
The Hudson Valley and Westchester are year-round destinations for families all across the tri-state area. The area is loaded with natural beauty, including parks, farms, lakes and mountains, as well as delicious food, wonderful art and children museums, theaters, and play spaces. We rounded up 35 things to do with the family in the Hudson Valley, which can be reached in about 2 hours from central Long Island.
RELATED: 100 Things to Do With Kids on Long Island Before They Grow Up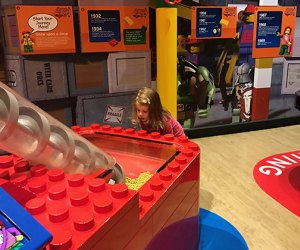 Your child can channel his or her design creativity at Legoland in Yonkers. Photo by Rose Gordon Sala
Visitors can enjoy a 32,000-square-foot indoor destination featuring more than 3 million Lego bricks, two Lego rides, hands-on play areas, a 4-D cinema, and a massive play structure to explore. There is also a build-and-test area that allows participants to build cars and race them around the track. It's about a 90-minute car ride from central Long Island.
Hike the trails to get one with nature, then cool off at the swimming pool. The Bear Mountain Zoo is small and quaint, perfect for little ones to conquer. The zoo is home to orphaned and rehabilitated animals native to New York. Best of all, if you're an empire pass holder, this park is FREE. Otherwise, it is $10 per car and a suggested donation of $1 for the zoo.
Pack up the car and spend a splashy day upstate at this water park, located about a 90-minute drive from New York City. Attractions for all ages include a tide pool, a lazy river, and various larger and smaller water slides. Daily rates start at $48.25 for those 42 inches tall and over. Discount rates are available after 3pm. A season pass pays for itself in three visits. Make a day of it and visit Cracker Barrel or the I-84 Diner for breakfast.
The gates recently opened at Legoland New York Resort. Tiny builders will flip for this amusement park located in Goshen, New York, the third of its kind in the U.S. The park is geared toward kids 2-12 and features seven worlds filled with rides and attractions—currently, only six are open. Lego Masters offer several building workshops to help take creations to the next level.
Considered by some to be the "jewel in the crown" of the Fire Island National Seashore, Sailors Haven is home to a beautiful, wide-open beach and the 300-year-old Sunken Forest. The 1.5-mile walk takes you from the bay to the ocean. Boats leave several times a day from the Sayville Ferry Dock.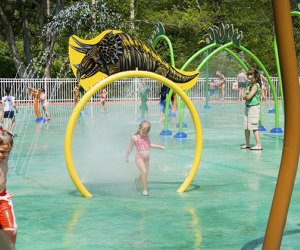 See the "dinos" lurking in the woods and then cool off in the splash pad at Dinosaur Place. Photo courtesy of Dinosaur Place at Nature's Art Village
Summer Day Trips in Connecticut
Dinosaur enthusiasts find plenty to like at this prehistoric explorium, where 1½ miles of trails are lined with make-believe dinos. There's also a playground fit for a T. Rex, a moon bouncer, and New England's largest splash pad. Nature's Art Village can be accessed via both the Port Jefferson and Orient Point ferries.
Bridgeport might not pop up on your bucket list of day trips. But with an easy ferry connection from Port Jefferson, minor-league baseball and hockey games, children's theater, and more, Long Island families are increasingly making a day of it in Connecticut's largest city. We've rounded up 25 of our favorites things to do in this coastal town.
RELATED: 15 Connecticut State Parks and Forests That Are Fun to Visit with Kids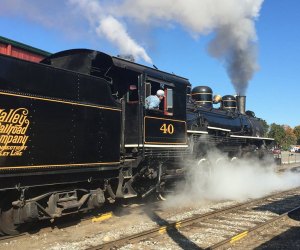 All aboard for a ride back in time on the Essex Steam Train in Connecticut. Photo courtesy of the Essex Steam Train and Riverboat
Ideal for the Thomas the Tank Engine fan in your life, a real steam locomotive pulls vintage coaches through the Connecticut villages of Essex, Deep River, and Chester. A riverboat, the Becky Thatcher, takes passengers on a 75-minute cruise along the Connecticut River. Essex is a mere 25 minutes from the New London ferry terminal.
The Maritime Aquarium in Norwalk is the only aquarium that focuses on the Long Island Sound. Attractions include living exhibits where kids can safely touch jellyfish, sharks, and stingrays. Visitors also have the opportunity to create a digital fish for everyone to see on a massive screen.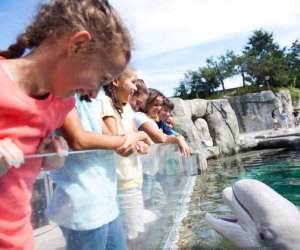 Delight in New England's only collection of beluga whales at the Mystic Aquarium. Photo courtesy of the aquarium
Founded in 1929 to celebrate America's maritime history, the Mystic Seaport has become a national center for marine research and education. The facility's 19 acres are a recreated 19th-century coastal village, a working shipyard, and more than 500 historic watercraft, including the 1841 whaling ship Charles W. Morgan.
Nearby, you'll find the Mystic Aquarium, where children with an aquatic curiosity will delight in the fish, sea lion, stingray, and penguin exhibits. The Mystic Aquarium also boasts New England's only collection of beluga whales. The aquarium offers educational programs for children and families and discounted admission for those visiting the Mystic Seaport.
RELATED: Guide to LI's Best Parks and Playgrounds

Get scooped up on one of the construction-like rides at Diggerland USA. Photo courtesy of Diggerland USA
Summer Day Trips in New Jersey
For families with kids who just can't get enough of construction machines, Diggerland USA is the place to go. This construction-themed adventure park lets kids and adults ride and operate real-life construction equipment. The 2021 season brings the opening of its brand new water park, dubbed The Water Main.
Located a two-hour drive from New York City, the zoo in Cape May features guided tours, animal encounters, and pavilion rentals. The zoo is absolutely FREE and open every day of the year except for Christmas. A nearby adventure park lets athletic kiddos climb away on ropes courses and zip lines. If you are staying a little longer, the community of Cape May is known for its pristine beaches and quaint shopping.
This outdoor, dinosaur-themed adventure park features more than 30 life-sized, realistic dinosaurs roaring to "life." There are also several interactive stations, including a geology table, where kids dig through native stones to find items that resemble fossils planted by staff. Expect a 90-minute drive from central Long Island.
It's about an hour-and-a-half drive from Long Island to the magic of Six Flags Great Adventure. Your ticket includes kids' rides and family rides, plus the thrilling new Jersey Devil coaster. Purchase separate tickets for the drive-thru safari attraction or brand new Xpedition Dino. There's also a water park on-site that requires a separate admission fee.

Even tots will love the water park at the American Dream Mall. Photo by Gina Massaro
Some of the mega-mall attractions include an indoor skating rink, North America's largest indoor water park, a theme park, aquarium and mini-golf. One stop every 80s and 90s kid-turned-parent won't want to miss is the Toys 'R' Us store, featuring a two-story slide.
Summer Day Trips in Pennsylvania
If you have a little one who loves Elmo or Abby Cadabby, it's worth taking a ride to this 14-acre park in Bucks County, Pennsylvania. Sesame Place offers rides, parades, a water park, and plenty of opportunities for photo-ops. The park is large enough for a day trip but not so enormous that you walk all day.
Located less than three hours from New York, Bushkill Falls is the self-proclaimed Niagra Falls of Pennsylvania. In this 300-acre park, guests can explore waterfalls on trails that vary in length and difficulty. After your hike, little ones can sift for gemstones at the mining area or try their luck traversing the maze.
RELATED: Easy New York State Park Hikes in the Hudson Valley
Philadelphia is just over a 2-hour drive from the Nassau-Suffolk border and the City of Brotherly Love has so much to offer families, There are museums galore. The Please Touch museum is perfect for children under six to explore, learn and play, while history lovers will appreciate the Museum of the American Revolution. Be sure to leave time for the Philadelphia Zoo. It has a lot to offer, including animals you can't see at any of the NYC zoos.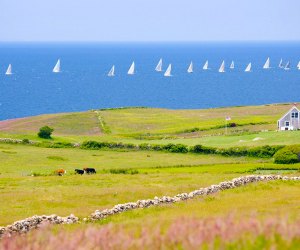 Is it Ireland? Scotland? No, it's Block Island, off the Rhode Island coast. Photo courtesy of Block Island Tourism Council
Summer Day Trips in Rhode Island
Beach walks, bike rides, and plenty of nature await on the bucolic Block Island. Consider taking your child to Crescent Beach near Old Harbor, a 2-mile expanse that locals call Baby Beach for its gentle surf and tide pools crawling with fiddler crabs. For older children, try Benson Beach for boogie board and kayak rentals. Hikers appreciate Rodman's Hollow on the island's southwest corner, a scenic collection of wetlands, forests, and fields ideal for family hiking and rare-bird watching. Bring a bicycle or rent one at the ferry terminal on the island. The ferry ride from New London is about 90 minutes; add another hour-plus to cross from Orient Point to New London. A ferry connects directly from Montauk during the summer and early fall.
Newport might seem more like a CEO's getaway than a child-friendly destination with its opulent mansions, art galleries, and antique dealerships. But look closer, and you'll find plenty for kids from toddlers to teens. Take a narrated cruise around Newport Harbor aboard the Amazing Grace, or visit Fort Adams, the nation's largest coastal fortification, whose open acreage is perfect for a picnic and playtime. Enjoy the cliff walk along the bluffs for great views of the Atlantic Ocean. If music's your thing, the Newport Folk Festival is a big draw in July—though 2022 tickets are already sold out—and even has live music for kids. Newport is about 4 hours by car from central Long Island or just over an hour from the New London ferry terminal.
Thirty minutes from Providence or Newport, this excursion could be the highlight of a weekend getaway. This whale-watching tour is a bit more expensive than others, but it's also longer, at 4½ hours. You're likely to see finbacks, and other possibilities include humpbacks, minke, pilot, false killer, and even a sei whale. If you don't see a whale, you'll receive a voucher for another whale trip or a discount on a deep-sea fishing trip. Narragansett is less than an hour from the New London ferry terminal.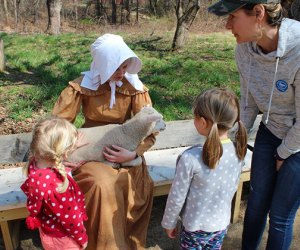 Indulge in 19th-century life at Old Sturbridge Village in Massachusetts. Photo courtesy of the village
Summer Day Trips in Massachusetts
Old Sturbridge Village, the largest outdoor history museum in the Northeast, depicts a rural New England town of the 1830s. Included in its 200 acres are more than 40 original buildings, including homes, meeting houses, a school, a farm, and three water-powered mills. Children can interact with farm animals and the museum's costumed staff. A picnic area is available, and you can feed your sweet tooth with the museum's famous 1830s-era cookies and ice cream. Sturbridge is about 90 minutes from both the New London and Bridgeport ferry terminals.
From Green Eggs and Ham to The Lorax, there are few things more iconic to childhood than a Dr. Seuss book. Relive everyone's favorite books at this museum dedicated to the life and work of the Springfield native. Little ones will delight in the chance to take a picture with life-sized sculptures of characters such as Horton and the Cat in the Hat, and explore the many interactive exhibits over two floors. Don't forget to head outdoors for even more Seuss sightings at the Dr. Seuss National Memorial Sculpture Garden. Museum admission includes entry to four other Springfield museums adjacent to the Dr. Seuss Museum, making this a five-for-one value deal well worth the 90-minute drive from either the Bridgeport or New London ferry terminals.
A version of this story was first published in 2015. Writer Rebekah Yahoves contributed additional reporting.