25 Things to Do in Bridgeport, CT with Kids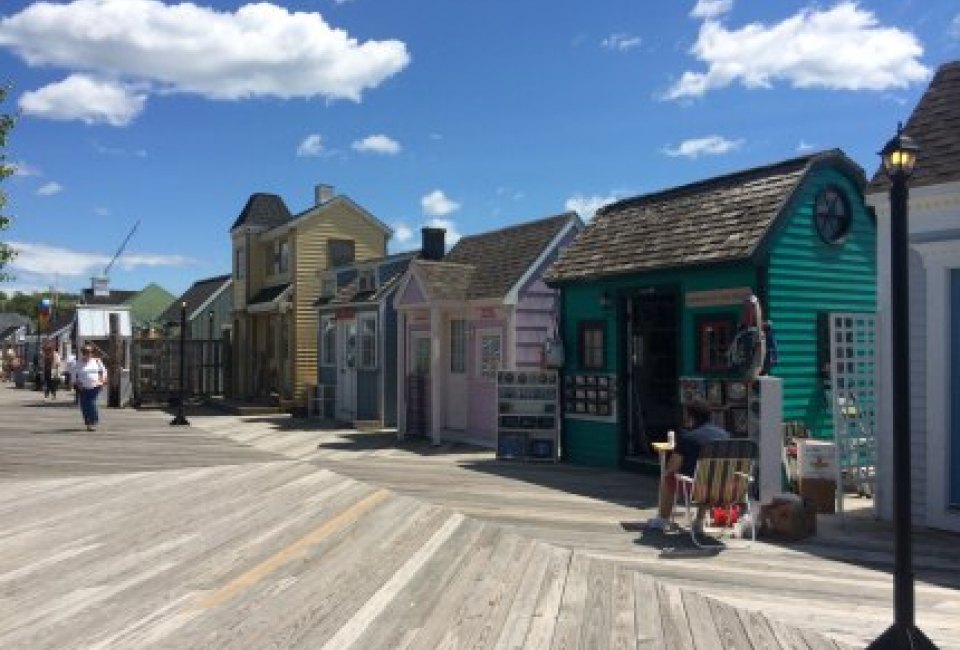 1/6/15
- By
Brandee Gilmore
It hasn't been the flashiest city on the map for decades, or maybe ever, but Bridgeport still has a HEAP to offer families in terms of fun. It is a coastal city, and there are lovely pockets of shoreline to explore here, just like the rest of Fairfield County. It also has a wide range of entertainment venues, whether your tribe is into sports or science. Most of all, Bridgeport has a Mayor in place that deeply believes in the Park City and its potential -- and he isn't alone, as evidenced by a handful of devoted developers at work. If you've been inclined to write off this town, we'd suggest checking this list, and keeping an ear to the ground for what we might add next!
1) St. Mary's by-the-Sea: this tight-knit Catholic enclave boasts the best stroller path around. Park on Harborview and wind your way up to Grovers Ave., past the Black Rock Yacht Club and along the sea wall. If you venture far enough south, you'll be treated to watching recreational fisherman haul in what bites.
80 Grovers Ave, Bridgeport, CT 06605
203-335-0587
2) Harborview Market: the epicenter of St. Mary's, it offers a full short-order menu, excellent coffee and fresh-baked cookies to write home about.
218 Harborview Avenue, Bridgeport, CT 06605
203-367-7336
3) Captain's Cove Seaport: it's like an itty-bitty piece of Key West floated up the Gulf Stream and parked here. Shopping, music, and beach food that hits the spot -- read the full review here.
1 Bostwick Ave., Bridgeport, CT 06605
(near the intersection of Bostwick Ave and Morris St.)
203-690-3261
4) Dolphin's Cove Restaurant & Marina: sits right on the Sound with a massive deck, serving up lobster and Portuguese-style seafood. There is also a market for lobsters, clams and seasonal conch and crab.
421 Seaview Avenue, Bridgeport, CT 06607
203-335-3301
5) Beardsley Zoo: it's Connecticut's zoo. Nothing here will blow your mind, but it will adequately blow off an afternoon with toddlers.
1875 Noble Avenue, Bridgeport, CT 06610
203-394-6565
6) The Arcade: Bridgeport boasts some beautiful architecture, and this is a finely restored example. The bonus? Some shopping! Check out the kids consignment shop, Gumdrop Swap.
993 Main St. (between John St. and Wall St.), Bridgeport, CT 06604
203-870-6885
7) Seaside Park: some feel it's the best beach around. Getting there is a treat, too -- this sprawling waterfront park was designed by Frederick Law Olmsted, who also laid out a little something known as Central Park.
1 Barnum Dyke, Off I-95 at Exit 27, Bridgeport, CT
203-576-7233
8) 305 Knowlton St. building: This former tool-and-die manufacturing building now houses working artists and an art gallery featuring monthly shows, talks and live performances.
305 Knowlton St., Bridgeport, CT 06604
203-258-8957
9) Del Prete Italian Pastry: The best cannolis in the county. Oh, and cannoli cake. And cannoli dip. That is all.
1885 Main St., Bridgeport, CT 06604
203-333-6993
10) Wonderland of Ice: a great place to teach the kids to skate. Reasonable rates, and lots of public skate time.
123 Glenwood Avenue, Bridgeport, CT 06610
203-576-8110

11) Nutmeg Curling Club: If you thought this Olympic sport didn't really exist below the 45th parallel, think again. Come out and watch a session -- maybe even try it! Open early October - late March.
123 Glenwood Avenue, Bridgeport, CT 06610
203-615-0077
12) Bridgeport Sound Tigers: oh, what fun a little hockey is with little tykes (providing they don't mind a LOT of noise). A great winter treat for the family.
Webster Bank Arena
600 Main Street, Bridgeport, CT 06604
203-334-GOAL(4625)
13) Bridgeport Bluefish: when the Sound Tigers hang up their skates, the bats start cracking. This is the ideal first game for your little seamheads -- they can move around in their seats without upsetting a soul, or blow off steam in the Kids Zone. Win win.
Ballpark at Harbor Yard
500 Main Street, Bridgeport, CT 06604
203-345-4800
14) Micalizzi's Italian Ice: Rita's ain't holdin' a candle to this. Matter of fact, Micalizzi's might be offended I just put them in the same sentence.
712 Madison Ave., Bridgeport, CT 06606
203-366-2353
15) Port Jefferson Ferry & Bridgeport Train Station: sometimes you just need a transportation center to endlessly amuse your little ones. Double dip at this location.
1 Ferry Access Road, Bridgeport, CT 06604
16) Ralph & Rich's: perhaps the crown jewel of Bridgeport's dining scene, and a location Nutmeggers from near and far know about. Their 'Sunday Sauce' is geared toward families, when traditional Italian fare is served family style from 12-4pm.
815 Main St., Bridgeport, CT 06604
203-366-3597
17) Bijou Theatre: one of the marvelous renovations of recent years in downtown Bridgeport. A 100 years ago, this was a movie house, and it is once again -- and then some. Catch excellent theater here with the kids, too.
275 Fairfield Avenue, Bridgeport, CT
203-332-3228
18) St. Patrick's Day Parade: let's just say they make a day of it.
19) Gathering of the Vibes: this is the 20th year running at Seaside Park. Art, music ... you know, vibes, man.
20) Indus Grocery: if you catch it at the right time, you'll be there when the samosas come in from New York. SO GOOD. Call ahead.
3295 Fairfield Avenue, Bridgeport, CT
203-384-0666
21) CT Free Shakespeare: the Beardsley Zoo has a beautiful centralized picnic area perfect for staging a summer play. Highly recommend. Or take in your show downtown, at the McLevy Green.
22 & 23) Discovery Museum & Planetarium/ the Adventure Park: in case you missed the news in recent years, flight was born right here in Bridgeport ... not in Kitty Hawk! Check out a model of the historic plane, and explore the rest of this science museum, before heading outside to tackle one of the newest ropes courses in the region.
4450 Park Avenue, Bridgeport, CT 06604
203-372-3521
24) Bridgeport Arts Fest: despite appearances and assumptions, there is a lot of creativity lurking in Bridgeport. This is your chance to peek in on the artists' work.
25) Barnum Museum: last, but not least. This place is one of a kind. The main building was damaged in a 2010 tornado, so the exhibits are limited (and housed in the adjacent People's Bank), but still myriad.
820 Main Street, Bridgeport, CT 06604
203-331-1104
Sign up for the Mommy Poppins Newsletter today!