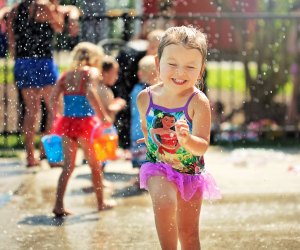 Spraygrounds and Splash Pads for Kids in Fairfield County, CT
If your kids are anything like mine, summertime is all about finding the coolest playground splash pad. Seriously, where were these things when we were kids? We had either scorching hot asphalt playgrounds, or plastic kiddie pools and popsicles at home. Now, as parents, we can appreciate how great it is for our kids to be able to swing, slide, and cool off in one convenient, nearby spot. Here's our roundup for spraygrounds, splash pads, and water sprinkler parks in Fairfield County; best of all, most are free.
Check out our Connecticut Beach and Water Fun Guide for more ways to stay cool this summer.
Ellsworth Park, Bridgeport
Beat the heat this summer at Ellsworth Park, one of Bridgeport's many splash pads. Others include Beardsley Park, Nob Hill, Seaside Park Splash Pad, Washington Park, Went Field Splash Pad and Newfield Park.
Calf Pasture Beach, Norwalk
Take a dip at the beach, stroll along the scenic coast AND cool off at the splash pad at Calf Pasture Beach. From volleyball to the skatepark to the sailing school there is so much to do at Calf Pasture - well worth a day trip! Weekday and Weekend rates apply.
Kenosia Park, Danbury
Danbury's third splash pad - the others at Rogers Park and Highland Avenue - offers nearly 6,000 square feet of splashtastic fun.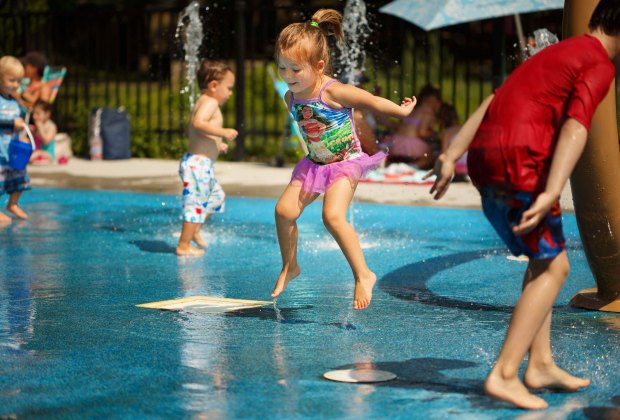 The shallow water is fun for littles at Longbrook Park. Look out for the pelican mister! Photo by Jennifer Batz
Longbrook Park, Stratford
This lovely 34-acre park in Northern Stratford is surrounded by a picturesque pond and gardens. The park includes a fenced-in splash pad with a frog and pelican mister, sprinklers, and more. The splash pad is also nestled between two separate playgrounds including Vikki Soto's The Sandy Ground: Where Angels Play playground.
Lake Mohegan, Fairfield
Visit the picturesque Lake Mohegan - a hidden gem tucked away in Northern Fairfield County - and your kiddos will spend hours splashing at the sprinkler park complete with spouts, faucets, and misters. There is also a playground and snack bar, so you've got all your bases covered. Note: A small fee is charged at the gate.
Devon's Place, Norwalk
Located alongside Stepping Stones Museum, Matthews Park has a fantastic nautical-themed playground and splash pad.
Scalzi Park, Stamford
Frolic and play at Scalzi Park's splash pad nestled in Stamford's third largest city park, which recently went under extensive renovations and now boasts a wonderful playground and splash pad to enjoy during summer months.
Indian Ledge Park, Trumbull
One of two of Trumbull's sprinkler pads open seasonally, seven days a week from dawn to dusk from Memorial Day Weekend through mid-September, Indian Ledge Park offers a splash pad that's perfect for cooling offer after playing on the playground.
Originally published June 6, 2012