Best Sprinkler Parks and Splash Pads in Connecticut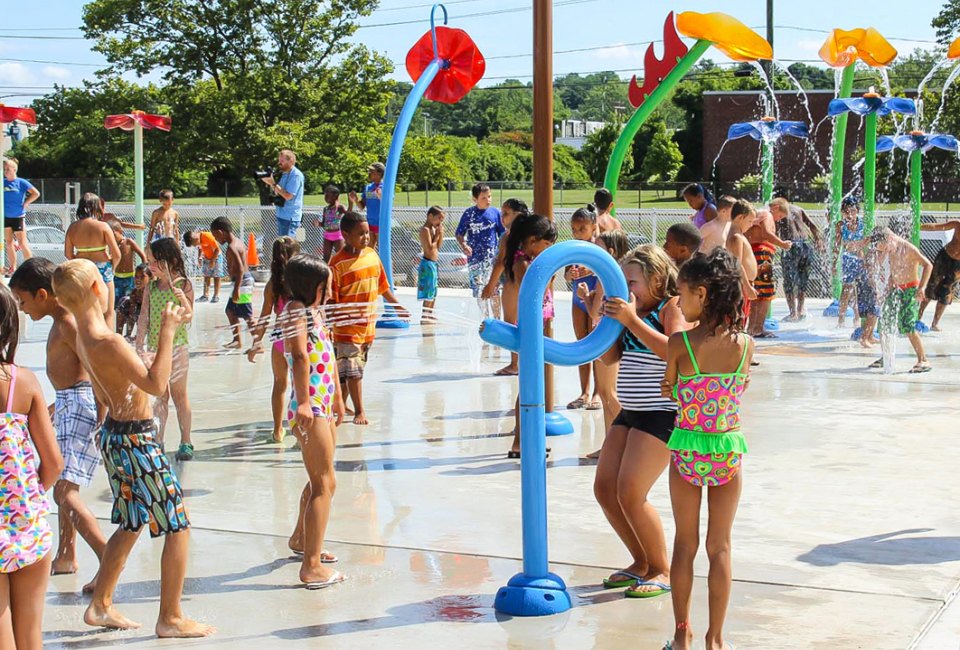 5/20/22
- By
Brandee Gilmore
While some kids love swimming in the pool or playing at the beach, the spraygrounds and splash pads in Connecticut are a perfect choice for you if you have a toddler who isn't pool-ready. Or maybe you only have an hour to spare. Whatever the attraction, an additional appeal is that there are so many of them, it's bound to be just a short drive!
Our Connecticut Summer Fun Guide has even more ideas for keeping kids cool and entertained this summer, whether you're home or out and about. And don't forget to sign up for our Instagram so you can get all the latest events in your mailbox.
Spraygrounds and Splash Pads in Fairfield County
Kenosia is Danbury's biggest splash pad (others are at Rogers Park and Highland Avenue) and offers nearly 6,000 square feet of splash-tastic fun. Refurbished in 2014, it has sprays lots of open space as well as picnic tables for parents to sit at.
Frolic and play at Scalzi Park's splash pad, nestled in Stamford's third-largest city park, which recently underwent extensive renovations and now boasts a wonderful playground and splash pad to enjoy during the summer months. It is located directly next to the playground.
One of two of Trumbull's sprinkler pads open seasonally (seven days a week from dawn to dusk from Memorial Day Weekend through mid-September) Indian Ledge Park offers a splash pad that's perfect for cooling offer after playing on the playground. A valid park sticker is required to park in any of the Trumbull Parks throughout the year. Vehicles without stickers may be ticketed. Stickers are available at the Trumbull Parks and Recreation office.
RELATED: Top Swimming Pools for Families Near and Around Hartford, CT

Run, jump, and splash at Longbrook Park. Photo courtesy of Mommy Poppins
This lovely 34-acre park in Northern Stratford is surrounded by a picturesque pond and gardens. The park includes a fenced-in splash pad with a frog and pelican mister, sprinklers, and more.
Visit the picturesque Lake Mohegan where your kiddos can spend hours splashing at a sprinkler park complete with spouts, faucets, and misters. There is also a playground and snack bar, so all bases are covered. Note: A small fee is charged at the gate, but parking is free.
Located alongside Stepping Stones Museum, Matthews Park has a fantastic nautical-themed playground and simple splash pad perfect for your littles.
Beat the heat this summer at one of Bridgeport's splash pads. There are several, including Ellsworth Park, Beardsley Park, Nob Hill, Seaside Park Splash Pad, Washington Park, Went Field Splash Pad, and Newfield Park. Opening date TBA.
Spraygrounds Sprinkler Parks in New Haven County
Frolic in the splash pad at Lighthouse Point Park, where kids (and grown-ups) can enjoy freshwater fountains. The splash pad is located close to the beach next to the bathhouse. The splashpad is wide-open and there is plent of room for play. There is a fee for in-state non-residents and for out-of-state visitors.
Across the street from Cosey Beach, this splash pad is nestled in a grassy picnic area. Once your kids have their fill of fresh water, dry off and head to the playground area or take a dip in Long Island Sound.
This is a brand new splash pad for kids to enjoy! Kids can indulge in water squirters, sprays, and a pad that is safe for little feet.
A bright and sunny splashpad that accumulates about 1-2 inches of water and has several features like sprays, butterflies, and squirts.
Splash Pads in Eastern Connecticut
Besides a splash pad, full of buckets and streams and sprinklers strategically placed on a soft surface, Owen Bell Park also offers trails for walking and hiking, a playground, basketball and tennis courts, and even a skateboard park, too! Just a tip: The splash pad is not fully contained with a fence.
RELATED: Public Pools and Day Passes to Private Pools in Fairfield County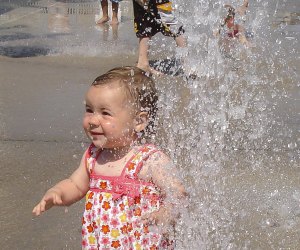 Water babies love Ocean Beach Park. Photo courtesy of Ocean Beach Park, Facebook
Besides the half-mile beach, arcade, amusement rides, and Olympic size pool, Ocean Beach also boasts a HUGE nautical-themed playground just across the boardwalk on the beach. Next to the playground is OBP's newest attraction, a splash park with sprayers, fountains, and buckets that dump cool, refreshing water! Both are accessible with admission to the park.
Affectionately known as the RecPlex, Colchester's splash area is free and houses a convenient bathhouse for changing. It's also enclosed with a fence to keep little ones from running off. Next door is a playscape that offers a dry option once everyone's sufficiently cooled down.
Lauter Park's splash pad offers a large area of splash opportunity! Locals tell me this place is usually pretty empty early in the afternoon, while its limited hours (noon-5pm) make for very busy evenings. But it's worth the trip! It's open until Labor Day weekend.
Spraygrounds and Splash Pads in Hartford Connecticut
This is a great place to go on a hot summer day: There are several overhead sprayers and even spinning controllers for the kids to man themselves. This is an all-ages splash area.
There's a splashy spray park in this northernmost corner of the popular park (a.k.a, Baby Pope), and a full swimming pool in Pope's main section.
RELATED: Best Outdoor Water Parks in New England for Family Fun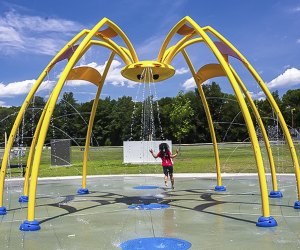 Find water fun across hundreds of acres at Keney Park Splash Pad. Photo courtesy of todesignllc.com
This is the largest park in Hartford at almost 600 acres. This splash pad opened in 2017 and is a mecca for local children wanting to cool off. It consists mainly of floor sprayers and a structure under which kids can stand in cool showers. Nobody can miss the big, yellow spraying spider!
​This baseball-themed little park near the popular ball fields offers a small, contained space with simple water features well-suited for little ones.
Conveniently located next to playgrounds, concession stands, and restrooms, you will find four splash pads featuring several water features, making for a fun day out. Spray Pads are located at Beachland, Fernridge, Kenney, and Wolcott Park, and are free for children ages 2-8. Open Memorial Day weekend until Labor Day weekend, daily from 10am-7pm.
In addition to its great playground and picnic areas, the park also features a splash pad, a pool, a basketball court, and walking trails. It is easy to spend a day here, especially considering other kid-friendly things to do in Bristol.
Bring a towel and a cooler because the largest (and free!) splash pad in New England will keep the kids entertained for hours.
Paderewski Pard offers a splash pad for the community. No passes or registration are needed to enjoy this splashy area. A great way to cool off.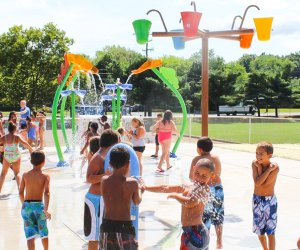 Photo courtesy of the New Britain Parks and Recreation Department
At Chesley Park, there are plenty of exciting water spray features, including bucket dumps, ground sprays, and jets you can aim at your friends. There's even a new pool for getting fully wet.
A huge splashpad, with plenty of room for kids to play. Enjoy squirters, uimbrellas and benches for mom and dad to sit on.
Originally published in 2012 and updated annually since.