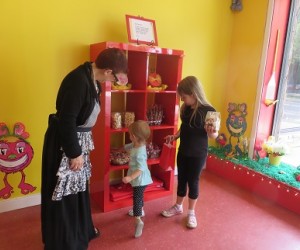 Fun Things To Do With Kids in Bristol, Connecticut
Located on the southwestern border of Hartford County, Bristol's influence dates back to the 19th century when it was known as the clock-making city. Today, it is primarily famous as the home of ESPN and Lake Compounce, America's oldest still-running theme park. In between giant television satellites and soaring roller coasters, there's a lot of fun to be had in this vibrant community, brimming with restaurants, shopping, and outdoor recreation. So plan a day trip and check out some of the following child-friendly destinations.
Imagine Nation
If your children are between ages 2-8, visiting Imagine Nation is definitely one of the things to do with them before they get older. They will learn and let their imaginations run wild at this hands-on museum that features three floors of interactive play. Kid favorite areas include Farm to Table, Water Exploration, and Broadcast Yourself. The museum hosts many events and classes throughout the year, so be sure to check the Mommy Poppins Calendar for updates. Admission is $10 per person and children 12 months and younger are free.
1 Pleasant Street, Bristol
New England Carousel Museum
For parents and grandparents, a visit here will be a trip down memory lane; for kids it will be a colorful comparison between the merry-go-rounds of yesterday and today and more than 100 carved animals will make their imaginations soar. They will also love whirling on the indoor carousel and climbing on a lion figurine. In the same building you will find the Museum of Fire History and the Museum of Greek Culture. Admission is $6 per adult, $3.50 for children ages 4-14, and $2 for those ages 1-3.
95 Riverside Avenue (Route 72), Bristol
Sweet Treats
While in town, check out the whimsical It! Candy store on East Main Street. One sample and you'll be walking out with a dozen of these bite-sized chocolates that are just scrumptious. Specialty treats are custom ordered, including vegan, gluten-free, and sugar-free selections. For delicious baked goods, head to Harvest Bakery where your senses will be overloaded with goodness. Pick up a fresh loaf of bread for dinner, or indulge in eclairs or napoleons. Hint: the Boston cream donuts are delicious.
It! Candy - 116 East Main Street, Bristol
Harvest Bakery - 84 Farmington Avenue, Bristol
Frozen Delights
Ice cream parlors have a way of making our days just a little bit sweeter, so if you're in a mood for a frozen treat, take a refreshing break at The Churn Ice Cream Shoppe or Dunphys Ice Cream. Did someone say ice cream cupcake? Yes, please.
The Churn - 45 North Main Street, Bristol
Dunphys - 912 Stafford Avenue, Bristol
Barnes Nature Center
Explore miles of nature trails, check out what's lurking in the pond, admire and learn from the indoor exhibits, or go bird watching. The nature center (closed Monday through Wednesday) offers great programs throughout the year, so be sure to check the Mommy Poppins calendar for many family-friendly activities.
175 Shrub Road, Bristol
Spare Time Bristol
Challenge each other to a game of bowling or laser tag, or try your hand at winning some prizes from the arcade games. If you're looking for budget-friendly things to do this summer, sign up the kids for free bowling. Beginners can take introductory lessons here and perfect their skills. Open bowling begins at $5 per game.
177 Farmington Avenue, Bristol
American Clock and Watch Museum
Tick tock. Tick tock. Connecticut was once the clock capital of the United States, and the museum holds one of the largest displays of American clocks and watches in the world – more than 5,500. Cuckoo clocks, pendulum clocks, wooden church clocks – you will see it all while learning about the science and evolution of clock and watchmaking, Admission is $6 per adult; $3 per child; free under age 7.
100 Maple Street, Bristol
Playgrounds
Bristol features many playgrounds, including Federal Hill Green (not enclosed) and Bracket Park (fenced in). You will find a monster-sized playscape at Rockwell Park, ​where kids can venture on an assortment of slides, swings, and climbing areas. More fun is to be had at Page Park, which features a toddler playground, picnic areas, a fishing pond for kids, and more. Both Rockwell and Page parks feature playgrounds with water pads that get activated during the first week of summer vacation (currently scheduled for June 20). In addition, both parks have outdoor swimming pools open to the public. Click here for admission rates and additional information.
Page Park - King Street or Page Avenue, Bristol
Rockwell Park - Jacob Street or Dutton Avenue, Bristol

Bristol Public Library
Whether it welcomes the Art Truck, animal encounters, or magic acts, the library is busy offering story times and other family-friendly events. The children's section is large and bright and features plenty of opportunities for interactive play and learning: coloring tables, computer stations, a train table, puzzles, and more.
5 High Street, Bristol
Oakendale Farm
Whether a child is interested in preparing for a competition or just looking to make equine friends, stop here for some horse riding lessons or inquire about its summer camp program.
315 Shrub Road, Bristol
There are certainly plenty of ways to spend time in this city once known for its clock-making. Let us know in the Comments section below about your favorite places and things to do in Bristol.
Updated: July 18, 2017
Photo Credit: All photos courtesy of the author