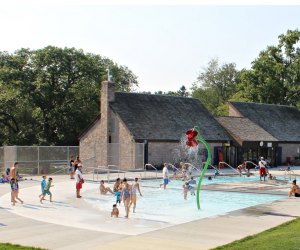 Top Swimming Pools for Families Near and Around Hartford, CT
Kids plus swimming pools are what summer dreams are made of, and the Hartford area has plenty to offer. We've rounded up our favorite outdoor pools where you and the kids can take a refreshing dip during the summer months around the Hartford, Connecticut area.
Read through our list of Hartford swimming pools to find the one right for your family, whether that's the one with an adjacent playground or an inexpensive day pass. A number of these spots offer kiddie pools, but you can also check out our list of awesome splash pads in the area, too.
One thing's for sure: There are plenty of ways to get wet and stay cool this summer in Connecticut!
Fernridge Pool - West Hartford
Fernridge is a great place to visit, with lovely, natural grounds, a huge playground, a splash pad, and a pool. The pool is relatively new as it opened in 2012. A day pass for swimming is $5.50 for children and $6.50 for adults. The pool is 25 yards long and has a zero-depth area. The public is welcome to swim Monday through Friday, from lunchtime through the early evening.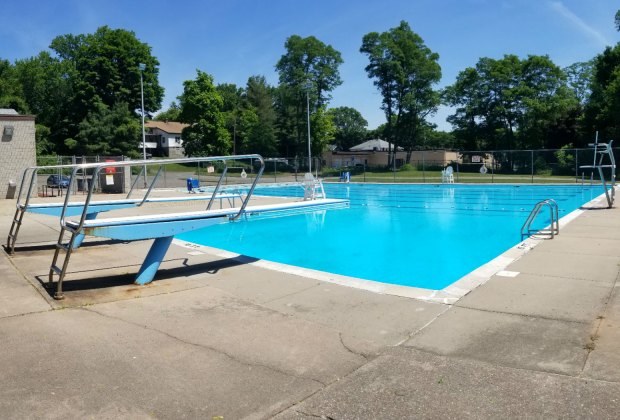 Welch Pool's diving board is a popular draw for kids. Photo courtesy of Town of Windsor
Goslee and Welch Pools - Windsor
Here are two great pools with different amenities. Goslee is a full-size pool but has outdoor showering and a nearby splash pad for the younger set. Welch's large pool has a diving board and a fenced-in toddler pool that is 1.5 ft deep for littles trying to get used to the water for the first time. Daily pool fees are $2.50 for adults, $1.50 for kids. Recreational swim is during the afternoons.
Farmington Valley YMCA - East Granby
The Valley's YMCA offers summer memberships for a lowered cost which includes full facility access. They also offer a daily pass for $25 per family. Membership includes large indoor pool, diving board, changing rooms, showers, etc.
Mill Pond Park - Newington
Come and see Mill Pond Park, a lovely, scenic place to swim with a huge playground and outside, outdoor pool, fishing, and more. Recreational swimming times are usually in the afternoon hours.
Veteran's Memorial Park - South Windsor
This is a great and well-maintained facility. Public swim hours begin at the end of June and go from lunchtime through early evening. Non-resident daily pass is $13 (children), and on the weekends, slightly higher. Children 3 and under always swim free.
Willard Pool - Wethersfield
Willard Pool is open to the public for swimming Monday through Sunday in the afternoons and early evenings. If you're a resident you can grab a summer long pass for $65 for the family. If you are only coming for the day, non-resident children only pay $3 for swimming.
Photo courtesy of Simsbury War Memorial Pool/Facebook
Memorial Pool - Simsbury
Memorial Pool is open daily for public swim. The cost for a dip is only $4 for non-residents. Your kids will enjoy the low diving board, kickboards, and playing with friends in the water. A plus is the toddler wading pool right nearby where littles can get wet and have fun with peers.
A.W. Stanley Park - New Britain
Brand-new pool opening in the summer of 2019. The pool will be open from 1 to 4:45pm on weekdays. Day passes are $3 (6-17) and children under 5 are FREE. You might also want to check out Willow Brook Pool. It has a big splash pad which is free admission.