Take a Trip Back in Time With Revolution Place, Philly's Newest Kid-Approved Space!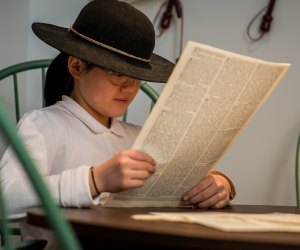 What was Philadelphia like 250 years ago in the time of the Revolutionary War? That's the question "Revolution Place," the new discovery center at the Museum of the American Revolution hopes to answer for kids, especially those aged 5-12 years old. This new exhibit has been a goal of the Museum since it opened a year ago, and the space creates a next level hands-on museum for kids who are interested in playing dress up and learning about history. I had a chance to check out the new feature with my two little ones (aged 1 and 5 respectively). Read on for our review, and be sure to check out other great museums for families in Philadelphia!
To get to Revolution Place, you actually have to go to the lower level of the Museum of the American Revolution, where nearly the entire floor is dedicated to group learning and multimedia experiences. Inside, kids can explore a military encampment, a tavern, a home, and an 18th Century meeting house all taken from historic scenes of 1770s Philadelphia. These spaces are designed to engage the imagination with hands-on elements that make kids feel like they have genuinely stepped back in time. But it also appeals to the modern era with many touch screens and integrated media elements that help enhance the exploration and understanding of the space.
The space is definitely cool, and large, which is great for kids with energy to burn off before going through the main exhibit on the second floor. Playing in the camp was a treat for both kids, where my son dressed up as a soldier while his sister helped him "cook." A digital touchscreen lets your young soldier enlist using a quill pen, and learn more about how enlisted soldiers were paid and clothed. Civilian and military uniforms are both available.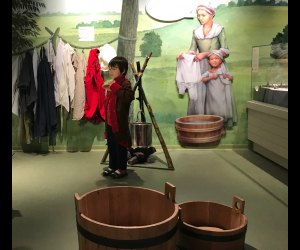 Playing dress up, photo by the author
Our favorite space was probably the Three Tun Tavern, which has a beautiful interactive map on each table. The map allows you to take items from the Old World and see how they were transported to the New World. Reproduction newspapers and objects definitely give you that 1770s vibe, and it also does a great job of demonstrating how important taverns were on a social level.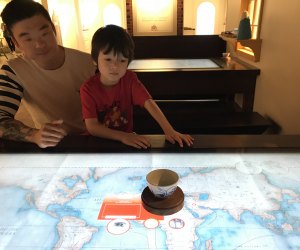 Enjoying the interactive table in the tavern.
The replica church allows visitors to learn more about the various "peoples of faith" as the stories of seven men and women with different faiths are told. Philadelphia was religiously diverse and the stories include Jewish, Presbyterian, Anglican, Muslim, Quaker, African Episcopal, and Catholic.
While I think the space is great, I have to caution that my age group are definitely not the ideal visitors. The interactive elements are visually appealing to all ages, but do not have an audio component so kids either need to be readers or have an adult helping them through the interactions.
That said, plans for Revolution Place include daily programming such as story times, art and craft projects, and interactions with costumed educators. This definitely sounds like it has the potential to engage even the younger crowd.
The Details:
Revolution Place is available with museum tickets, and is open from 11:00am-3:00pm daily
Hours are subject to change in the fall and winter
Check the calendar for regular updates to the schedule of events and activities
Read our full Museum of the American Revolution review to learn more about what to expect from your visit!