Dr. Seuss Museum: Colorful, Educational Fun in Springfield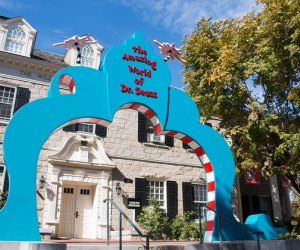 "The more that you read, the more things you will know. The more that you learn, the more places you'll go," Dr. Seuss assures us, and one of the places you should definitely go to if you haven't already is Springfield's Amazing World of Dr. Seuss Museum—the first destination of its kind in the world.

Dr. Seuss National Memorial Sculpture Garden fuels children's imagination by highlighting beloved story characters.

Located only about half an hour north of Hartford and 90 minutes west of Boston, the Springfield Museums are a wonderfully educational and fun destination, featuring four museums dedicated to art, science, and history. But the museums have a particular association with a beloved author who hailed from Springfield: Theodor Geisel, aka Dr. Seuss. Since 1991, the museum grounds have been home to the Dr. Seuss National Memorial Sculpture Garden, honoring the beloved author who lived for 37 years at 74 Fairfield Street, in walking distance of the museum complex. More recently, the Dr. Seuss Museum opened in the building formerly housing the Connecticut Valley Historical Museum. The permanent, bilingual exhibition welcomes visitors into a world of color and literary gems, and includes Dr. Seuss' collection of whimsical hats and bow ties, his desk, artwork from his drawing studio, and listening stations featuring his beloved books.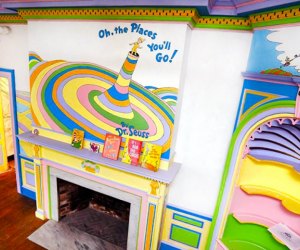 Literary eye candy for kids; photo courtesy of the museum
Visitors are greeted by a larger-than-life-sized book resembling And To Think That I Saw It on Mulberry Street, and have a chance to pen a letter to Dr. Seuss. Throughout the galleries, children enjoy interactive areas including a bakery, a fishing pond, and the The Zoo in Forest Park. Hands-on exhibits encourage the exploration of new sounds and vocabulary, and creative activities such as story invention.
The first level features a decidedly children's museum feel, allowing visitors to interact with characters like The Cat in the Hat, Horton, and The Lorax. In addition, The Cat's Corner on the lower level is a site of educational art-making and literacy-based activities that relate to timeless stories, including Fox in Socks, One Fish, Two Fish, Red Fish, Blue Fish, and Dr. Seuss's ABC.
Even if you live close to Springfield, plan on spending the day at the museums, enjoying a planetarium show, inspecting rocks and minerals, browsing Impressionist masterpieces and Japanese armor, or learning about dinosaurs and Africa's wildlife.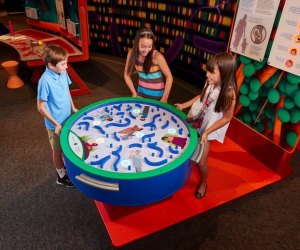 Plan on spending a day at Springfield Museums, where interactive exhibits make for an enjoyable and educational adventure.
The museums are open every day except Mondays and major holidays. The Museum Store features gifts for all ages, including books, jewelry, educational games, dinosaur-themed items, plush toys, and clothing. If you forget to pack snacks, the museum's Blake House Café has you covered. In addition to cookies, muffins, and drinks, it features delicious lunch items such as salads, paninis, soups, and the usual kid-favorites—grilled cheese, hot dogs, and peanut butter & jelly.
Photo Credit: All images courtesy of Springfield Museums