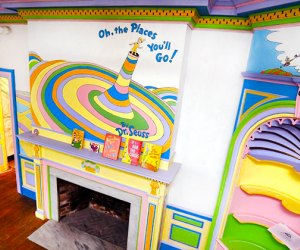 25 Things to Do with Kids in Springfield, MA—Dr. Seuss Museum and More!
Springfield always surprises me with its rich culture, history, and capacity for family fun. It is a city of firsts, and learning about its past may inspire your child to become a pioneer of the future. There's so much to do in Greater Springfield, including riding roller coaster, enjoying a peaceful meeting with an alpaca, and—starting June 3—visiting the brand-new Dr. Seuss Museum. Plus, it's just the right distance for a short getaway from Boston or Connecticut. Read on for 25 fun family activities to do while you're there, whether it's for a day or two, or more.
2. Take the River Walk to the Naismith Memorial Basketball Hall of Fame, where you can learn about the history of basketball in the city where basketball was born. If you're visiting in July or August, check out the 60 Days of Summer program for family-oriented museum programming like magic shows, autograph signings, and mascot sightings.
3. Explore, play and pretend at the Amelia Park Children's Museum in Westfield (closed Tuesdays and Wednesdays).
4. Carve out some picnic-and-play time at Westfield's lovely Stanley Park, which has a Japanese botanical garden, a playground, and lots of green space for running around.
5. On a weekday afternoon, learn about contributions made to the economy, arts, and sciences of our nation by Polish people and their descendants at the Polish Center of Discovery and Learning at Elms College in Holyoke. They also host concerts and other special events.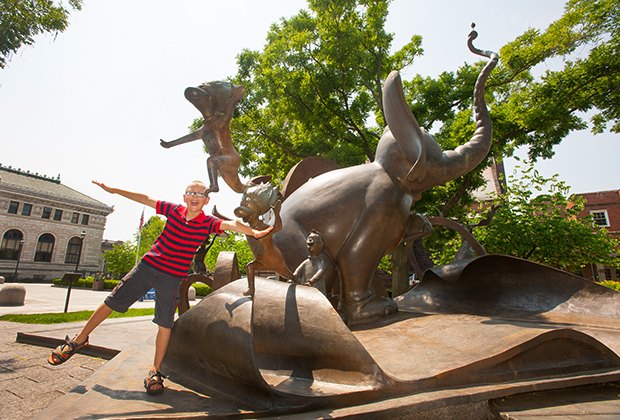 Get into the Seuss of things at the Dr. Seuss National Memorial.
6. Celebrate all things Seuss—author Theodor Seuss Geisel was born and raised in Springfield. Starting June 3, you can be among the first to visit the brand-new Dr. Seuss Museum, where kids can interact with their favorite characters, like the Cat in the Hat, and try their hand at storytelling (stay tuned for our full review on June 8).
7. You can also Galumph with Horton or make up new characters with Theodore Geisel at the Dr. Seuss National Memorial, a whimsical and delightful sculpture garden on the grounds of the Springfield Museums.
8. Listen to live music and munch on festival fare while you shop for handmade gifts at the Mattoon Street Arts Festival, the longest running arts and crafts fair in Western Massachusetts. Admission and parking are free (early September).
9. After finding your way through the corn maze at Randall's Farm & Greenhouse in Ludlow, reward yourselves with ice cream from the Farm's very own Elsie's Creamery (seasonal).
10. In mid-May, participate in the spectacle of the World's Largest Pancake Breakfast. The kids will have full bellies, maple-sticky fingers, and bragging rights when breakfast is over.
11. Learn about David Lyle's "Life-Saving Gun" that threw ropes to ships and crews in distress at Springfield Armory.
12. If you're there on a Thursday, take advantage of free bites and live music at various downtown Springfield locations as part of the Thunderbird Thursdays program, which lasts through the summer.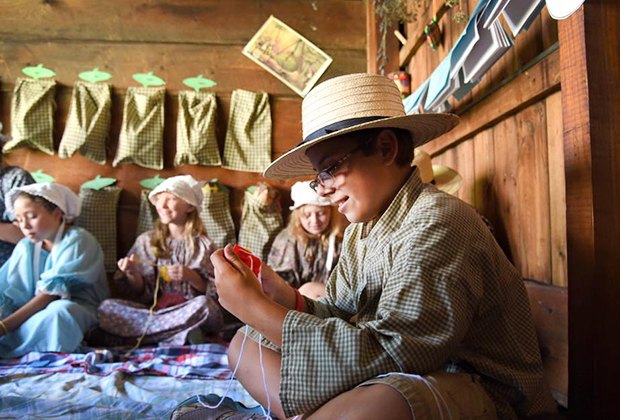 Experience 19th century village life at the Storrowton Village Museum.
13. Take a culinary journey back in time with a meal at Storrowton Tavern, where they serve New England fare and continental cuisine in the historic setting of Storrowton Village Museum, a recreation of a 19th century village, on the grounds of Eastern States Exposition.
14. Go wild with literature during "Animal Tales" in July and August – or make new furry friends any time of the year – at The Zoo in Forest Park.
15. While away the hours, conferrin' with the flowers in the Gardens of the Wistariahurst Museum in Holyoke.
16. Catch a game with the Springfield Thunderbirds, the town's new minor league hockey team. Games run from October through April.
17. On the day after Thanksgiving, gawk at giant, air-filled versions of your kids' favorite characters like the Cat in the Hat at the Parade of Big Balloons.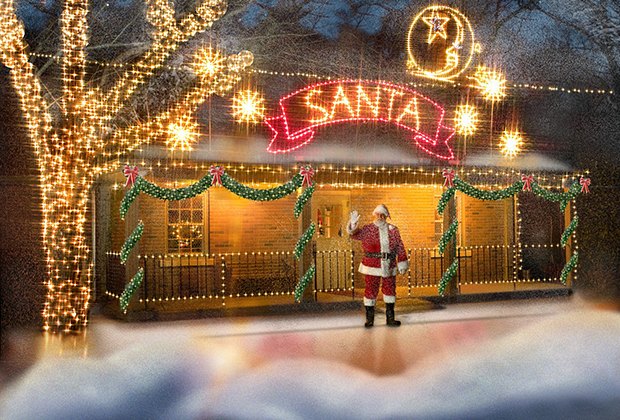 Enjoy the sparkling light displays during the holidays.
18. Take a carriage ride through magical light displays during Bright Nights at Forest Park, Thanksgiving through New Year's Day.
19. Discover the significance of the Holyoke YMCA circa 1895 to the sport of volleyball at the Volleyball Hall of Fame in Holyoke Heritage State Park.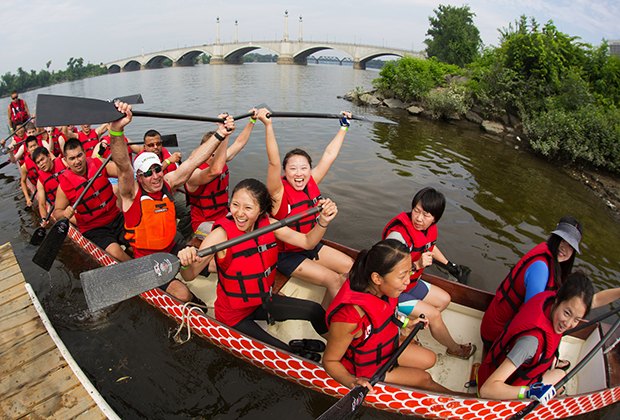 Cheer on the Dragon Boats at River Front Park.
20. Spread out a blanket at River Front Park and watch the Dragon Boat Races (July).
21. Tour the bucolic Maple Brook Farm in Westfield and meet the Tierney family's fuzzy wuzzy alpacas.
22. Engage in explorations of art, science and history at the Springfield Museums.
23. Thrill your older kids with a day at Six Flags New England in Agawam, where they can spin, dip and drop to their heart's content. When they need to cool off, they can try the water rides in Hurricane Harbor.
24. View rare artifacts that tell stories of the passengers and crew on the infamous gargantuan ship at the Titanic Historical Society Museum in the antique-lovers dream village of Indian Orchard.
25. Go round and round on the Holyoke Merry-Go-Round in Holyoke Heritage State Park. If you happen to be visiting in late June, enjoy characters, food, crafts and rides during the Holyoke Merry-Go-Round Fun Fest.
Top photo courtesy of the Dr. Seuss Museum. Unless otherwise noted, photos courtesy of the Massachusetts Office of Travel & Tourism