15 Fall Day Trips from Boston: Fun Autumn Getaways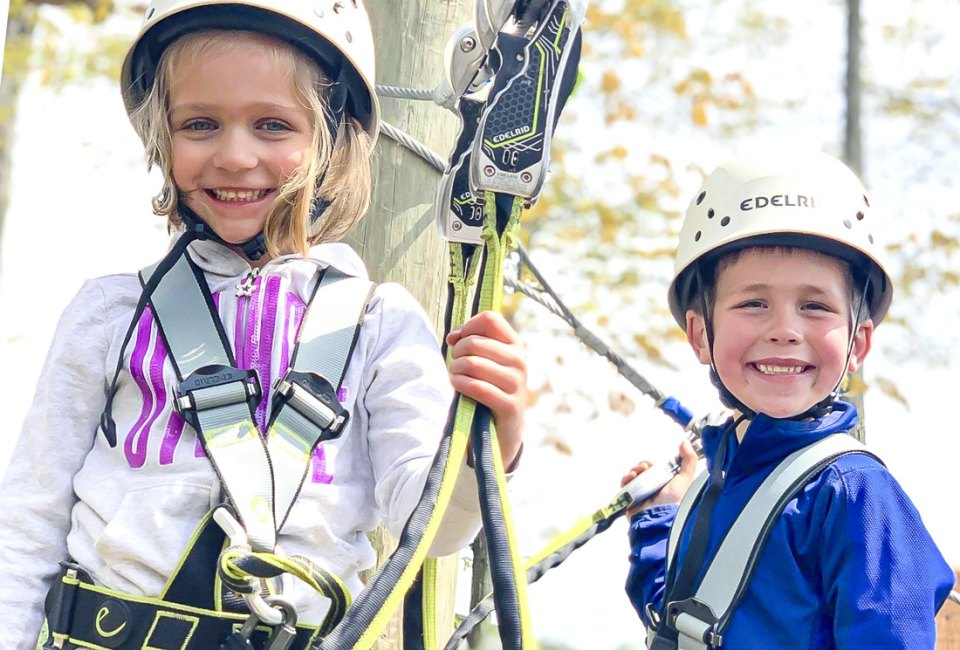 8/26/22
- By
Kelley Heyworth
Get ready for fall day trips from Boston! The vibrant natural colors and cooler air make the season perfect for a quick trip from the city . And even though you don't have to hit the road to glimpse some of fall's red and gold, these locales across Massachusetts, Connecticut, New Hampshire, Vermont, Maine, and Rhode Island boast some particularly stunning foliage displays. Each destination on our list of fall trips from Boston features places where kids love to hike and play,. They also have seasonal treats to sample, making for well-spent days or a weekend escape from the back-to-school grind.
For more family travel in New England, explore our guide. And 30 Fall Activities in Boston To Do with Kids has plenty of ideas for autumn fun.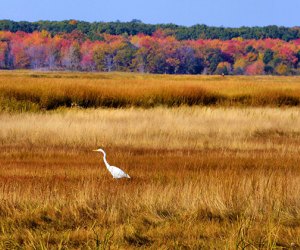 There so much nature to see around Newburyport. Photo by Nancy Witham Allred/courtesy of Newburyport.com
Fall Day Trips from Boston - Massachusetts
The North Shore is gorgeous this time of year. On your way, make a detour to Ipswich for apple picking or a corn maze, or just enjoy the views on the way to Newburyport, a historic shipbuilding and trade port with a charming brick main street and leafy rolling hills.
See: Encompassing 400 acres, Maudslay State Park is a big, beautiful gem hugging the Merrimack River. In October, bring the kids to the annual "Maudslay is Haunted" walk through the park, where actors from Theater in the Open provide spooky (but not too scary) sketches in the woods.
Play: Cashman Park is a super-fun playground featuring slides, swings, a pirate ship play structure, and pretty river views.
Eat: You can't leave town without trying one of Chococoa Baking Company's famous whoopie pies.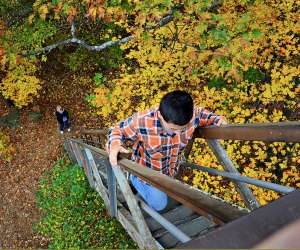 Kids love climbing the fire tower at Laura's Lookout for views of Stockbridge. Photo courtesy of Roger S. Hart
2. Stockbridge, MA
A few hours west of Boston, the rolling hills of the Berkshires offer amazing foliage views from just about every angle, but we think Stockbridge is a particularly perfect point from which to explore the region.
See: Just a few minutes from Main Street, the hiking trails for Laura's Lookout/Ice Glen fork off from the river and offer great adventurous details for kids, like bridges to cross, a huge rock shaped like a shark fin, and a fire tower to climb for views. In October, head to the Berkshire Botanical Garden for its annual Harvest Festival, which features live music, crafts, and a haunted house.
​Play: Near Laura's Lookout, the Stockbridge Playground offers swings, multiple play structures, and a merry-go-round ride-on that's a hit with all ages.
Eat: From a Vermont cheddar and crackers appetizer to a roast Turkey dinner, the Red Lion Inn's sophisticated children's menu makes kids feel like they're dining like grown-ups.
RELATED: 25 Things To Do in the Berkshires with Kids

Explore nature and history on a fall day trip from Boston. Photo courtesy of the New Bedford Whaling Museum.
3. New Bedford, MA
An hour south of Boston is the historical town of New Bedford. Situated on the water in Buzzards Bay, this coastal town is worth the trip in any season.
See: One of the main attractions here is the Whaling Museum where you can see huge whale skeletons and climb aboard a whaleship. After visiting with the whales, stroll by the church that inspired Herman Melville's Moby Dick. Plan your trip in October for their annual Chowder Festival where you can sample some of the best creamy chowder around and listen to live music. If you're feeling brave, stop by nearby Fall River to tour the famously haunted Lizzie Borden house.
Play: A visit to Buttonwood Park Zoo is a must when visiting New Bedford with kids — the only place in Massachusetts to get up close to an elephant! Watch Ruth and Emily eat dried fruit, a favorite treat, during an Elephant Keeper Chat. Stop into Charlie's Nature Play area to let the kids burn off some energy before heading home.
Eat: The Black Whale offers an extensive menu of locally caught seafood dishes and waterfront views. The kids' menu has the usual faves, like burgers and fish and chips. Make sure to save room for dessert, the Pnut Butter Thing, peanut butter and chocolate in vanilla ice cream, rolled in oreo crumbs, with whipped cream, caramel and chocolate sauces is not to be missed! Don't feel like sitting down for a meal? For a more casual atmosphere, walk across the pier to the Whale's Tale Clam Bar, owned and operated by The Black Whale and others, for an easy takeout window with picnic tables overlooking the water and busy local fishing industry.
4. Sterling, MA
Take a break from city life and cruise an hour west of the city to sprawling farmland in Sterling.
See: Take walk along the Mass Centreal Rail Trail, pay a visit to Oh My Gosh Antiques to shop for something special and stop and smell the flowers at neighboring Tower Hill Botanic Garden. Plan your visit for when it's dark and you can check out the Autumn Illuminated stroll featuring a half-mile illuminated path through the gardens.
Play: Sterling may be a small town but it's home to a big farm. At Davis Farmland, kids can roam among the animals and feed them, hold baby goats, ride a pony, jump on a bouncy pillow, and hit multiple playgrounds for outdoor fun. Visit in the fall and try your luck at their "megamaze."
Eat: A quick 15 minutes down the road, and you can be cheersing yourself for an excellent day at Nashoba Valley Winery. Try some wines, grab a bite at their onsite restaurant, J's, and even squeeze in some apple picking in their orchards.
5. Salem, MA
Another North Shore destination that is must visit when the leaves start to turn is the coastal town of Salem. For added fun, skip the car and take a ferry from Boston.
See: Salem is known for its Halloween celebrations so visiting pretty much anytime during October when the town hosts its Salem Haunted Happenings Festival is a good bet. Take a kid-friendly walking tour and visit the Salem Witch Museum to learn some history. Have your little pumpkins wear their costumes for the day, we promise they won't be the only ones.
Play: A visit to the 35-acre Salem Willows Park offers waterfront views and wide open space for the kids to run around and play. It's also home to Salem Willows Arcade, which stays open during the fall, but with more limited hours. Check the website before making any skeeball promises.
Eat: The Flatbread Company not only serves up amazing pies, but it is also connected to a bowling alley, so you can eat while the kids play.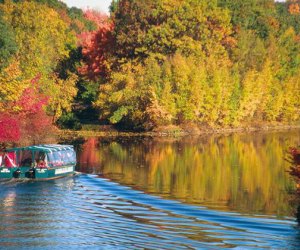 Rivertour Blackstone is a relaxing way to appreciate the foliage. Photo courtesy of Rivertour Blackstone
Fall Day Trips from Boston - New Hampshire
6. Waterville Valley, NH
Two hours from Boston, Waterville Valley is a resort town that calls itself a "playground in the mountains." While it's busiest around ski season, many families make a tradition out of autumn weekends here.
See: Brooks, cascading falls, flumes, and glacial structures are just some of the features in the White Mountain National Forest in which the valley is nestled. Take the easy hike up past Elephant Rock to the summit of the Snow's Mountain ski area, and you'll be rewarded with spectacular views to the west and north.
​Play: Created in honor of the Curious George authors who summered here, the non-profit Rey Cultural Center features lots of programs for kids, including story times, crafts, campfire evenings, and a nature trail sprinkled with fairy houses.
Eat: A favorite among locals, Coyote Grill serves great, locally sourced food and kids-eat-free Sundays.
7. North Conway, NH
You may have been to this area to hit the rides at Storyland during the summer months, but a visit to beautiful North Conway in the fall is also a must. Make sure to enjoy all of the leaf peeping opportunities along the ride there.
See: The Mount Washington Observatory offers hands-on exhibits focused on climate and weather for your little scientists and is as close to free as you can get—$1 for kids and $2 for adults. North Conway is also home to New England's newest aquarium, Living Shores. So after you learn all about the weather, take a dive into interactive exhibits like the stingray touch tank and tropical bird aviary.
Play: Cranmore Mountain offers year-round fun for families. Before the snow starts to fall, head to the mountain for a ride on their mountain coaster or take a scenic chairlift ride—an awesome way to take in the fall foliage. During Columbus Day weekend the full Adventure Park is open with ziplining and a giant swing ride. If the weather isn't cooperating for outdoor activities, purchase a day pass to Kahuna Laguna at the Red Jacket Inn to splash around an indoor waterpark for the day.
Eat: The Muddy Moose Pub is a casual restaurant with a great selection of sandwiches, burgers and more. Kids will get a kick out of the chandeliers made of antlers and of course the giant moose head hanging on the wall.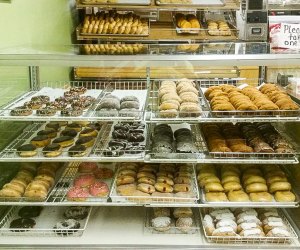 A visit to Goody Good Donuts is reason enough for a fall day trip! Photo courtesy of Goody Good Donuts.
8. Laconia, NH
The lakeside town of Laconia is a quick hour and a half drive from Boston along scenic roads perfect for leaf peeping.
See: Hop aboard Winnipesaukee Scenic Railroad at Weirs Beach to enjoy panoramic views of the lake. Treat the kids to snacks or ice cream from the gift shop before the train gets rolling. Or, trade the train for a boat and cruise aboard the Mount Washington. They offer a variety of site seeing trips as well as as brunch and dinner cruises. Pack the kids' pajamas, and stay up late to catch a flick at the Weirs Beach Drive-In.
Play: Got a need for speed? Put the pedal to the medal and take the kids for a spin at Weirs Beach GoKart Track. Or, take the fun to the trees and swing and climb at Monkey Trunks Zipline and High Ropes Adventure.
Eat: Goody Good Donuts is not your average donut shop. Treat the kids to one of their creative masterpieces like the Bedrock covered in fruity pebbles or the Arnold Palmer, a mix of raspberry and lemon glaze.
Fall Day Trips from Boston - Rhode Island
9. Blackstone Valley, RI
This region offers more than just the Paw Sox minor league baseball team. In the fall, it's a leafy, lower-key alternative to Providence, which is a short drive away.
See: Hike or bike along the 11 paved miles of the Blackstone River Bikeway between Woonsocket and Central Falls; or through the end of October, relax instead on a cruise on the 40-passenger Explorer Riverboat courtesy of Rivertour Blackstone. You can also take your chances on a spooky, Halloween-inspired Swamp Scare aboard the Blackstone Valley Explorer.
​Play: Historic Slater Park is home to a major playground, with two large spiderweb climbers, and a fall festival in September.
Eat: Murphy's Law serves up great clam chowder and fish and chips, as well as live music on the weekends.
10. Providence, RI
Visit the capital of Rhode Island, just a short hour drive from Boston.
See: The Boston area has plenty of great zoos, but the Roger Williams Zoo in Providence is impressive and worth the drive. Visit in October and you can stay late to check out the Jack O'lantern Spectacular, a path of thousands of intricately carved pumpkins all lit up at night. Starting the first week in September, visiting downtown Providence has a different light show to check out. Waterfire is a display of 100 bonfires that blaze just above the surface of the three rivers that pass through the middle of downtown Providence.
Play: If you wait until November to head to Providence, you can visit the outdoor skate rink and cruise the ice on bumper boats. This rink is open year round, so if you visit during early fall, you'll roller skate around the rink.
Eat: Harry's Bar and Burger serves up mini burgers perfect for little hands. Sample a variety of sliders with creative toppings, or keep it simple with a classic cheeseburger. Pair your meal with a tasty milkshake.

The Timber Ripper Mountain Coaster is a thrill at Okemo Mountain Resort. Photo courtesy of Okemo Mountain Resort
Fall Trips from Boston - Vermont and Maine
11. Ludlow, VT
Stowe might be more touted among dedicated leaf peepers, but Ludlow, home to Okemo Ski Resort, is a lot closer, less crowded, and still plenty beautiful (and fun for families) in the fall.
See: Take an easy hike to Buttermilk Falls, a natural swimming hole that's surrounded by a pretty waterfall and some exquisite foliage.
Play: The Okemo Mountain Resort provides some serious fun with its Timber Ripper Mountain Coaster, an exciting ride through the forest that's open through Columbus Day. There's also the Stump Jumper Bungee Trampoline, mini golf, and other games and challenges at Okemo's Adventure Zone.
Eat: With tacos, fajitas, po' boys, and fun drinks, Mojo Cafe is Tex-Mex heaven with families in mind.
Stay: Jackson Gore Village at Okemo Mountain Resort has classic rooms close to an indoor pool, or more spacious accommodations just a bit removed from the main property.
RELATED: Best Swimming Holes in New England
12. Camden, ME
Arguably, Acadia National Park wins for fall destinations in Maine, but it's also a more crowded and expensive alternative during peak foliage season. For a closer attraction with plenty to do, check out Camden, a quintessential New England town full of coastal charm that glows in autumn. This one is a bit of a drive so you may want to make plans to spend the night.
See: Whether you're up for a fall hike or looking to drive up to the summit, Mount Battie offers breathtaking views of Camden Harbor and Penebscot Bay (and a perfect picnic opportunity). You can also enjoy the foliage from afloat by taking a harbor cruise to Curtis Island Light.
Play: Enjoy a free visit to the Merryspring Nature Center where professionally-designed gardens await. Attend free family programs, including nature walks, throughout the fall. You can also let the kids burn off energy on the playground while you enjoy the waterfront views at Rockport Marine Park.
Eat: There is no shortage of scrumptious eateries in this area; for delicious sandwiches (and amazing grilled cheese!) head to the Camden Deli, or sit down and enjoy seafood fare with a magnificent view at Peter Ott's on the Water.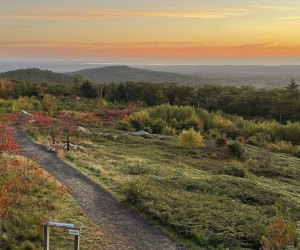 Lace up your hiking boots and head to Mount Agamenticus on your fall day trip.
13. York, ME
It may seem like worlds away, but just an hour drive north of Boston brings you across the Massachusetts border and into Maine and the town of York. Save some time on the drive there or back to pop into the Kittery outlets to do some shopping too.
See: While hitting the beach is the obvious thing to do when you visit Maine in the summertime, come fall take your adventures into the mountains instead. Lace up your hiking boots and head to Mount Agamenticus for a family hike. There are plenty of trails perfect for beginners, including Ring Trail which features a storywalk with 24 stations. On a clear day you can see the Boston skyline. Plan your road trip in October and you can catch the annual York Harvestfest and Kidfest with live music, activities, local vendors and more.
Play: If you visit in September, you can visit York Wild Kingdom to see the animals and whirl and twirl on classic amusement park rides without the summertime heat. This zoo/amusment park closes its doors for the season the last day in September, so if you're in town after that reward the kids after a long hike by hitting Fun-O-Rama, an old school arcade with beachfront views.
Eat: The Goldenrod is a restaurant and a candy shop, which means you have the perfect incentive to have your kiddos finish their meals. This 119-year-old York landmark is known for its homemade saltwater taffy that you can watch being churned from an outside window, and there is a full candy shop of treats and goodies to choose from.
Fall Trips from Boston - Connecticut
Located just a few miles from the NY state border, this picturesque town offers quaint museums, natural beauty, and many restaurants.
See: The main attraction is Kent Falls, famous for its 250-foot cascading waterfall. The trail to the top is steep, but professionally equipped with handrails and a clear walkway with multiple lookouts. At the base of the falls sprawls a large grassy area, perfect for playing a ball game or enjoying a picnic. Hiking in Macedonia Brook State Park is also a fall must-do.
Play: This town is more about exploring nature's playgrounds, but kids will enjoy the variety of antique cars and equipment at the Connecticut Antique Machinery Association and its annual fall festival taking place in late September.
Eat: J.P. Gifford Market is a local favorite and for good reason. Delicious sandwiches, burgers, and wraps, and a casual outdoor seating area make this a family-approved choice.
Visit Wee Faerie Village on a fall day trip to Old Lyme, CT. Photo courtesy of Florence Griswold Museum
15. Old Lyme/Old Saybrook, CT
If you're looking to combine autumn glory with a coastal town, head to a New London County destination steeped in history and art.
See: Feel the crunch of fall leaves under your feet while you marvel at the beautiful and intricate Wee Faerie Village, an annual tradition at the Florence Griswold Museum. Each year features a different theme, and fairy houses are on display from the end of September through the end of October.
Play: Let the kids scale the playgrounds at Town Woods Park or Clark Community Park, or head to Fort Saybrook Monument Park where families can enjoy birdwatching and a story board tour depicting the history of the Saybrook Colony.
Eat: You will find a lot of delicious cuisine in the area. For no-frills, finger-licking-yummy food, head to Teddy's Old Lyme Pizza Palace. For a quick bite of coastal fare, indulge in a hot-buttered lobster roll or New England clam chowder at Liv's Shack (non-seafood options also available).

RELATED: Best Towns in Connecticut for Leaf Peeping