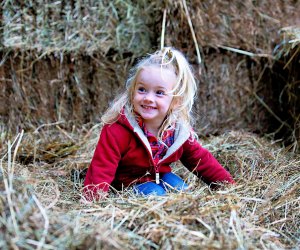 8 Fall Day Trips in New England for Families
With its showy autumn colors, fall is a perfect season for a New England family day trip. And even though you don't have to hit the road to glimpse some red and gold, these eight locales across Massachusetts, Connecticut, New Hampshire, Vermont, Maine, and Rhode Island boast some particularly stunning foliage displays. Each destination happens to also feature some special spots where kids love to hike, play, and sample seasonal treats, making for a perfect day or weekend escape from the back-to-school grind.
For more autumn hotspots around the country, check out the complete Mommy Poppins fall leaves and foliage guide.
2020 update: Due to the fluctuating nature of COVID-19, businesses listed below could change their hours or policies at any time, so be sure to contact attractions and venues before heading out. Also it's important to check state travel restrictions before crossing state lines to see if entering or returning requires a COVID-19 test.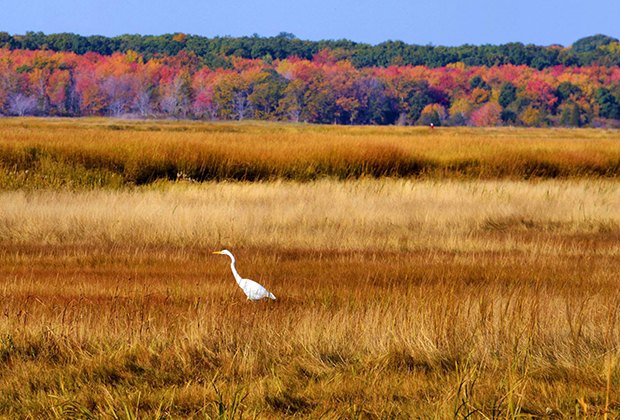 There are many bird species to spot in the marshlands of Maudslay. Photo by Nancy Witham Allred/courtesy of Newburyport.com
2020 update: "Maudslay is Haunted" is canceled this year.
You can't go wrong puttering around the North Shore this time of year. Make a detour off Route 1A to Salem for Halloween activities, or Ipswich for apple picking or a corn maze, or just enjoy the views on the way to Newburyport, a historic shipbuilding and trade port with a charming brick main street and leafy rolling hills.
See: Encompassing 400 acres, Maudslay State Park is a big, beautiful gem hugging the Merrimack River. In October, bring the kids to the annual "Maudslay is Haunted" walk through the park, where actors from Theater in the Open provide spooky (but not too scary) sketches in the woods.
Play: Cashman Park is a super-fun playground featuring slides, swings, a pirate ship play structure, and pretty river views.
Eat: You can't leave town without trying one of Chococoa Baking Company's famous whoopie pies.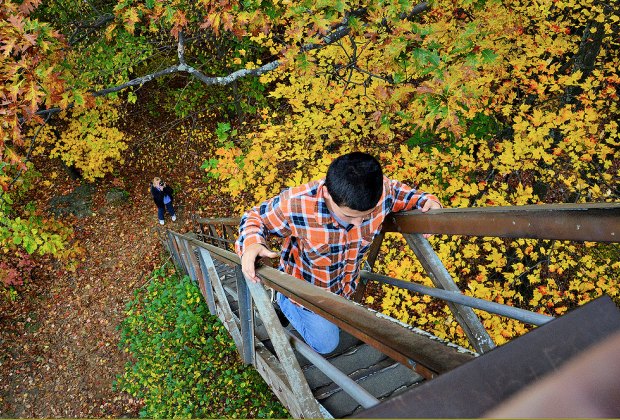 Kids love climbing up the fire tower at Laura's Lookout for the best views of Stockbridge. Photo courtesy of Roger S. Hart
2. Stockbridge, MA
2020 update: The Harvest Festival at Berkshire Botanical Garden is a month-long event this year with timed ticketing required.
A few hours west of Boston, the rolling hills of the Berkshires offer amazing foliage views from just about every angle, but we think Stockbridge is a particularly perfect point from which to explore the region.
See: Just a few minutes from Main Street, the hiking trails for Laura's Lookout/Ice Glen fork off from the river and offer great adventurous details for kids, like bridges to cross, a huge rock shaped like a shark fin, and a fire tower to climb for views. In October, head to the Berkshire Botanical Garden for its annual Harvest Festival, which features live music, crafts, and a haunted house.
​Play: Near Laura's Lookout, the Stockbridge Playground offers swings, multiple play structures, and a merry-go-round ride-on that's a hit with all ages.
Eat: From a Vermont cheddar and crackers appetizer to a roast Turkey dinner, the Red Lion Inn's sophisticated children's menu makes kids feel like they're dining like grown-ups.
RELATED: 25 Things To Do in the Berkshires with Kids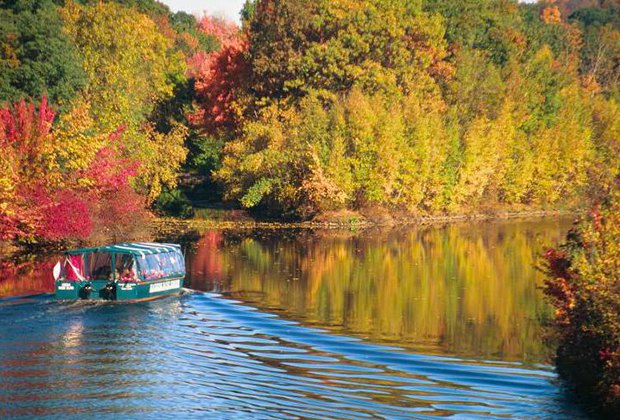 Rivertour Blackstone is a relaxing way to appreciate the foliage. Photo courtesy of Rivertour Blackstone
3. Blackstone Valley, RI
This region offers more than just the Paw Sox minor league baseball team. In the fall, it's a leafy, lower-key alternative to Providence, which is a short drive away.
See: Hike or bike along the 11 paved miles of the Blackstone River Bikeway between Woonsocket and Central Falls; or through the end of October, relax instead on a cruise on the 40-passenger Explorer Riverboat courtesy of Rivertour Blackstone. (Or take your chances on a spooky, Halloween-inspired Swamp Scare aboard the Blackstone Valley Explorer.)
​Play: Historic Slater Park is home to a major playground, with two large spiderweb climbers, and a fall festival in September.
Eat: Murphy's Law serves up great chowder and fish and chips, and live music on the weekends.
4. Waterville Valley, NH
Two hours from Boston, Waterville Valley is a resort town that calls itself a "playground in the mountains." While it's busiest around ski season, many families make a tradition out of autumn weekends here.
See: Brooks, cascading falls, flumes, and glacial structures are just some of the features in the White Mountain National Forest in which the valley is nestled. Take the easy hike up past Elephant Rock to the summit of the Snow's Mountain ski area, and you'll be rewarded with spectacular views to the west and north.
​Play: Created in honor of the Curious George authors who summered here, the non-profit Rey Cultural Center features lots of programs for kids, including story times, crafts, campfire evenings, and a nature trail sprinkled with fairy houses.
Eat: A favorite among locals, Coyote Grill serves great, locally sourced food and kids-eat-free Sundays.

The Timber Ripper Mountain Coaster is a thrill at Okemo Mountains Resort. Photo courtesy of Okemo Mountains Resort
5. Ludlow, VT
2020 update: Mojo Cafe is takeout only at press time.
Stowe might be more touted among dedicated leaf peepers, but Ludlow, home to Okemo Ski Resort, is a lot closer, less crowded, and still plenty beautiful (and fun for families) in the fall.
See: Take an easy hike to Buttermilk Falls, a natural swimming hole that's surrounded by a pretty waterfall and some exquisite foliage.
Play: The Okemo Mountain Resort provides some serious fun with its Timber Ripper Mountain Coaster, an exciting ride through the forest that's open through Columbus Day. There's also the Stump Jumper Bungee Trampoline, mini golf, and other games and challenges at Okemo's Adventure Zone.
Eat: With tacos, fajitas, po' boys, and fun drinks, Mojo Cafe is Tex-Mex heaven with families in mind.
Stay: Jackson Gore Village at Okemo Mountain Resort has classic rooms close to an indoor pool, or more spacious accommodations just a bit removed from the main property.
RELATED: Best Swimming Holes in New England
6. Camden, ME
Arguably, Acadia National Park wins for fall destinations in Maine, but it's also a more crowded and expensive alternative during peak foliage season. For a closer attraction with plenty to do, check out Camden, a quintessential New England town full of coastal charm that glows in autumn.
See: Whether you're up for a fall hike or looking to drive up to the summit, Mount Battie offers breathtaking views of Camden Harbor and Penebscot Bay (and a perfect picnic opportunity). You can also enjoy the foliage from afloat by taking a harbor cruise to Curtis Island Light.
Play: Enjoy a free visit to the Merryspring Nature Center where professionally-designed gardens await. Attend free family programs, including nature walks, throughout the fall. You can also let the kids burn off energy on the playground while you enjoy the waterfront views at Rockport Marine Park.
Eat: There is no shortage of scrumptious eateries in this area; for delicious sandwiches (and amazing grilled cheese!) head to the Camden Deli, or sit down and enjoy seafood fare with a magnificent view at Peter Ott's on the Water.
2020 update: The Connecticut Antique Machinery Association has canceled its programs this year.
Located just a few miles from the NY state border, this picturesque town offers quaint museums, natural beauty, and many restaurants.
See: The main attraction is Kent Falls, famous for its 250-foot cascading waterfall. The trail to the top is steep, but professionally equipped with handrails and a clear walkway with multiple lookouts. At the base of the Falls sprawls a large grassy area, perfect for playing a ball game or enjoying a picnic. Hiking in Macedonia Brook State Park is also a fall must-do.
Play: This town is more about exploring nature's playgrounds, but kids will enjoy the variety of antique cars and equipment at the Connecticut Antique Machinery Association and its annual Fall Festival taking place in late September.
Eat: J.P. Gifford Market is a local favorite and for good reason. Delicious sandwiches, burgers, and wraps, and a casual outdoor seating area make this a family-approved choice. If your family has a sweet tooth, get your fix at Kent Coffee and Chocolate.

Wee Faerie Village will be virtual in 2020, but no less charming! Photo courtesy of Florence Griswold Museum
8. Old Lyme/Old Saybrook, CT
2020 update: Wee Fairie Village will go virtual this year, with interactive online programming available September 24 through November 1.
If you're looking to combine autumn glory with a coastal town, head to a New London County destination steeped in history and art.
See: Feel the crunch of fall leaves under your feet while you marvel at the beautiful and intricate Wee Faerie Village, an annual tradition at the Florence Griswold Museum. Each year features a different theme, and fairy houses are on display from the end of September through the end of October.
Play: Let the kids scale the playgrounds at Town Woods Park or Clark Community Park, or head to Fort Saybrook Monument Park where families can enjoy birdwatching and a story board tour depicting the history of the Saybrook Colony.
Eat: You will find a lot of delicious cuisine in the area. For no-frills, finger-licking-yummy food, head to Teddy's Old Lyme Pizza Palace. For a quick bite of coastal fare, indulge in a hot buttered lobster roll or New England clam chowder at Liv's Shack (non-seafood options also available).

RELATED: Best Towns in Connecticut for Leaf Peeping