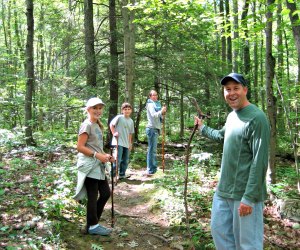 25 Things to Do With Kids in the Berkshires
Known for its grand resorts and farm-to-table restaurants, the Berkshires is often associated with romantic weekends and girls' getaways. But make no mistake: This hilly cluster of towns in Western Massachusetts is actually a great destination for an easy, fun-packed, low-frills family vacation. With bucolic hiking trails, interesting museums, welcoming farms, and cute main streets dotting the region, the only problem with taking the kids to the Berkshires is deciding which activites you can fit into one trip. We've organized our list of highlights by town to help you map out a visit, but a boon of the Berkshires is just how easy (and pleasant) it is to travel from one lovely village to another. Do some or all of our recommendations below; we're pretty sure everyone will come home with some happy memories.
Lenox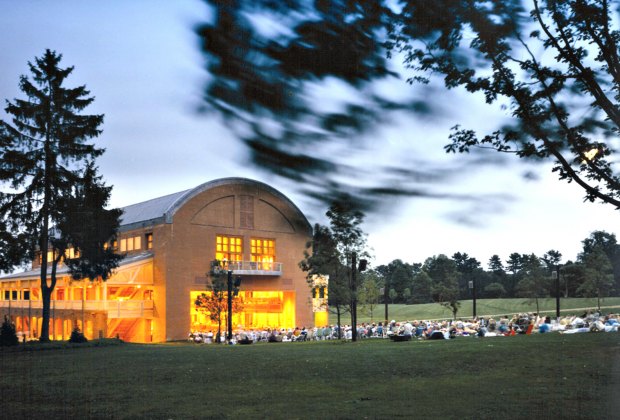 Tanglewood's Ozawa Hall at dusk. Photo by Steve Rosenthal
Snag some tickets to Tanglewood. Every summer, the Boston Symphony Orchestra takes up residence here, and one of the great traditions of the Berkshires is packing up a picnic and enjoying amazing music on the lawn in front of Ozawa Hall. This summer, there's a number of kid-friendly performances, including music from Jaws on June 18, James Taylor on July 3, a family concert on July 9, and a celebration of John Williams' film scores like E.T. and the Harry Potter series on Aug. 19. The kids aren't confined to seats, which makes it a great first classical music experience for them.
Get some vacation reading at the Bookstore in Lenox. With titles for all ages, this cute little shop has an especially great selection of children's classics. Bonus: a wine bar next door, which allows you to sip while the kids pore through the books.
Order morning croissants and a warm drink at Haven in Lenox. Though it serves up amazing breakfast, brunch, and lunch, Haven might be best for a delicious, grab-and-go treat. We're partial to hot chocolate or a cinnamon vanilla latte with a flaky croissant, which they'll make into french toast if you have time to sit.
Treat a horse lover to a Berkshire Trail Ride. The company recommends that riders are at least 12 years old, but will accept kids ages 6 and up. Guides and gentle horses lead riders on a short or long ride around Kennedy Park.
Look for deals and discounts for an overnight stay at the Cranwell Resort in Lenox. This sprawling property is centrally located in Lenox, and features junior suites, a pool, golf lessons, and a cookie-and-brownie tray upon arrival.
Hancock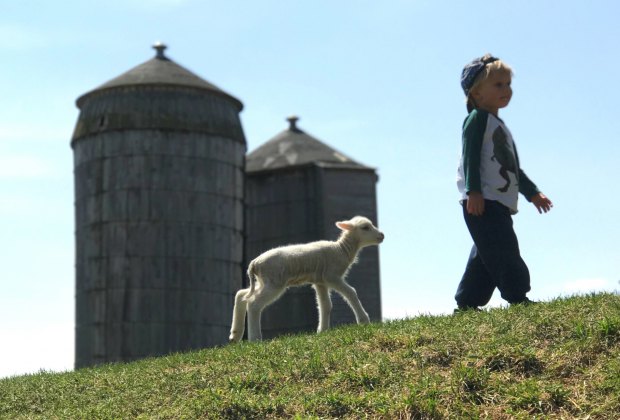 Photo courtesy of Hancock Shaker Village
Celebrating the simple design and agricultural advancements of the religious sect that populated the area in the 19th century, Hancock Shaker Village will teach kids about a simpler way of life. Check out the blacksmithing, house building, and dancing demonstrations held daily across the grounds, as well as interactive exhibits that allow visitors to spin wool or milk a cow. Children 12 and under are admitted for free.
The highlight of Ioka Valley Farm in Hancock is definitely the friendly barn animals that roam quite freely around the property. During the summer months, you can let kids meander among the sheep, goats, and alpacas, and then play in the farm-themed playground, hay tunnel, and 40-foot slide, or race pedal carts around a track.
Spend an afternoon—or a day or even weekend—at Jiminy Peak. Though it's maybe best known as a ski resort, Jiminy Peak has a ton of warm-weather fun, including an aerial adventure park with a ropes course for kids 6 and up, rides (including a "mountain coaster" and "alpine super slide"), a bungy trampoline, and, of course, many super hiking trails.
Lee
Cool down with an ice cream float at Joe's Diner. Sipping a creamy, cool drink from a red stool at this old-fashioned diner in Lee is a perfect afternoon treat.
Stockbridge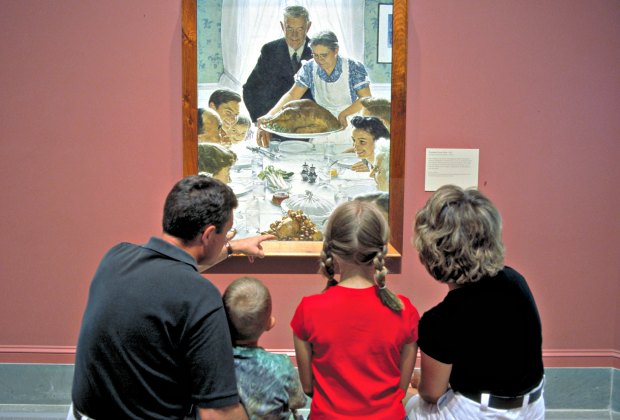 Photo courtesy of Norman Rockwell Museum
Introduce the kids to America's most beloved illustrator at Stockbridge's Norman Rockwell Museum. Home to the artist's most important works, the museum will spark conversations about history and social conventions, but also features cartoons and many tongue-in-cheek drawings that kids will love.
Sit down to a traditional family meal at the Lion's Den at the Red Lion Inn in Stockbridge. The kid's menu goes beyond finger food to introduce kids to some New England classics, like clam chowder, Vermont cheddar cheese and crackers, and locally sourced prime rib.
North Adams
People come from far and wide to visit Mass MoCA, a giant modern museum with many interactive exhibits as well as Kidspace, where families can create their own works of art. Train lovers will want to take a scenic ride on the Hoosac Valley Train, which starts in North Adams and winds around the region for an hour before returning to the station. The air-conditioned ride is a great break during warm weather, and the vintage-Christmas-themed rides are special during holiday time.
Adams
Rent bikes at Berkshire Outfitters. This well-known gear shop has bicycles for all ages, and staffers can point you in the direction of the paved Ashwillticook Rail Trail, just 300 yards from the shop.
Lanesborough
Reach the highest point in the state by ascending Mount Greylock in the northern Berkshires. To break up the long journey to the 3,491-foot peak, you can make a reservation at the campground or lodge that are open during the summer, or drive close to the summit. Strong older children can make the full ascent in just a few hours.
Littler ones' stamina (and attention span) might be better suited for a walk to Balance Rock. A short hike leads to the big draw: a 165-ton boulder balanced naturally, and unbelievably, on a small patch of bedrock.
Great Barrington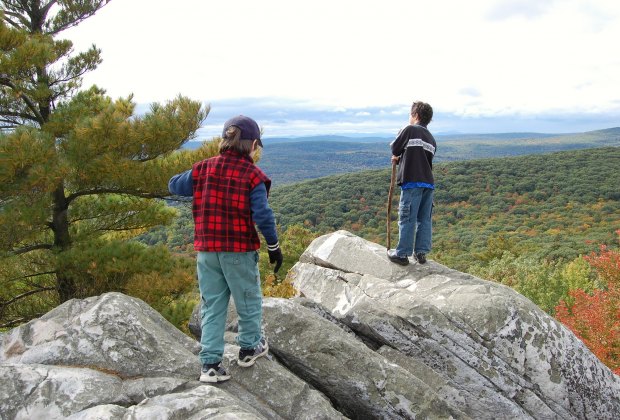 Climb to the summit of Monument Mountain for panoramic views of Berkshire County. Photo courtesy of Massachusetts Office of Travel & Tourism
If you are looking for a kid-friendly hike with the reward of great views on the end, hit Monument Mountain in Great Barrington. Follow the 1. 5-mile Indian Monument trail for a leisurely ascent, or the 0.7-mile Squaw Peak trail for a steep, shorter climb that includes some exciting rock scrambling.
Great Barrington is full of excellent restaurants and shops. Everyone loves Baba Louie's for the wood-fired pizza and family-friendly vibe. Tom's Toys has a selection of some 20,000 playthings, from books to classic games to hot new toys.
Pittsfield
Spark curiosity at Pittsfield's eclectic Berkshire Museum, which packs a lot of interest into one attraction. There are interactive science exhibits, an aquarium, a giant playroom, and more.
Take a spin on the Berkshires Carousel in Pittsfield. A beautiful reproduction of an antique carousel, it features 39 horses, a donkey, some chariots, and even a spinning tub. Check the Facebook page before going, since the ride currently operates on weekends only. Tokens are $2 each.
Mount Washington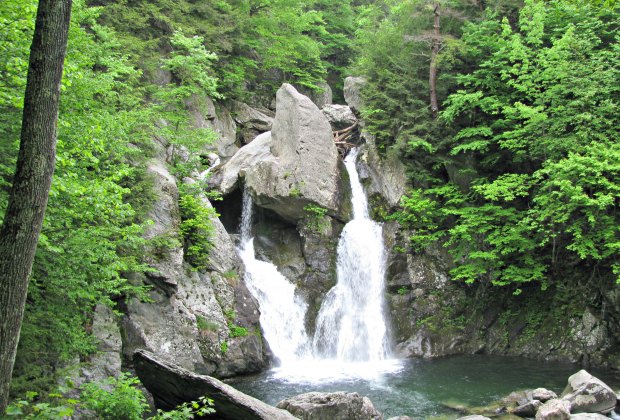 Bash Bish Falls. ​Photo by Pablo Sanchez/CC BY 2.0
While it may be too much to navigate the huge network of trails in Mount Washington State Forest, it's worth paying a visit to Bash Bish Falls if you can carve out the time. Truly one of the most stunning waterfalls in the eastern U.S., the falls drop 60 feet into a sparkling pool below.
Charlemont
Cruise on a zipline tour in Charlemont. Berkshire East and Zoar Outdoor are two popular spots for canopy rides and other outdoor adventures in the eastern Berkshires. See our full review here.
Magic Wings Butterfly Conservatory Garden. Photo by BenFrantzDale/CC BY 2.0
South Deerfield
Visit the Magic Wings Butterfly Conservatory Garden, a 8,000-square-foot observatory filled with beautiful butterflies of all colors, shapes, and sizes. The waterfall, peaceful music, and docile creatures flitting around will definitely add a note of peace and calm to your trip.
Various locations
If you have older kids with some geographical or historical interests, it will be fun to hop on a stretch of the Appalachian Trail. Ninety miles of the trail are in Massachussets, and run smack through Berkshire County. Check out the map here to see where a good trailhead might be, according to your whereabouts and schedule.