10 State Parks and Forests in Massachusetts That Are Fun To Visit with Kids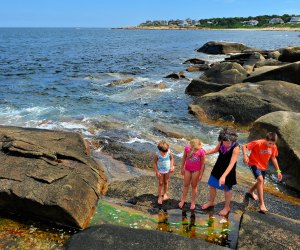 8/21/20
- By
Kelley Heyworth
Encompassing more than 300,000 acres from Boston to the Berkshires, Massachusetts State Parks system is a true treasure for families. Whether you want to camp under the stars, conquer a mountain, splash in a crystal-clear lake, or stretch out on the sand, there's a protected patch of nature just waiting for you and your kids to explore. We particularly love these 10 Massachusetts State Parks and Forests for their accessible hiking trails, family-minded policies, and friendly local vibes.
To soak up more natural beauty in the Bay State, see our favorite Boston-area hiking trails, fishing holes, and swimming lakes and ponds.

Great Brook Farm State Park. Photo by Rachel Napear/ Mass Office of Travel & Tourism
With its manageable size, cheery barns, and ice cream to enjoy at the end, Great Brook is an ideal state park to visit with little kids. There are short (0.5- to 3-mile) trails that wind through woodlands but also bike paths to explore. You can check out Native American sites as well as cellar holes left by early English settlers on the way. A working dairy farm serves up yummy ice cream at the end of your adventure.
Many well-marked hiking trails and a swimming lake with a clean, well-maintained beach and playground make Breakheart an ideal summer outing that's not too far from the city. Kids like how the looping trails are somewhat hilly (but never so much that they become tiring to navigate). Friends of Breakheart Reservation organize fun family activities throughout the year.
A popular camping destination, Myles Standish features four lovely ponds where you can park an RV or pitch a tent. Thirteen miles of hiking trails wend their way through a fragrant pine forest, and College Pond has inviting, fresh, clean water to swim, kayak, or fish in. Use the grills near the campsites to toast marshmallows at the end of the day.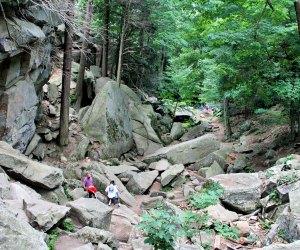 Purgatory Chasm. Photo by Matt Harvey/CC BY 2.0
If your kids are big into climbing and scrambling, Purgatory Chasm is a perfect natural playground for them. Named for its dramatic, glacial-formed rock formations that have exciting names like "Devil's Coffin" and "Fat Man's Misery," which Purgatory Chasm's trails allow kids to scramble in and out of rocky ravines and over precipices. Stop by West End Creamery for a cone on the way home.
Dramatic views of Maine's Mount Agamenticus, New Hampshire's Isles of Shoals, and more make this a thrilling waterfront hiking destination for families. There are fun trails hugging the park's rocky cliff faces and edges, and tide pools for marine life exploration.
See Cape Cod's "wild side" at Nickerson. Biking is a popular way to explore the park, as its 8 miles of dedicated bike trails link up with the 22-mile Cape Cod Rail Trail. End your day with a stay at some 400 campsites line the waterfront and forested acreage.
With more than 6,000 acres of mountain hiking, woodlands, and dramatic rock gorges, Mohawk may seen like a daunting outing with kids, but it's a perfect (and perfectly manageable) day trip if you know where to go. In the warm months, we recommend heading to the trail next to the Whirley Baths, a super swimming hole name for its jacuzzi-like-jet water swirls above a pretty waterfall, and capping off a short hike with a dip.
For an even more dramatic waterfall, head to the state's tallest: Bish Bash Falls. Families love to hike around the rocky formations and then set up picnics and a flat slab overlooking the spectacular falls. Parents in-the-know drive less than a mile down from the park's Massachusetts entrance to the New York entrance, since the ¾ mile hike to the falls from this lot is shorter and easier to manage with little ones.
Any child, but especially one interested in earth sciences (for whom the Magic School Bus classic Inside the Earth has become dog-eared), will be impressed by the 60-foot pure white marble gorge carved out by the Hudson Brook: one of the best examples of glacial erosion in New England. Interesting paths and "staircases" lead hikers in and out of the smooth rock formations. If you're in the area, pair a visit to the MASS MoCA art museum with a stop—it's a mile-or-so bike ride away.
Mount Greylock. Photo by E. Michalenko/ Mass Office of Travel & Tourism
It's the ultimate hiking challenge with big kids growing up in the Bay State: At 3,491 feet, Greylock is Massachusetts' highest peak. Two miles long (but nearly vertical in places), the Thunderbolt Trail (starting in Adams) is the shortest but steepest route to the peak. If your children are smaller, you can drive 8 miles to the summit, and hike around and picnic from there, all while taking in million-dollar views of four states (from the Catskills to the Green Mountains) on a clear day.