12 Spectacular Swimming Holes in New England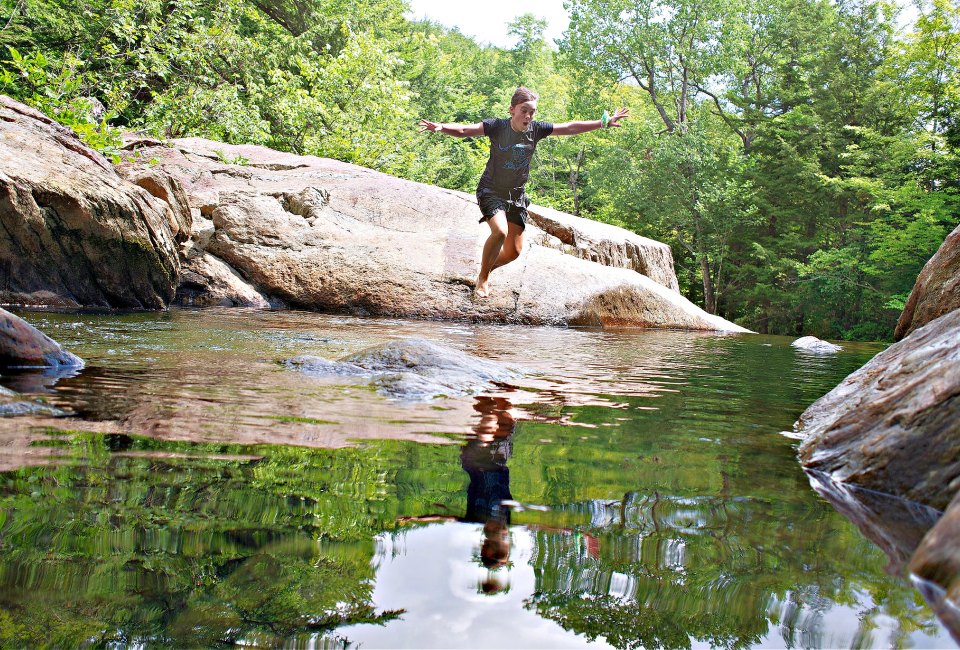 8/15/20
- By
Kelley Heyworth
Anyone raised around New England knows the best part of summer is discovering a new swimming hole to plunge into on a hot day. Explore any mountain range or river valley and you're sure to encounter a number of lovely, cool, and, if you're lucky, little-known swimming spots. Here are swimming holes that locals know and love in various corners of Massachusetts, New Hampshire, Vermont, and Maine. Bring your towels and good sense—many of these naturally formed swimming holes are rocky, and depths can be tricky to determine.
For more beautiful spots to splash this summer, check out our favorite swimming lakes in the Northeast.
Swimming Holes in Massachusetts
1. Whirley Baths—Charlemont, MA
As its nickname suggests, Whirley Baths have a unique feature: Jacuzzi-jet-like water swirls in various rocky outcroppings just above and at the foot of a pretty little waterfall. It's a great way to cap off a hike in Mohawk Trail State Forest.
2. Bellevue Falls—Adams, MA
Among the many super swimming holes in the Berkshires, this is a favorite, as one of the basins extending from a waterfall is swimming-pool size. There's a ledge that's popular to jump off of, too.
3. Buck River—Sandisfield, MA
If your kids are into water slides, they'll delight in the natural, slicked-rock version that feeds into a small pool in the portion of Buck River just off route 57 in the southeastern Berkshires. If the spot near the road is too busy, head a bit upstream, as there is another rock slide and pool there.

Diana's Baths. Photo by Sean Munson/CC BY 2.0
Swimming Holes in New Hampshire
4. Diana's Baths—North Conway, NH
Glimpsing the dramatic falls here is entertainment enough, but the falls are surrounded by pools that are nicely shallow for even small kids to feel comfortable wading and soaking in. Note there is a $5 parking fee.
5. Franconia Falls—Lincoln, NH
An easy 3-mile hike on Franconia Falls Trails is rewarded with a swim at these falls. There are a couple natural water slides and a bunch of big and small pools to explore.
6. Lower Falls—Albany, NH
If you're making a road trip along the famous Kancamagus Highway, it's worth a stop at these falls, which feature many pools along a stretch of gentle whitewater.
7. Lower Ammonoosuc Falls—Carroll, NH
The falls form a long water slide that cascades into a big pool for legitimate swimming. The falls are quite strong, so it's best to keep kids downriver, toward the "pool" portion of the area.
Swimming Holes in Vermont
8. Warren Falls—Warren, VT
Looking for a thrill—in a magical setting, no less? Big jumps into a series of deep, emerald-colored pools are the draw at falls along Vermont's Mad River.
9. Bartlett Falls—Bristol, VT
There's plenty of room to swim and explore around these falls in the New Haven River. Along with several pools and jumping spots, you can actually walk behind the waterfall on one rocky ledge.
10. Buttermilk Falls—Ludlow, VT
The main swimming area at these falls, named for the frothy white cascade they form as the local creek runs into the Cayuga Lake, is extra inviting, due to stone benches that have been built around it. But there are other falls above the swimming area that are fun to hike to before or after a plunge.

Frenchman's Hole. Photo by Alex Kerney/CC BY 2.0
Swimming Holes in Maine
11. Babb's Covered Bridge—Gorham, ME
Who can resist a plunge from a rope swing connected to this quaint covered bridge? The Presumpscot River underneath the bridge is deep enough to jump in safely, but there are also shallow areas nearby that are perfect for little swimmers.
12. Frenchman's Hole—Newry, ME
A little deeper into Maine, this swimming hole near the Sunday River ski resort is known for its many spots to cliff jump. It gets busy, but the pool is big and deep, so there is usually room to swim freely, even if you have to wait your turn to jump (or climb) in.
Buttermilk Falls photo by Brian Flanagan/CC BY 2.0
Click Here to Sign Up!
i