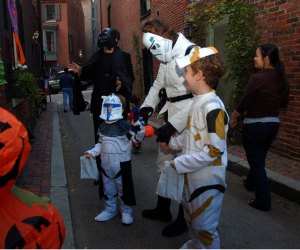 Best Trick-or-Treating Spots Around Boston
Ask a family what their favorite trick-or-treating spot is, and it's likely to be their own neighborhood. It's always fun to see familiar houses lit up with spooky decorations or the sweet neighbor from down the street answer the door with a witch's hat and a cackle. But sometimes, kids—and adventurous parents—are looking for an exciting alternative to their usual Halloween candy route. In that case, you might consider bringing your loot bags to trick-or-treat in one of the following Boston-area neighborhoods, where residents really take Halloween festivities to the next level.
If you're looking for a trunk-or-treat, don't miss our round-up of trunk-or-treating events. And what about spooky fun before the big day, like a haunted walk? Some of this year's best kids Halloween events start weeks ahead.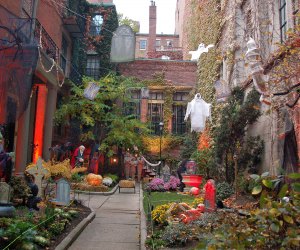 Peek into lavishly decorated squares and alleys in Beacon Hill on Halloween night. Photo by Chris Devers/CC BY 2.0
OUR LATEST VIDEOS
Mount Vernon and Pinckney Streets – Boston (Beacon Hill)

Outside of Salem, of course, Beacon Hill might be our region's Halloween capital. The better part of Pinckney and Mount Vernon Streets are always closed to traffic starting in the late afternoon, allowing little revelers free reign over the handsome, brownstone-lined streets. But if you'd really like to soak in the "hill" part of the neighborhood, veer off to the cobbles of Acorn Street, where residents set out some beautiful decor and hand out special treats.
Marlborough Street – Boston (Back Bay)

Back Bay also closes off Marlborough Street for trick-or-treat time. The energy is super-fun and family-friendly along the whole street, but especially at the corner of Dartmouth, where residents of the big, lovely manse typically set up a spooky display of tombstones and lanterns and host a lively party that spills out onto the street. There's also an annual gathering of families on the Clarendon Street playground nearby.

Show off your Halloween costumes without worrying about traffic on Marlborough Street.
Rutland Street – Boston (South End)

Family-friendly South End is a hot spot for candy seekers. Rutland Street is traffic-free during trick-or-treating hours so your little ones can run free from house to house. In years past, two parks in the 'hood, Titus Sparrow Park and Ringgold Park, host pre-trick-or-treat parties with pizza and entertainment.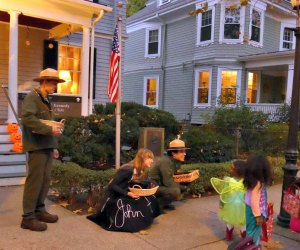 Rangers passing out candy at the John Fitzgerald Kennedy National Historic Site on Beals Street. Photo courtesy of NPS
Tyndale Street – Boston (Roslindale)

Also, blessedly, blocked off to traffic, Tyndale tends to be crowded on Halloween, but for good reason: This bustling street next to Roslindale Square is lined with homes where the neighbors are spirited with their decor and generous with their treats.
Monument Avenue – Charlestown

Trick-or-treat your way down this car-free street filled with other families and costumed characters. At the end of the street, you run into Monument Square where Charlestown throws an annual Halloween party, and it's back on for 2021.
Beals Street – Brookline

Close to Coolidge Corner hotspots, beautiful Beals Street is closed off to cars and open to all trick-or-treaters on Halloween. Stop by the John F. Kennedy National Historic site, where rangers and caretakers get into the spirit and hand out treats all evening long. Hint: Go on the early side to avoid crowds, and be sure to wear proper footwear to truck up and down the stairs of the Victorian homes safely.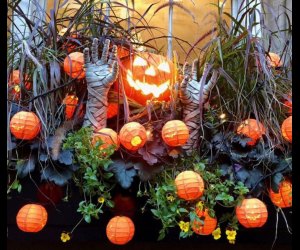 Brookline is a great place to find lit Halloween displays on beautiful homes. Photo courtesy of the Beals Street Civic Organization
Dudley Street – Cambridge

This modest street in Cambridge has a lot of fun every Halloween, organizing themed decorations and festivities every year for more than a decade. There are lights, sound effects, and lots of spooky fog that makes a trek down Dudley deliciously spooky as night falls.
Newton Centre and Waban – Newton

If you venture south of Route 9, head toward the Charles River Country Club neighborhood; typically, there's a house on the corner of Country Club and Rosalie where the decorations are over the top. On the west side of Newton, the lovely, flat streets of Waban are a magnet for Halloween revelers.
Bainbridge Street – Malden

Bainbridge is maybe best known for its spectacular December holiday lights, but the street's residents really do it up for Halloween, too. Look for intense light displays and haunted decor between 25 and 50 Bainbridge Street. For pre-evening fun, hit the annual Malden Chamber of Commerce Trick or Treat event on Pleasant Street. Start at City Hall and pick up the official Trick or Treat Treasure Map that will lead kids around the square.
Minot Beach – Scituate

Trick or treat, oceanside? If the weather's right, why not? Scituate closes part of Front Street to traffic on Halloween evening so kids (and always, some elaborately costumed pets) can collect candy around the harbor. Trick or treat afterward in the Minot neighborhood, where the decor and treats are known to be special.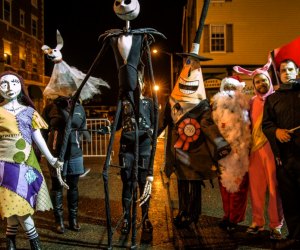 With Salem hosting a month-long Haunted Happenings festival, the entire downtown makes for epic trick-or-treating. Photo by John Andrews
Haunted Happenings – Salem
And of course, what's Halloween without a mention of this historic town to the north of Boston. The 17th Century witch trials continue to be a fascination to this day and inspire the annual Haunted Happenings month-long festival in Salem, which includes Wicked Wednesdays just for kids.