25 Things To Do in Salem with Kids
10/21/22
- By
Elyse Andrews
Costumes are always on in Salem, but the city truly becomes Halloween Town through October. While Halloween has historically been packed with revelers, Witch City is always a great destination for an easy day trip or weekend getaway because there's always things to do in Salem. Take the ferry from Boston to learn the history of the Salem Witch Trials, experience everything from the magical to the macabre anytime of year, and explore family-friendly, hands-on exhibitions at the world-class Peabody Essex Museum. Try an International bevvy of delicacies—including choosing your fancy from a full menu of drinking chocolate—walk back in time through Pioneer Village at Forest River Park, stay at the country's oldest bed and breakfast, and more. It's easy to promise families year-round fun in this historic walkable town with our list of the top things to do in Salem with kids.
For more fun things to do this October, we've rounded up the best kids Halloween events near Boston and loaded up our Halloween Guide with the best of spooky season.
Editor's Note: Salem is a very popular destination in October, particularly on weekends. Local officials have asked visitors to find alternatives to driving into Salem in October. Be sure and have a plan for your excursion. Consult local resources for parking & directions and consider public transportation alternatives.
The Best Things to Do in Salem with Kids
1. Ditch the car and head to Salem via the Boston Harbor Cruises one-hour fast ferry. The ferry departs from Long Wharf in Boston and runs seasonally from May through the end of October. This will make even getting to Salem a fun part of the day!
2. The entire month of October is the annual Salem Haunted Happenings Festival, with tons of not-so-scary event to take your family too. There's even an app for that!
3. The old-school presentation at the Salem Witch Museum will give you and your kids an overview of the 1692 Salem Witch Trials and serves as a great jumping off point for other witchy stops along your Salem tour.
4. Who says you can only dress up on Halloween? Pop into Witch Pix where your kiddos can have a spooky photo shoot using fun backgrounds, props and costumes.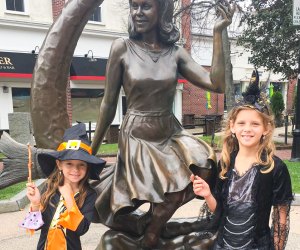 Posing in front of the Bewitched statue - photo courtesy of the Salem Kids Walking Tour
5. Take a Salem Kids Walking Tour, geared toward younger children to learn about the history of the town, from famous Witchcraft Trials to a missing ship to a moving graveyard.
6. One of the best ways to see the city without getting burned out is climbing aboard the Salem Trolley. Get on and off at any of its 13 stops while learning about the city during the guided tour along the way.
7. Salem's House of the Seven Gables is said to have inspired Nathaniel Hawthorne's book of the same name. Take a tour of this historic landmark while you're in town.
8. Take a break for lunch or dinner at Flatbread Pizza Company, where you can grab a slice and knock some pins down at their candlepin bowling lanes inside the restaurant.
9. Salem's So Sweet Chocolate and Ice Festival in February is a delicious excuse for a visit. This week-long festival features ice sculptures around town and tasty chocolate treats and tastings at participating stores and vendors.

Salem's Peabody Essex Museum has art, history, and more. Photo courtesy of the Peabody Essex Museum
10. On rainy or cold days (or really any day), the Peabody Essex Museum is a great indoor activity. This museum makes a huge effort to welcome even its littlest visitors with drop-in art making and exploring the galleries through age-appropriate stories.
11. While strolling town, be sure to stop into Coffee Time Bake Shop for a delicious hot chocolate to warm you up. Go traditional or try one of their specialties like the spicy Mexican Hot Chocolate, Peppermint Patty or Chocolate Covered Cherries Hot Cocoa.
12. Salem is called Witch City for a reason. If you want to learn even more about its history, stop by the Witch Dungeon Museum and Witch History Museum.



King's Roast Beef is famous and just a short drive from downtown. Photo from Yelp
13. The North Shore is known for its roast beef sandwiches, so no trip to Salem would be complete without one. Those in the know swear by King's.
14. There's so much to do you can make a weekend trip out of it. Book a room at the family friendly Salem Waterfront Hotels and Suites located right on Pickering Wharf. Be sure to pack bathing suits because this hotel has a great indoor pool you can use year round.

The Salem Willows features classic treats. Photo of owner Jenny Hobbs courtesy of the Salem Willows Facebook page
15. Take a trip back in time to a simpler era at the Salem Willows Park, which houses arcades, mini golf, kiddie rides, restaurants, and green space. Don't miss the famous popcorn at Hobbs, and if you're feeling really adventurous, try a Salem specialty: the chop suey sandwich from Salem Lowe.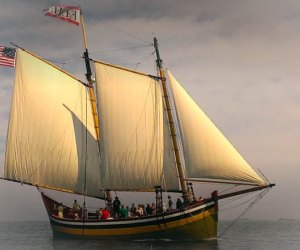 The gaff-rigged Schooner Fame is a working 19th-century replica that sets sail across Salem Sound.
16. Get out on the water and go across Salem Sound to view its many islands on the old world gaff-rigged Schooner Fame, docked right at Pickering Wharf. The Fame is a full-scale replica of the first American privateer schooner that set out to sea during the War of 1812.
17. North Shore's Pride Parade and Festival in June draws huge crowds of all ages for a fun day filled with live music, a dedicated kids zone, and more.
18. Salem is steeped in history, so it's no surprise that it's home to America's oldest candy business, Ye Olde Pepper Candy Companie. Stop by to stock up on their famous Gibralters, the first candy sold in America.

Shiver your timbers as you learn about pirates in Salem! Photo courtesy of the New England Pirate Museum
19. If you have little buccaneers, be sure to visit the New England Pirate Museum where you can explore caves for hidden treasures.
20. You could spend a whole day just exploring the Salem Maritime National Historic Site. First, stop at the U.S. Custom House (where famous author Nathaniel Hawthorne once worked). Walk on the tall ship the Friendship of Salem, and on dry days walk further to the Light Station.

Dive into a stuffed lobster at Finz on the waterfront. Photo by Jack Koveleskie
21. While exploring the wharf, take a break from a meal at the waterfront restaurant, Finz. This dockside eatery will please everyone's palates with a mix of fresh seafood and a children's menu.
22. Operated by the Peabody Essex Museum, the Ropes Mansion and Garden Museum features free self-guided tours of one of the most historic homes in Massachusetts. In the spring, over 5,000 flowers are planted in the mansion's expansive gardens.
23. Salem is a busy little city, but it's also home to a beautiful 129-acre nature area called the Salem Woods. Head there to hike, look for wildlife, and get a break from the hustle and bustle of downtown.
24. Follow the locals to the cozy Red's Sandwich Shop for everything from omelets packed with add-ins to lobster rolls.
25. A walk up Washington Street will bring you to Melt homemade ice cream shop where you can get seasonal flavors like Apple Crisp or tastes of local collaboration, like Atomic Coffee ice cream. If you drive into or out of Salem on Route 114, you can't miss Treadwell's Ice Cream, which has been serving up a huge menu of scoops since 1946.
Places featured in this article:
Click Here to Sign Up!
i