100 Things to Do in New England with Kids Before They Grow Up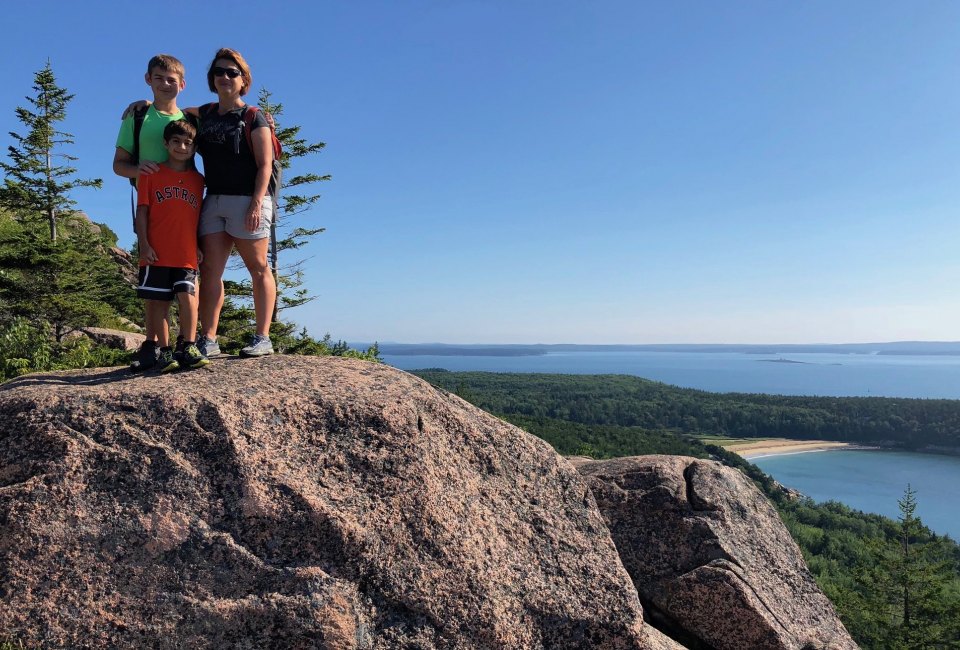 4/6/19
- By
Kelley Heyworth
No matter where you live, exploring New England with kids ought to be on your short list of family vacation goals. Steeped in history and natural beauty, the Northeast offers families a chance to learn about the earliest Americans, frolic on snow or sand, and enjoy all sorts of old-fashioned fun, from farm-fresh ice cream to vintage carousels.
Drawing from our carefully curated lists of the best things to do with children in Boston and Connecticut as well as the inside scoop from parents in Rhode Island, Vermont, New Hampshire, and Maine, we've come up with 100 things to see, do, and eat with kids in New England. It includes our favorite beaches, children's museums and amusement parks, charming New England towns with kid-friendly activities, ski and holiday trips, and top seasonal events and carnivals. One thing is for certain: You'll be wicked glad you visited Yankeeland.
1. Walk Boston's Freedom Trail to see the buildings, squares, and streets where the American Revolution was born.
2. Safari like a Mainer: Look for osprey nests and beaver dams during a ride on the Downeast Scenic Railroad.
3. Go on a Ben and Jerry's Vermont Factory Tour to see ice cream churned and sample signature flavors.
4. Explore a recreated Algonkian Native American village at Connecticut's Institute for American Studies Museum and Research Center.
5. Bike the Cape Cod coastline.
6. See maple sugar boiled down into syrup in Massachusetts, Connecticut, New Hampshire, or Vermont.
RELATED: 50 Must-Do Activities with Kids on Cape Cod this Summer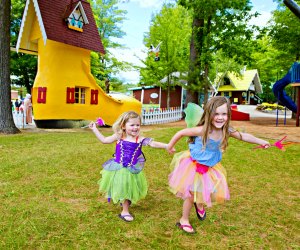 Enter a world of fairytale fun in New Hampshire. Photo courtesy of Story Land.
7. Treat your preschooler to the wee and whimsical rides of New Hampshire's Story Land.
8. Tour the world's largest collection of World War II-era naval vessels at Battleship Cove in Fall River, Massachusetts.
9. Have a roaring good time at Connecticut's Dinosaur State Park.
10. Hike the rugged Maine shoreline at Acadia, the Northeast's signature national park.
11. Grab a brass ring at the Flying Horses Carousel on Martha's Vineyard.
12. Ski the East! Okemo, Loon, Stratton, and Sugarloaf are some of the many family-friendly ski resorts offering plenty of interesting easy trails and top-notch instruction.
13. Go west to the Berkshires—don't miss trying your hand at farm life at Hancock Shaker Village and seeing iconic American illustrations at the Norman Rockwell Museum.
14. Meet a 550-pound turtle and touch live sharks at the New England Aquarium.
15. See some giant mammals on a whale watching cruise (sightings guaranteed)!
Make your own jar at Yankee Candle Village in South Deerfield. Photo courtesy of Massachusetts Office Of Travel & Tourism
16. Walk among (and inside) frozen sculptures at Ice Castles in New Hampshire.
17. Visit a working dairy farm like Arethusa Dairy in Connecticut and sample fresh ice cream.
18. Toss some tea overboard from the Boston Tea Party Ships and Museum.
19. Sample the fruits of the Atlantic at a North Shore clam shack like Woodman's of Essex.
20. See a life-size T-Rex, learn how lightning forms, or tinker in the Discovery Center at the Museum of Science in Boston.
21. Take a seat in a real cockpit at the New England Air Museum near Hartford.
22. Go to Magic Wings in South Deerfield, MA to visit a habitat of some 4,000 magnificent butterflies.
23. Take in Martha's Vineyard's majestic Aquinnah Cliffs from the public beach below.
24. Head to the Vermont side of Lake Champlain for stunning Adirondack views and ECHO, the marine-focused, kid-friendly science center.
25. Search for shells and hit the amusement park at Old Orchard Beach, often named Maine's best beach.
26. Experience everything from art to water slides in charming Portsmouth, NH.
27. Hike or swim Walden Pond, amid the natural beauty that inspired Henry David Thoreau.
28. Let your kids' loose in the climbing maze at the Boston Children's Museum.
29. Paddle, float, or sail down the Charles River.
30. While away a weekend on Lake Winnipesaukee, famous for fishing, waterskiing, and railroad tours.
RELATED: Free Admission for Kids at Boston Attractions
Cheering on the Sox in historic Fenway is Boston tradition for young and old. Photo by Juhan Sohin/CC BY 2.0
31. Go to a Red Sox game or take a tour of Fenway in between games (free for kids under 3).
32. Climb aboard the Essex Steam Train in Connecticut for a themed ride (like Thomas the Train or Mommy & Me Tea).
33. Rule the lanes New England-style at a candlepin bowling alley, where the balls are sized just right for little hands.
34. Hop over to the Frog Pond on Boston Common for splashy fun in the summer or skating in the winter.
35. Picnic on the hillside as you watch race cars zoom by at Connecticut's Lime Rock Park.
36. Give your child a first taste of cannoli or risotto in Boston's North End.
37. Head to Jay Peak in Vermont to whoosh down water slides and ski hills on the same day.
38. Visit the famous fishing port of Gloucester, Massachusetts, and be sure to hit Wingaersheek Beach for rock scrambling and tide pooling.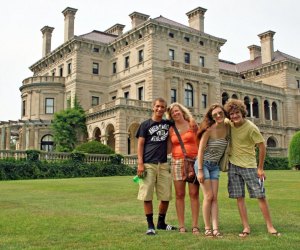 Check out how the other half lived in Newport's Golden Age. Photo Bo Gordy-Stith/CC BY 2.0
39. Head to Newport, Rhode Island for the Gilded Age mansions, an animal topiary garden, and a bustling waterfront.
40. Climb Boston's Bunker Hill Monument...294 steps in all.
41. Don't let a visit to western Massachusetts go by without a stop at Mass MOCA, the country's largest contemporary art museum.
42. Head to Harvard Square to stroll around America's oldest institution for higher learning; then lighten things up with a pit stop at the World's Only Curious George Store.
43. Bring a hoops lover to the Naismith Memorial Basketball Hall of Fame in Springfield, Massachusetts.
44. Pick heirloom apples at one of the region's premier apple orchards in Massachusetts or Connecticut.
45. Tour Old Ironsides and see how sailors live at the USS Constitution Museum in Boston's Charlestown neighborhood.
RELATED: 7 Indoor Water Parks in New England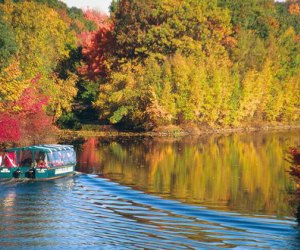 Rivertour Blackstone is a relaxing way to appreciate the foliage. Photo courtesy of Rivertour Blackstone

46. Go leaf peeping on a fall foliage trip.
47. Hang out at a casino—seriously—when one's as family friendly as Mohegan Sun in Connecticut.
48. Hang out to watch street performers do their thing at the Faneuil Hall Marketplace.
49. Take in Providence, Rhode Island, in the winter (ice rink bumper cars!) or summer (WaterFire!)
50. Cheer on the Celtics as they dribble up and down TD Garden's signature parquet floors.
51. Take a waterfall hike alongside the Flume, the natural gorge extending some 800 feet at the base of Mount Liberty in New Hampshire.
52. Visit Plimoth Plantation to see how colonists and Native Americans lived anytime, but especially around Thanksgiving.
53. See Maine's oldest lighthouse and the world's only lifesize chocolate moose in Portland.
54. If you can't get to a Patriots game, see memorabilia from the repeat Super Bowl champs at The Hall at Patriot Place.
55. Immerse yourselves in the world of aviation and astronomy at the McAuliffe-Shepard Center in New Hampshire.
56. Spend an afternoon at the waterfront JFK Library and Museum to learn about the era and legacy of one of our country's most iconic presidents.
57. Go on rides, build and play, and see Boston replicated by plastic bricks at the Legoland Discovery Center in Somerville, Massachusetts.
58. Visit Boston's Public Garden in spring or summer for a swan boat ride and photo op at the Make Way for Ducklings sculpture.
59. Soak up New England kitsch at New Hampshire's Clark's Trading Post, where you'll find a theme park, railroad, and—it's true—trained bears.
60. Ride "Boulder Dash," the famous and historic wooden roller coaster, at Lake Compounce (CT).
61. Celebrate Patriots' Day with parades, battle reenactments, and more in Maine or Massachusetts.
62. Hop a ferry to one or more of Boston's Harbor Islands to hike, beach comb, or fly a kite.
RELATED: 25 Things to Do with Kids in Providence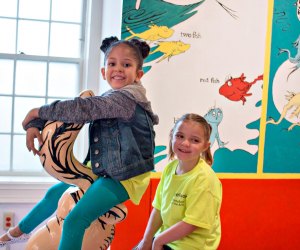 The Dr. Seuss museum in Springfield, Massachusetts, is a family favorite. Photo courtesy of Springfield Museums
63. Is today your day? Get on your way to Springfield (MA)'s zany, colorful Amazing World of Dr. Seuss Museum.
64. See enormous sperm whale skeletons, delicate scrimshaw, and more nautical artifacts at Nantucket's Whaling Museum.
65. Experience the magic of Christmas year-round at Santa's Village in New Hampshire.
66. Warm up from New England's chill with a cup of Boston's best hot chocolate.
67. Sing along with the Boston Pops at Fourth of July or Christmastime.
68. Bundle up and ice skate in the fresh air in Boston or beyond.
69. Visit quaint Woodstock, Vermont for cozy, wintry fun.
70. Go to a lakefront or seaside resort designed with families in mind.
71. Slurp some New England clam chowder for lunch—you can't go wrong with a ladle-full in a bread bowl at the Boston Chowdah Company in Quincy Market.
72. Grab an activity bag and see art through a child's eyes at Boston's Museum of Fine Arts.
73. If snow is on the ground, cozy up under a blanket to experience a New England sleigh ride.
74. Experience snow tubing, New England kids' favorite wintertime activity.
75. See all of Boston's main attractions—by land and sea—in a Duck Boat tour.
76. Race, bowl, climb, game, and more at Apex, New England's largest indoor entertainment center.
RELATED: New England Theme Parks for Families

Cozy up to baby animals at Drumlin Farm! Photo courtesy of Mass Audubon Staff
77. Visit and learn about baby animals at Mass Audubon's Drumlin Farm.
78. Appreciate a variety of animals in natural settings at Providence's Roger Williams Park Zoo.
79. Browse books and play brain-boosting games at Boston's bright and beautiful Central Library Children's Room.
80. Sail into Mystic, CT (or just stroll the charming seaside streets); don't forget to drop anchor at the country's largest maritime museum.
81. Watch the always-giant, imported spruce set aglow at the Faneuil Hall Christmas Tree Lighting Ceremony.
82. Walk the Black Heritage Trail and learn about Boston's 19th century African American community.
83. See old rivalries play out at "The Game," the annual tilt between Harvard and Yale's football teams.
84. Ride on native-to-New-England animal figurines at the Greenway Carousel in Boston.
85. Allow kids the thrill of catching and handling crabs and lobsters on a Nantucket Critter Cruise.
86. See some of America's most accomplished marionettists recreate kid-friendly classics at the Puppet Showplace Theater in Brookline, MA.
87. See colonial life up close courtesy of the historical actors in Old Sturbridge Village.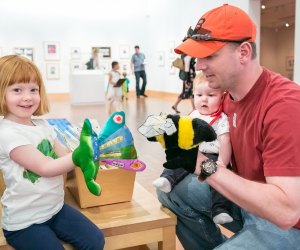 Your little literay fans will swoon to see the Eric Carle Museum of Picture Book Art. Photo by Seth Kaye
88. See the inspiration behind The Very Hungry Caterpillar and other classics at Amherst's Eric Carle Museum of Picture Book Art in Massachusetts.
89. Climb the Lookout Tower at Connecticut's Mount Tom State Park and reward yourselves with a pond swim after.
90. See how local treats are made at the Cape Cod Potato Chip Factory or Avery's Soda.
91. Hike (with older kids) or drive up Mount Washington, the highest peak in the Northeast.
92. Check out ginormous pumpkins, heritage farm animals, fun rides, and over-the-top carnival treats at Massachusetts's Topsfield Fair, America's oldest agricultural fair.
93. Go tubing on a hot day down Connecticut's Farmington River.
94. See how cider is made and sample some fresh-pressed juice at Vermont's Cold Hollow Cider Mill.
95. Got a pizza lover? Sample some of Connecticut's famed slices (start with Frank Pepe's).
96. Monkey around (and above) the New England foliage by zip line.
97. When the leaves start to turn, visit Salem, Massachusetts, America's Halloween capital and the site of the famous witch trials.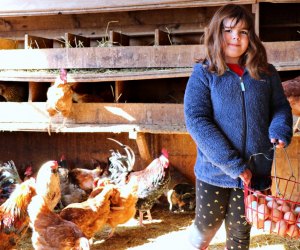 Collect eggs, or just visit with the animals, during your farm stay. Photo by Ally Noel
98. Get back to nature and work hard together at a family farm stay.
99. Take a journey through early American history in the cleverly designed interactive exhibits of the Mashantucket Pequot Museum.
100. Experience an East Coast sunset at Race Point at the tip of the Cape.
Check out how the other half lived in Newport's Golden Age. Top photo by Bo Gordy-Stith/CC BY 2.0
Click Here to Sign Up!