SPONSORED
The Greenway Carousel is a One-of-a-Kind Kids' Birthday Party Spot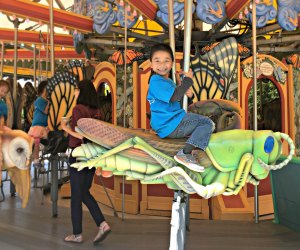 Picking the perfect kids' party spot is no easy feat, so we're pretty much in birthday-planning heaven when we come across an option that's sure to standout from the crowd. And if you didn't already know you could host a celebration at the completely one-of-a-kind Greenway Carousel at the Tiffany & Co. Foundation Grove on the Rose Kennedy Greenway, you're bound to be as thrilled as we were to realize this city hotspot is totally up for grabs.
If this gem isn't already on your venue-searching radar, we've got a solid list of reasons why the Greenway Carousel is one of the best places to blow out the candles with your kiddo!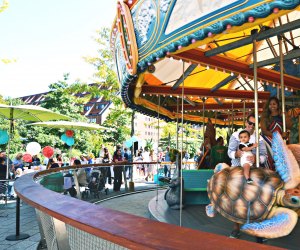 It's a fun-for-all-ages attraction filled with Boston charm.
Kids and grown-ups alike will love taking a spin on the 36-seat carousel, which features 14 different hand-carved animals that are native to New England, including sea turtles, grasshoppers, skunks, and more. The characters are all inspired by the drawings of local school children, which were brought to life by the oh-so-talented Newburyport artist, Jeff Briggs. (Also, talk about a photo opp, moms and dads!)
The carousel is accessible for adults and youth with physical or auditory disabilities.
The New England ADA Center and the Institute for Human Centered Design lent a hand throughout the planning and design process to ensure that Greenway Carousel could accommodate children and adults with physical, cognitive, and sensory disabilities. A pull-out ramp, wheelchair-accessible seats, adjustable lighting and acoustics, and textured animals with hand held straps make the ride universally accessible.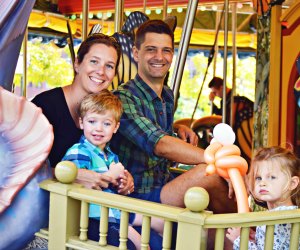 You and your guests get exclusive party space, complete with tables, chairs, and umbrellas.
While the carousel remains open to the public during birthday soirees, you and your party goers can get comfy in your own designated party space, decked out with comfortable tables and chairs, and overhead umbrellas to provide plenty of shade. Make the space your own with decorations, and feel free to serve up your own snacks, non-alcoholic beverages, and of course, cake.
Booking your party takes three simple steps (and they can all be done online).
Typically, finding time to plan a kids' party is no joke... But, to book the carousel, just pick out your party package on the website, personalize it as you'd like, and select a date and time. Greenway Carousel's knowledegable, experienced team of Party Specialists will takeover from there, and will even provide a designated host for your party to make sure everything goes off without a hitch on the big day.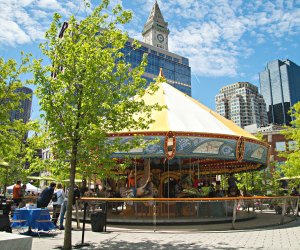 You can personalize your party package with everything from pizza to face painting.
While the base package covers unlimited carousel rides, there's no shortage of other ways to customize your celebration. For an additional fee, you can add pizza to the mix, or choose from world-class entertainment options, including face painting, balloon animals, and even a private magic show. If you're throwing a big bash or you want to keep the party going, you can also pay to add more time or guests as needed.
There's so much more to The Greenway.
The party doesn't even have to stop at the carousel! There are tons of totally unique play areas, fountains, gardens, art installations, food trucks, and markets spanning the 1.5-mile Rose Kennedy Greenway. Ride your heart out, then bring your guests to check out some of the other much-loved attractions.
Ready to book your birthday party? Or want to learn more about the Greenway Carousel? Visit the website for more details, and make sure to ask about special pricing for weekday parties!