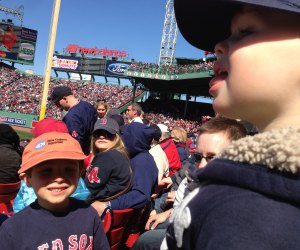 Five Lesser-Known Perks for Kids at Fenway Park
Like your wise but slow-moving granddad, baseball is showing its age—its TV audience is now the oldest among major American sports. And so savvy teams like the Boston Red Sox are bending over backwards trying to get more young fans to the game. In just the past few years, for example, the Red Sox have added Gate K, a kid-friendly concourse in right field, along with Wally's Clubhouse, a climate-controlled game room that's open from the third to seventh inning. That's in addition to bobblehead doll giveaways, pre-game entertainment on Yawkey Way, and other ongoing efforts to make Fenway more fun for your little one. We know, we know; there are a lot of spring activities around Boston that cost less; but if you time it right, a Fenway family outing might prove to be the highlight of the season.
Score Free Tickets With Kid Nation
Just like last season, the first 25,000 kids to join Red Sox Kid Nation (either at the free "Rookie" level or the $40 "All-Star" tier) will receive a free ticket to a Red Sox home game. Of course, for most kids, this means at least one adult will have to spring for a ticket, too. But if you have three kids and you sign them all up, and just one parent goes to the game, you can get four tickets for the price of one. A Kid Nation membership also gets you 10% off at the official team store on Yawkey Way, making that $55 youth jersey purchase slightly more palatable.
Free Tix for Tots
Kids age 2 and under don't require a ticket, provided they sit in your lap. Depending on how big and/or squirmy your tyke is, that means they can attend games for free for almost three years. But remember: Fenway's grandstands are narrower than even an average coach airplane seat, so be prepared to spend a couple of innings ambling around the park to stretch your legs.
Kids Run the Bases
For the past few seasons, the Red Sox have opened up the Fenway infield to kids under 14 after a handful of select games. After the last out is recorded, kids can line up in the bleachers, walk out onto the field and along the outfield warning track, and then run (or practice a home-run trot) around the bases all the way to home plate. While no dates have yet been announced for 2017, keep checking the Red Sox promotional schedule to see if they keep up the tradition this year.
Batting Practice
While serious fans appreciate a pitcher's duel or the elegance of a hit-and-run, we all know what most children (and plenty of adults) want to see at the ballpark: Star athletes bashing home-run balls into the stands in quick succession. Fenway opens the gates to ticketed fans 90 minutes before first pitch, and you can often catch the tail end of batting practice -- right up close to the field. If your kid's an unlikely candidate to make it until the 9th inning of a Wednesday night game, this is a great way to squeeze a bit more out of your Fenway Park experience on the early side.
What's more, Red Sox Nation members ($15/year), "All-Star" Kid Nation members, and season ticket holders (or you, if you bought your tickets from one) can enter the park even earlier—60 minutes before gates open to the public—and watch BP from atop the Green Monster, where you might even catch a home run ball; note that space is limited up there, and it's first-come, first-served.
Blow Your Kid's Mind
After paying for tickets, parking, food, and souvenirs, most parents are understandably tapped out—but for those willing to throw more money around, a birthday wish or other message on the scoreboard simply requires a bit of forethought and a donation of $50 or more to the nonprofit Red Sox Foundation. Or you can book Wally the Green Monster to make a surprise in-person visit to your seats during the game -- for $150 (ouch). The visit includes a signed photo, a gift bag full of Red Sox goodies, and, presumably, a pretty memorable day at the ballpark; email wally@redsox.com or call 617-226-6520 for info.
Extra Innings' Bonus: Free Dinner
Okay, so this perk isn't at Fenway Park, but for several years the Ninety-Nine Restaurant has run a promotion where kids eat free the day after a Red Sox victory (if you bring your ticket stub). That amounts to a savings of $5 to $7 per kid, and if you're trying to stretch the value of your ticket and your kid's appreciation for the game, it just might do the trick.
Photo: Juhan Sohin via Flickr