T-Minus One Hour: Museums Worth the Trip from CT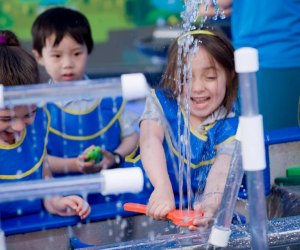 They say you never know what you might discover in your own backyard. Well, in honor of summer, we've put together a list of some travel-worthy attractions just outside Connecticut's proverbial backyard, with no destination farther than an hour away (depending where you live in the state, of course.) From beloved children's authors to time-traveling adventures, these museums are sure to please the kid in everyone. Plus, you're bound to discover something new just beyond your backyard.
The Eric Carle Museum of Picture Book Art - Amherst, MA
From that oh-so-familiar caterpillar to his most recently published What's Your Favorite Color? picture book, there is plenty of trademark Carle art to be found everywhere in this child-friendly museum. Each of the museum's three galleries are filled with original picture book art created by the famed children's author as well as other well-known children's artists. There is also a reading library featuring a collection of over 4,500 books, an auditorium with special films, live theater or musical performances, and an art studio for some hands-on fun. Take the kiddos on a scavenger hunt throughout the museum in search of particular Carle works and earn a tattoo at the end. Top off your visit with a stop to the absolutely fabulous gift shop called "the very best bookstore for picture books in the entire world" by Parents' Choice.
Magic Wings Butterfly Conservatory - South Deerfield, MA
Tucked in Western Massachusetts, Magic Wings Butterfly Conservatory & Gardens is home to nearly 4,000 exotic and domestic butterflies in its 8,000 square foot indoor conservatory. Listen to the sound of a waterfall, peaceful music, and watch hundreds of butterflies fluttering freely through the air. All of which creates an absolutely serene atmosphere. Make sure to join the in-house Lepidopterist (a scientist who studies butterflies) for a daily butterfly release. Pack a picnic lunch to enjoy in the facility's outdoor covered picnic area or Magic Wing's in-house restaurant, Monarchs, for breakfast, lunch or dinner Thursday through Sunday. And, yes, there is a gift shop.
The Amazing World of Dr. Seuss Museum - Springfield
Oh the Places You'll Go! Now that we're talking kid museums we must direct you to Springfield, Mass. There you will find the Amazing World of Dr. Seuss Museum, the first national museum dedicated to the well-loved children's author and illustrator, Dr. Seuss. The new three-floor museum bedecked with all things Seussical opened its doors just over one year ago, offering visitors first-hand encounters with the characters from Seuss's beloved tales, like Horton and The Cat in the Hat. You really feel like you're walking into one of his children's books through the interactive exhibits, artwork, and sculptures. Trust us, visit this place and then you're really off to great places.
Brooklyn Children's Museum - Brooklyn, NY
Founded in 1899, the Brooklyn Children's Museum was the country's very first museum specifically made for children. Today, BCM has wowed millions of children with its interactive exhibits and hands-on learning approach. Kids will love the museum's permanent exhibits like the Brooklyn Block Lab, Neighborhood Nature and "World Brooklyn," featuring a pint-size cityscape lined by faux stores where children can weigh ingredients and knead pretend dough at the Mexican Bakery, or shop for cans of Indian ghee and Turkish candy at the International Grocery.
Providence Children's Museum - Providence, RI
With plenty of hands-on learning fun for children ages 1-11, the Providence Children's Museum offers plenty of fun for the whole family. The museum features permanent exhibits including Coming to Rhode Island, a time-traveling adventure with plenty of interactive fun; Littlewoods, a treehouse designed for the wee ones; and Iway, teaching children about bridge building and city planning. The museum also features ongoing events and programming throughout the year.
Children's Museum of Manhattan - New York City, NY
With five fantastic floors packed with hands-on learning experiences where the arts, science and fun intersect, the Children's Museum of Manhattan should make it onto your bucket list. Twirl, leap, and spin into the museum's space dedicated to the delight of dance or travel the world in a single exhibit learning about over 50 countries. Join Diego and Dora on animal rescue missions or splash and play at the Dynamic H2O exhibition, where children can pump water to the top of a skyscraper, create their own 92 mile aqueduct, and construct a city at the water's edge.
Children's Museum at Holyoke - Holyoke, MA
Visit a world of imagination and play at the Children's Museum at Holyoke. Definitely start with the museum's signature exhibit, the Curvy Climber, where your kiddos will spend literally hours climbing on these curved climbers now featured in museums all over the country. Your little ones will likely gravitate to the giant Light Bright Wall, Imagination Playground, and the Fork Lift. There's also a fabulous water table, ambulance and vet clinic, and a brand new World of Motion room offering STEM based learning and play. The Children's Museum is tucked in Holyoke Heritage State Park, which also features a small outdoor playscape and a carousel that operates Tuesday-Sunday all year round.
Photo courtesy of Children's Museum of Manhattan