The Amazing World of Dr. Seuss Museum Opens in Springfield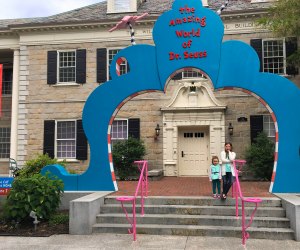 Just in time for summer vacation and exciting road trips, the Amazing World of Dr. Seuss Museum opened a few days ago, attracting more than 2,000 visitors to Springfield—the hometown of Theodor Geisel, a.k.a. Dr. Seuss, the beloved author whose books and characters are synonymous with childhood. The museum incorporates many neighborhood elements that inspired Geisel and infused his tales, and that's not surprising since Springfield is rich in culture and history. This summer, consider a trip to the World of Seuss, as well as the other museums and attractions that make this city a super destination for families.
The Place You'll Go...
Located about 90 minutes southwest of Boston and only about half an hour north of Hartford, the Amazing World of Dr. Seuss is part of the Springfield Museums: four child-friendly, highly interactive attractions dedicated to art, science, and history. This newest (and by far most colorful) addition to the museum network is like confetti sprinkles on a delicious cupcake.

Just like the family-owned bakery that once stood on Howard Street.
From the moment you spot the pink handrails and walk through the museum's front door, you're welcomed into a world of vibrant hues, imagination, hands-on exploration, and sheer delight. For the first couple of minutes, my daughters—loyal fans of Horton, The Cat in the Hat, and Yertle the Turtle—excitedly sprinted from room to room on the first floor, not quite sure of what to explore first. Because they have not met a play kitchen they did not like, the Seuss Bakery was one of their favorite exhibits. Here, children can put on an apron and chef's hat and role-play in a bakery similar to the one that Ted's grandparents owned on Howard Street. Though the play area is on the small side, my girls loved pretending to bake pies and take turns working the oven.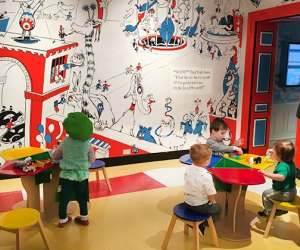 The hands-on fun includes a Lego building area where kids can create their own storytelling scenes.
Nearby, the whimsy continues with interactive opportunities, such as pretend painting on the striped walls of Dr. Seuss' childhood bedroom, taking pictures with statues of various characters, creating zoo scenes with animal Legos, exploring different buttons and animated screens, and enjoying the incredibly detailed artwork depicting illustrations and quotations from various books. Speaking of books, they are sprinkled throughout the museum, allowing children and caregivers the opportunity to page through the stories that animate the walls around them. The lower-level, also equipped with a reading area, features coloring activities and games, such as "Green Eggs and Ham" tic tac toe.

A replica of Geisel's colorful and comfy studio shows where the magic happened.
While children will surely delight in the first-floor exhibits, grown-ups will no doubt appreciate the second floor for the glimpse it offers into Geisel's personal life. His working studio has been restored (with the help of his family) and features his easel, desk, and red armchair. It's truly inspiring to see his oils and colored pencils, messenger bag, original artwork, and writings. Even kids enjoy perusing his art supplies, eccentric hats, heartwarming photographs, and the tiny wicker chair he sat in as a small child. Overall, the museum features some 3,000 square feet of opportunities to explore vocabulary, sounds, games, and imagination. A really nice touch is the bilingual option, allowing visitors to experience Dr. Seuss' works in English and Spanish. The fun continues outdoors in the Dr. Seuss National Memorial Sculpture Garden, which opened in 2002 and features larger than life bronze statues that incite giggles and games of hide and seek.
Other Things to See
When I asked my daughters what they liked about the Dr. Seuss museum, they unanimously declared: "Everything!" So, even if your children aren't fans of Seuss' books, they'll surely love their visit here, and you could well find yourself spending an entire day in the immediate area. The new museum is adjacent to four other Springfield Museums, and one admission ticket grants you access to all buildings, which are arranged around a luscious green courtyard lined with benches and perfect for a picnic in the grass.
After spending five hours here, it was still hard to pry away my girls since they found something exciting in every building: In the Michelle and Donald D'Amour Museum of Fine Arts, they oohed and ​ahhed over the "Jeweled Objects of Desire" exhibit (on loan from the Smithsonian Institution and on display until December 31, 2017), which features an eye-catching silver and gold chess set, a jewel-encrusted fax machine, and a gold Nokia cell phone encrusted with more than 200 gems.
Children who love animals will surely enjoy their visit to the Springfield Science Museum, where they can sit in a dinosaur print, observe woodlands life as depicted in detailed dioramas, learn about Native American history and African American accomplishments, and browse geological findings from near and afar. My daughters spent nearly an hour in the "Once Upon a Time...Exploring the World of Fairy Tales" exhibit (on display until September 3, 2017) where they dressed up and pretended to have tea parties in Belle's castle, climb Jack's Beanstalk, and board Cinderella's coach. The exhibit is fun but also educational, even allowing children to write their own fairytale.
If you have superhero-minded kids who aren't feeling up to attending a ball, the "Turtle Power! Teenage Mutant Ninja Turtles & Samurai Heroes" exhibit in the George Walter Vincent Smith Art Museum will allow them to compare and contrast weaponry, including a large selection of swords and three complete suits of samurai armor.
Where to Eat
If you get hungry, the Blake House Cafe is conveniently located onsite and offers a selection of sandwiches and salads. It's also a good value: for example, a (delicious!) grilled cheese sandwich with chips and a beverage currently costs $5.99, while a kid-approved chipotle chicken wrap (also served with chips and a beverage) is $7.95. And if you're like me—always on a caffeine hunt—not to worry: coffee and espresso are available.
If you're looking for offsite child-friendly dining, check out Red Rose Pizzeria on Main Street, opened in 1958 by an immigrant Italian family. It's closed Mondays, but on any other day, the pizza is delicious. For a sweet treat, head a few doors down to La Fiorentina Pastry Shop. This family-owned business (open 7 days a week) has been serving decadent desserts (and espresso!) since 1949. Whether you're craving cannolis, cupcakes, fruit tarts, or chocolate temptations, take it from my kids: there's no better place in Springfield to satisfy a sweet tooth.
Things to Know Before You Go
The museum is open 10 am to 5 pm, Monday to Saturday, 11 am to 5 pm on Sundays.
Bonus: free parking onsite or in a lot across the street.
The grounds and museums are stroller and wheelchair friendly.
The restrooms are individual bathrooms and offer changing stations.
Though eating inside the buildings is not allowed, packed lunches can be enjoyed at the outdoor picnic tables.
The gift store is brimming with entertaining and educational items: books, puzzles, games, crafts, clothing, and toys.
Tickets are $25 per adult and $13 for children ages 3 to 17; visitors age 2 and younger enjoy free admission. Remember, one ticket gets you into five museums. If you're a Bank of America customer, you can enjoy free general admission on the first full weekend of every month. You can also purchase a membership (currently $125 per family) that offers reciprocal admission benefits to other museums. Click here for more information.
The museums feature many family-friendly activities, like the upcoming "Seuss Character Breakfast", "Mad Dash on Mulberry Street (a kid-friendly running race)", and "Art Explorers: From Samurai to Seuss", so be sure to browse their events listings and the Mommy Poppins Calendar for up-to-date information on what's going on in the (truly) wonderful World of Seuss.