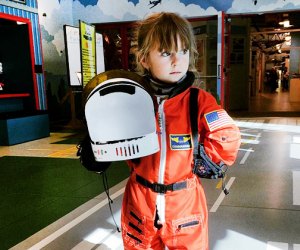 A Visit to the New England Air Museum with Kids
Whether they're excited about Amelia Earhart, the Wright brothers, or Buzz Lightyear, if your children have an interest in flying - or you want to spark their love of science and exploration - get ready to board on a family adventure to the New England Air Museum where real-life aircrafts and interactive exhibits make for an educational and thrilling outing in the Hartford area.
Located in Windsor Locks, just yards away from the roaring planes that land and take off daily from Bradley International Airport, the museum looks unimpressive from the outside; but inside, the average-looking industrial building shelters an amazing collection – more than 100 aircraft – ranging from rescue helicopters to fighter jets, from flying machines to a blimp control car. And the absolute best part? This is an incredibly child-friendly museum, allowing hands-on access to some of its historic aircrafts. Children can even experience a full-motion simulator, but this treat is available only Sunday afternoons.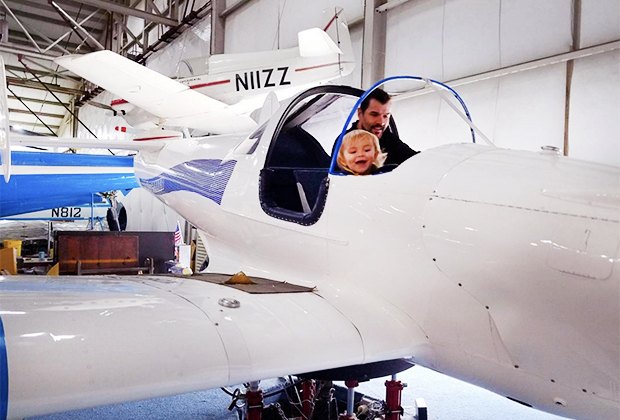 Go for a ride on the flight simulator. Photo by heybug1 via Instagram.
Always excited to visit this museum, my daughters' first mission usually involves rushing up the staircase leading into the Sikorsky "Seaguard." The model was retired in 1989 and during some 25 years of service, these helicopters were used by the U.S. Coast Guard to save more than 15,000 lives. Children's eyes light up in awe when museum staff members relate such stories of bravery, and then they spend time in the aircraft imagining themselves hovering over turbulent oceans while responding to emergency calls for help. My girls always put up a fight when it's time to exit the helicopter, and yet it is just one of the exciting attractions.
Children also can board a supersonic fighter used to intercept Soviet fighters and bombers during the Cold War, pretend to be in combat mission aboard a helicopter used by the U.S. Army in Vietnam, or master the control system of a ship-based helicopter used by the U.S. Navy. During the warmer months, they can also climb aboard a U.S. Air Force fighter jet parked outside. The ability to sit in worn-out chairs, push an array of buttons, and have any questions answered (the staff here is absolutely wonderful) is a thrill for any young visitor. And, of course, there's more.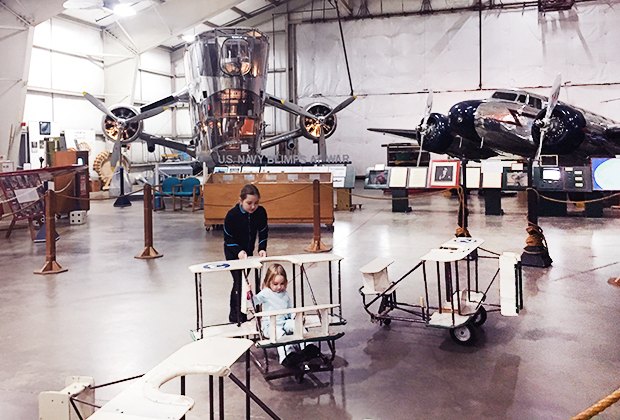 Photo by the author.
While some displays might be too detailed to sustain a child's interest, the exhibits in the three hangars are filled with memorabilia and photographs depicting amazing human achievements. Expect to see the Silas Brooks Balloon Basket, the oldest surviving American aircraft, which was built and flown in Plymouth in the 1870s by Connecticut aeronaut Silas Brooks. Children can ponder this accomplishment, then climb in a hot air balloon basket, sit in airplane seats, and learn about engineers who moved to Connecticut and founded Pratt & Whitney, one of the world's most accomplished and renowned aerospace companies. Little ones delight in steering around pedal planes that are replicas of the kind built and flown by the Wright brothers.
Plan on spending time in the KidsPort area where children can dress up as pilots or an astronaut, and play interactive games involving airport procedures and flight safety. Overall, at the end of your visit, you'll be really glad you stopped by. Whether you took the time to check Amelia Earhart's flight path, reflect in the Silent Wings exhibit dedicated to the glider pilots of World War II, or stroll along the timeline of aviation discoveries and accomplishments – your family will most likely want to return to this museum.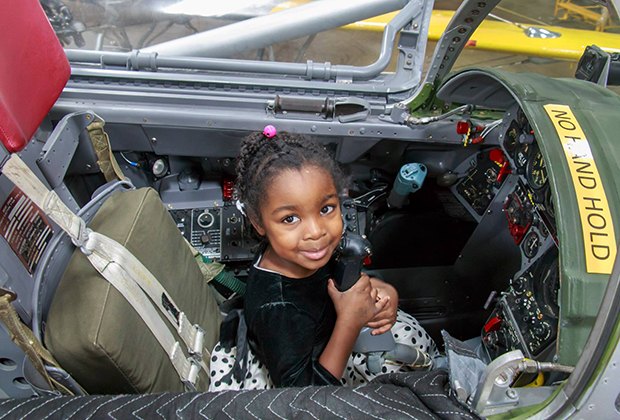 Photo courtesy of the museum.
If you're coming for an overnight trip, you will find plenty of hotel accommodations in the area. The DoubleTree by Hilton, the Hampton Inn, and the Sheraton Hartford Hotel at Bradley Airport offer a shuttle service to the museum.
About 15 minutes south, you will find plenty of child-friendly destinations in Hartford, such as the Connecticut Science Center, Wadsworth Atheneum, the Mark Twain House, or the Harriet Beecher Stowe House. On the other side of the river, in South Windsor, arcade games, miniature golf, and a climbing wall await at Nomads, or later in the spring, you can head 20 minutes north to Springfield, MA, and visit the soon-to-open Dr. Seuss Museum.
Of course, you could also make New England Air Museum a fun stop on your way to Boston or New York City, depending on your destination.
New England Air Museum (open from 10 a.m. to 5 p.m.) is closed on Mondays from mid-September through May, with a few exceptions. Seniors, veterans, and active duty military receive discounted admission.
The building is stroller and wheel-chair friendly, and parking is free. No dining services are offered on site, but vending machine snacks are available, and you may enjoy a packed lunch in a designated dining area or at the picnic tables outside.
Buckle up and enjoy your flight-related adventures!
Top photo: Be an astronaut for the day at KidsPort. Photo by coachdenis via Instagram.
New England Air Museum
36 Perimeter Road
Windsor Locks, CT