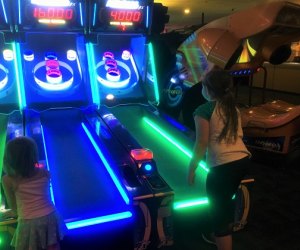 A Visit to Nomads Adventure Quest in South Windsor
Looking for an adventurous day close to home? Look no further than South Windsor in Hartford County, where Nomads Adventure Quest awaits, featuring energy-burning and giggle-inducing attractions. Whether your child likes to climb, bounce, jump, or play games, this amazing indoor play space has it all. Nomads prides itself as New England's largest indoor family entertainment facility and features 65,000 square feet packed with fun. A huge bonus: there is no entrance fee, so you pay only for activities that interest your child. For more family fun ideas check out or guide.
From the moment you check in, Nomads greets you with a menu of choices appealing to boys and girls, and a variety of age groups. We spent about four hours here, and like any good parent, I was able to pull away my daughters only by bribing them with ice cream (speaking of, Jem's Gardens features delicious frozen delights).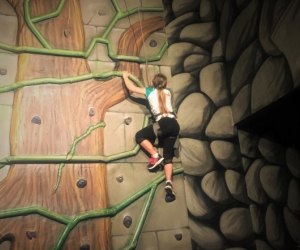 The rock wall is a child-favorite and a great way to build confidence and skill. Photo courtesy of the author.
Whether you choose to host a party here, or just spend a family day, you can look forward to a vibrant, colorful environment filled with fun:
Rock Climbing – featuring the theme of ancient ruins, the climbing wall poses three levels of difficulty and is challenging without being intimidating.
Indoor Black Light Mini Golf – find your way through a maze of decorations, including cobras and ancient ceremonial figures. The course is complete with black lights and everything glows in the dark, making it a complete hit with kids.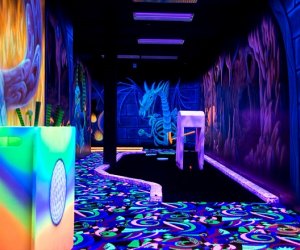 Black Light Mini Golf will challenge and entertain kids. Photo courtesy of Nomads.
Bumper Cars – distracted driving is allowed in this arena, where a music and light show adds to the excitement.
Inflatable Bounce Houses – get ready to conquer more than 10 inflatables. Kids will have a blast running free, climbing, sliding, and doing all the stuff they can't do on the furniture at home.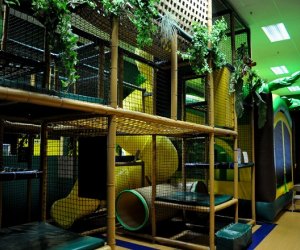 Set the kids free on more than 10 inflatables. Photo courtesy of Nomads.
Arcade Games – test your skills and talents, or just have a great time exploring more than 60 games geared toward all ages. The games can be played alone or as a team, which takes sibling rivalry to another level. Children will be excited about trying to win prizes, ranging from candy to stuffed animals.
In addition, kids taller than 42 inches can go for a spin on a tea cup ride, test their aim and evasion skills in a game of laser tag, or bowl while enjoying music and glow-in-the-dark art. When it's time to take a break, on-site meal options include salads, burgers, sandwiches, pizza, and pastas. Throughout the year, Nomads also features special family-friendly events, such as The Magic of Brian Miller and the 3rd Annual CT Classic Car Show.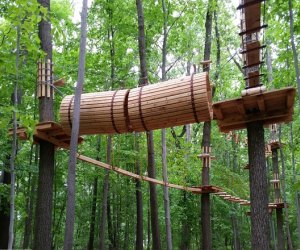 Nomads Outdoor Adventure features six exciting trails that improve fitness and confidence, all while having fun. Photo courtesy of Nomads.
If children are in the mood for aerial obstacle courses, and at least 7 years old, check out Nomads Outdoor Adventure where they can traverse six adventure trails sprawled on nine wooded acres. All obstacles are self-guided adventures and can be picked based on skill and comfort level. Safety is of utmost concern and participants are harnessed at all times. So plan your fun-filled family day at Nomads, open seven days a week. Bring closed-toe shoes, some hand sanitizer, and prepare to have lots of fun.
Header image courtesy of the author.