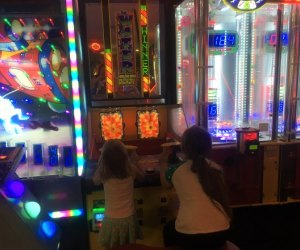 So Many Fun Things to Do With Kids in South Windsor
Don't know how to fill long summer days? Head out to South Windsor and you'll likely run out of daylight. Once a tract of land occupied by Podunk Indians, and later a farming and ship building town that supplied volunteers during the American Revolution, today this community boasts vibrant restaurants, recreation areas, shopping plazas, and enough attractions to keep children entertained. Located about 10 miles northeast of Hartford, the town makes for a great in-state day trip.
Nomads Adventure Quest
Play in the arcade or the bounce house, try your hand at laser tag, enjoy a round of indoor black light mini golf, climb in ancient ruins (the climbing wall requires closed toe shoes), take a tea cup ride or show off your driving skills in the bumper cars. After two hours here, my kids were far from being willing to leave, so count on this being a great destination for family fun or a party with friends.
100 Bidwell Road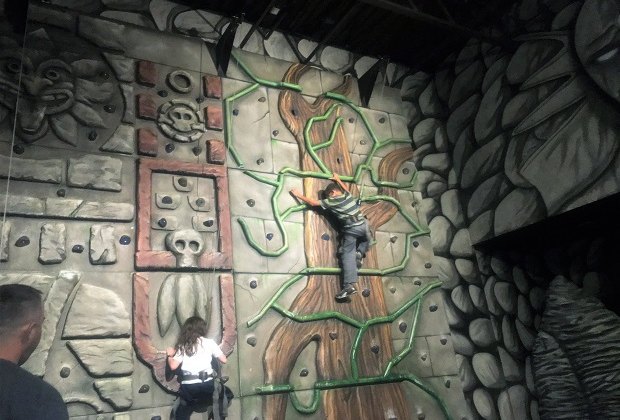 The climbing wall inspired by ancient ruins is just one of the attractions at Nomads Adventure Quest.
Boundless Playground
Boundless playgrounds are special because children (and adults) of all ages and abilities can play on them. This one (being no exception) has swings, a toddler-sized playscape, a large sandbox, musical instruments, plenty of climbing opportunities, and a tranquil garden that welcomes little explorers. When you get tired, you'll find plenty of benches and covered picnic tables to enjoy a packed meal or snacks. While you're here, explore the rest of Nevers Park, home of the South Windsor Farmers Market.
150 Nevers Road (next to the Community Center)
Foster Farm
During the spring and summer, the nursery is blooming with colorful flowers. Stop by and let the kids choose a new addition for your garden or deck. Return in the fall and meet friendly farm animals, venture onto tractor, train, and pirate ship playscapes, and get creative in the huge sandbox. Do not let fall pass you by without getting lost in its fantastic corn maze. In 2015, the Peter-Pan-themed corn maze took visitors through an adventure in Neverland. Stay tuned for what this year's surprise will be. This is also a great place to pick pumpkins.
90 Foster Street
Major Michael Donnelly Land Preserve
If your family enjoys the outdoors, spend some time at this land preserve. Relax in the observation gazebo, go fishing in the picturesque pond, look for wildlife, or enjoy a nature walk on the two mile trail.
1165 Sullivan Avenue
Bounce Town
Put on their socks and let the kids jump and slide to their hearts' content on six inflatables whose features include an 18-foot slide, an obstacle course, and a wipe-out zone. A 16-foot rock wall is open on weekends. Outside food is not permitted, but snacks and beverages are available for purchase, and you may also order pizza to eat in the lobby. Closed Tuesdays.
97 Commerce Way
Ice Cream, You Scream...
Your adventures around town will probably leave you in need of some cold refreshment. Head to Rita's for a delicious selection of treats, including gelati, Italian ice, or a shake. If frozen custard doesn't cut it, check out Jem's Gardens where more than 15 ice cream flavors will tempt your taste buds.
Rita's, 1735 Ellington Road
Jem's Gardens, 1062 Pleasant Valley Road
South Windsor Wildlife Sanctuary
Situated on the Ellington border on the highest point in town, this preserve features trails that lead to the ultimate prize: stunning panoramic views. Bring guide books and go bird watching, learn to identify trees, or just work up a sweat (though much of the trail is shaded) exploring this pristine natural environment. This place is beautiful in every season.
Niederwerfer Road
Veterans Memorial Park
Looking to escape the summer heat? A refreshing pool awaits between Memorial Day weekend and end of August. Residents and non-residents can purchase day or season passes for individuals or entire families. Basketball courts and open fields provide a break between splashing.
575 Pleasant Valley Road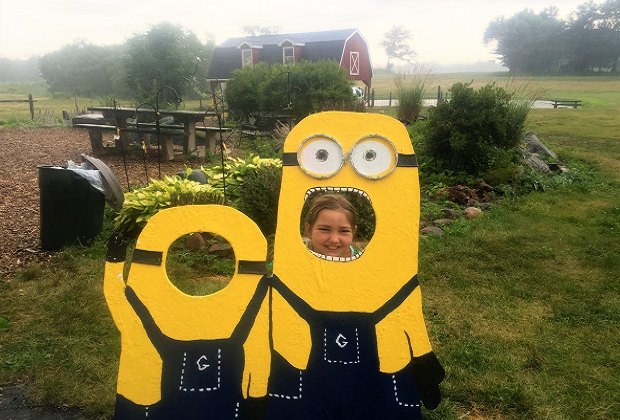 A visit to Burke Ridge Farms is sure to put a smile on your child's face. Enjoy the petting zoo and Guifford's ice cream.
Burke Ridge Farms
A petting zoo (goats, donkeys and pigs), ice cream, plenty of place to run, and a country store filled with goodies and whimsical decor? Yes, please. Barely over the Ellington border, its awesomeness factor makes this destination worthy of being included on this South Windsor attractions list. Stop by for local honey, gorgeous flowers (I am still giddy about the Fuschia flower I purchased), friendly farm animals, or seasonal attractions like a corn maze, hay rides, and a pumpkin patch.
95 Wapping Wood Road, Ellington
Greenleaf Pottery
Splurge on a lesson (offered for adults and children ages 6-14) and learn how to turn clay into a beautiful work of art. No prior experience necessary. Wheel-throwing instruction is provided depending on the age of the student.
240 Chapel Road
Fairway Miniature Golf and Batting Cages
Make memories winning a game of miniature golf (fully lit for those warm summer nights), or test your arm at the batting cages. Celebrate a victory with ice cream, hot dogs, or frozen lemonade.
75 Spielman Road (for GPS navigation, use 84 John Fitch Boulevard)
Sal's Pizzeria
South Windsor features plenty of eateries, but good New York-style pizza is hard to find and most kids will not turn it down. Head to Sal's for a grinder, salad, soup, or of course - the main attraction - delicious pizza. The kids inhaled their mozzarella pizza slices and mom was satisfied with the super fresh antipasto salad.
175 Ellington Road
The Wood Library & Museum
Stop by for a storytime, take in an intimate concert or a history lesson, or browse the art gallery. Home to the Hartford Audubon Society's collection, the library is also a great destination for bird enthusiasts and features a room filled with various taxidermy birds. The learning opportunities continue on the second floor where visitors can catch glimpses of Native American artifacts found in the area. Though the play area is not large, it is packed with wonderful items for creative play: cars, puppets, wooden puzzles, dolls, board games, beanie babies, and much more. The library also holds a generous collection of American Girl books. In December, New England's largest display of gingerbread houses turn the library into a winter wonderland.
738 Main Street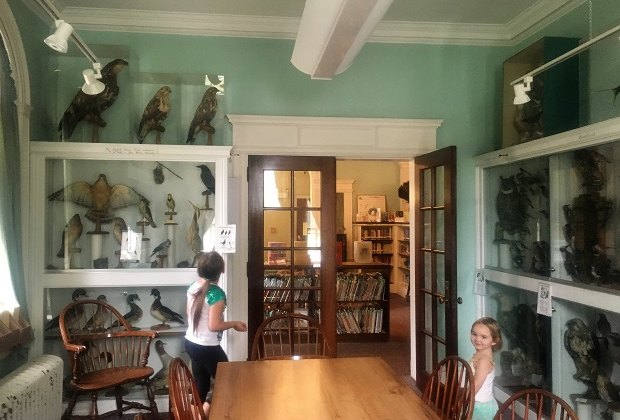 The Wood Library & Museum features great learning opportunities, including the Hartford Audubon Society's collection.
The Promenade Shops at Evergreen Walk
Shop until you drop. Carter's, Baby Gap, Justice, and Old Navy are just a few of the child-friendly stores. Of course, moms and dads can have a turn splurging on themselves, or the family can dine out or indulge in sweet treats at Taste by Spellbound or Ben & Jerry's. This year's Summer Concert Series features children's entertainment and takes place every Thursday until August 18.
501 Evergreen Way

Wapping Park
According to the town website, the park consists of 180 acres and a 2.5 mile trail system that features bridges, boardwalks, and bird blinds. Enjoy a stroll through open meadows, pine and hardwood forests, shallow marshes, vernal pools, and the Podunk River. Pack a picnic and let the family bond with nature and each other.
Clark Street
Revolutions Bowling & Lounge
Choose a pizza and bowling package, host a party, or check out the outdoor air hockey table on PATIO 60, the backyard recreation area featuring volleyball courts and badminton, as well as games such as corn hole, bocce, and horse shoes. Some events and specials are for ages 21 and older, so it's best to check before you head out.
60 Bidwell Road

Have a great time exploring South Windsor, and if you come across any other family-friendly destinations, please share them with us!