Courage and Compassion at Harriet Beecher Stowe's House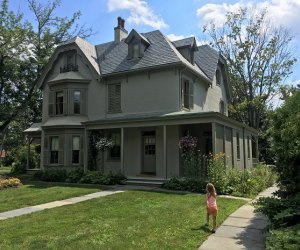 Children love superheroes, those powerful people whose good deeds defeat evil, and leave the world a better place. Once kids start hearing about the amazing life of Harriet Beecher Stowe, they'll realize she totally qualifies as one. A tour of Hartford County's Harriet Beecher Stowe Center, which features her home and a museum, offers the opportunity to learn about this beloved author, and how she helped change history.
"You're the little woman who wrote the book that started this great war," Abraham Lincoln said to Stowe upon meeting her at a White House reception, referring to the Civil War. No, the author did not have superhuman powers, but she did fuel the anti-slavery movement by writing Uncle Tom's Cabin, the best-selling novel of the 19th century.
A visit to her Gothic-style home, which neighbors the Mark Twain House and is a National Historic Landmark, can spark children's interest in literature and social justice. Our tour guide informed us that 85 percent of the items in the home belonged to Stowe or her immediate family. Here, you will see the dining room table where she chronicled Uncle Tom's hardships and listen to her trembling voice as she recalls the death of her toddler son and how that crushing pain inspired her compassion for slave women who who were being torn apart from their children.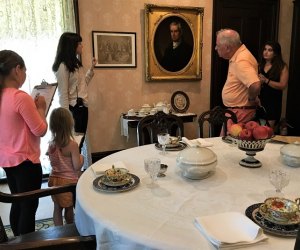 A scavenger hunt helps young visitors stay interested and involved in the house tour.
Touring the seven-room house (actually, eight rooms if you include the exhibits in the entry hallway) will likely help children to learn from history, and remind them that freedom and equality were not always promised to all people in the United States. Furthermore, learning about Stowe can fuel pride in their home state. She was born and raised in Litchfield, and lived and died in Hartford (in between, she also called Cincinnati home).
On the day of our tour, a dozen people came from places as far as Ohio and California. Guests included five children who had plenty of questions about the portraits decorating the walls and everyday items that they did not readily recognize, such as an old-fashioned postal scale. After new carpeting is installed (part of an 18-month interior preservation project), additional furnishings and artifacts will be added to the house.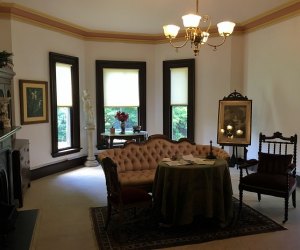 In the parlor, visitors can hear a touching recording of Harriet Beecher Stowe's voice.
In a newly renovated room on the second floor, a timeline shows a progression of social reform, a first edition book, and a display of items depicting the social impact of her writing through the years.
Children can learn much more during an interactive, hands-on family tour offered especially for them at 1:30 p.m. on Saturday, Sunday, Tuesday and Thursday during July and August, or any other time by advance reservation. It uses storytelling, historic photographs, letters, and journaling to bring the famed abolitionist to life for children ages 5 to 12. They can participate in an "I Spy" scavenger hunt and win a prize by locating objects in the house. They can also complete a free "Make it and Take It" activity in the Visitor Center.
The Stowe house, located at 77 Forest Street, is open year-round. Tickets are $14 for adults, $8 for children, and free for those under 5. Some libraries offer museum passes good for free admission, and at certain times of the year, such as Mother's Day, the center welcomes moms free of charge. Stowe, a mother of seven, would no doubt approve.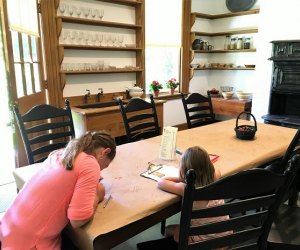 After the house tour, visitors have the opportunity to ponder (and discuss) any social injustices they would like to see remedied.
Expect to find free parking, clean bathrooms, and a museum store. Older children can prepare for their visit by downloading educational materials found on the Stowe Center's website.
If you have extra time to spend in the area, consider visiting the Mark Twain House (a discounted ticket combination is available) and grab a delicious sandwich (and ice cream!) at the Harvest Country Store, less than 2.5 miles away in West Hartford. Of course, there is more to see and do in Hartford, including the Connecticut Historical Society and the Connecticut Science Center.
For more information, visit harrietbeecherstowecenter.org or call 860-522-9258.
Originally published 5/4/15.