A Visit to the Connecticut Historical Society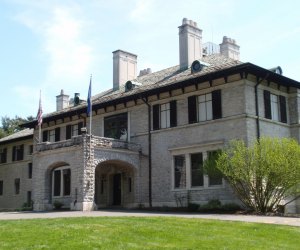 Whether you're looking to give your child a head start on local history studies, or refresh lessons already learned, a visit to the Connecticut Historical Society in Hartford is an informative and enjoyable way to spend a couple of hours immersed in our state's legacy. Because the museum is located only 1 mile from the gorgeous Elizabeth Park (where you can dine at Pond House Cafe), and less than 4 miles from Westmoor Park, an outing to CHS can easily turn into a great day spent in the West Hartford area.
Established in 1825, the Connecticut Historical Society is one of the oldest in the nation and acts as our state's official historian. According to its website, the CHS collection includes more than 4 million manuscripts, books, and artifacts. Of course, kids will not be impressed by such statistics, but they will be entertained by what the museum features.
There is much to learn here and the exhibits change on a regular basis. Whether you have a Girl Scout interested in the organization's history, a son who collect coins, or a family member interested in the progression of shoes, there is always something interesting to see.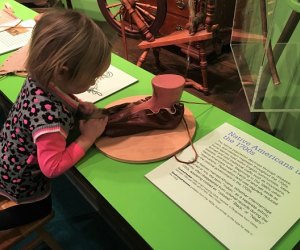 Try your hand at sewing a Native American moccasin.
One of my children's favorite exhibits is Making Connecticut, which captures more than four centuries of state history and includes hands-on lessons. This area of the museum helps younger visitors imagine what daily life, transportation, and fashion were like in years past, and also offers hands-on opportunities for pretend play. Children can work a World War II assembly line, try their hand at sewing a Native American moccasin, replace bobbins in a textile mill, and cook in a Colonial kitchen. My toddler loved having the freedom to touch most of the exhibits, and my fourth grader enjoyed the visual lessons about places, people, resources, and the making of government. Seeing how people spent their leisure time in the past, and how wealth and literacy were affected by the American Revolution, made for interesting conversations long after our visit to the historical society.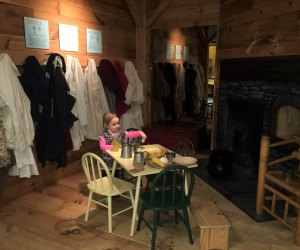 Children will enjoy preparing food and cooking in the Colonial kitchen.
Older children might enjoy the Inn & Tavern Signs of Connecticut, a gallery that includes about 60 signs, one of the largest collections in the country. It is certainly interesting to see the businesses that flourished during Connecticut's early years and ponder how the social landscape has changed.
Children as young as 8 used to work long days in factories; one job involved replacing empty bobbins will filled ones. Set the timer for 30 seconds and see if you can perform under such pressure.
In addition to its detailed, colorful, and child-friendly exhibits, CHS offers educational and entertaining family-friendly programs, including Free First Saturday, which grants free all-day access to the museum, and includes arts and crafts. Spring break activities and a History Detectives Summer Program in August allows children the opportunity to immerse themselves in Connecticut mysteries and innovations. You can also catch interesting lectures here, movies, or even a Moms' Night Out.
What else can you expect during your visit? Friendly and informative staff, free and convenient parking, a stroller-friendly museum equipped with an elevator, clean restrooms, and a gift shop. The museum is open Tuesday through Thursday, from 12 p.m. to 5 p.m., and Friday through Saturday, from 9 a.m. to 5 p.m. Admission is $8 per adult, $4 for students and children ages 6-17, and free for those 5 and younger. Some libraries offer museum passes that grant complimentary admission, so be sure to check if your local library offers this perk.
Top image: courtesy of the Connecticut Historical Society