Online Robotics Camp
Young Gates - Kids Online Personalized Classes

Artificial Intelligence with Scratch Online Camp
Young Gates - Kids Online Personalized Classes

Spark Math: Free Trial Class
Virtual
Sign up for our free newsletters.
Gorgeous Flower Fields in Connecticut: Best Blooms and Flower Picking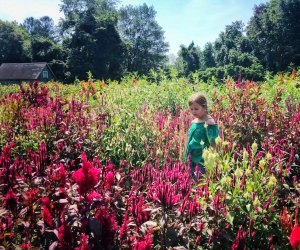 4/9/22
- By
Ally Noel
As the days get longer and the temperatures rise, flower fields in Connecticut start springing to life. Daffodils, cherry blossoms, tulip fields, and more put on a beautiful floral firework display with a cacophony of blooms throughout the state. From the urban beauty of Cherry Blossoms in New Haven to the delightful daffodils in Litchfield, Connecticut sure knows how to celebrate the arrival of spring.
Browse our list of the most beautiful places for flower picking near you in Connecticut before digging out those buckets from the garage. Colorful inspiration is all around us during springtime in the Nutmeg State, so don't miss Spring Festivals and Fairs in Connecticut for Kids and Families and our ultimate Spring Bucket List.
For more stories like this delivered straight to your inbox, sign up for newsletters.
Flower Fields and Flower Picking in Connecticut
1. Wooster Square — Cherry Blossoms
Enjoy a day sitting under the shade of the beautiful and fragrant cherry blossoms. The Yoshino Japanese Cherry Blossom Trees were planted in Wooster Square in 1973. This New Haven Square is the site of the annual Cherry Blossom Festival.
RELATED: Farms and Pick-Your-Own Connecticut Guide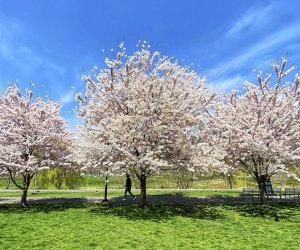 Mother Nature shows off with gorgeous springtime displays.
2. Mill River Park — Cherry Blossoms
Located in downtown Stamford, Mill River Park is home to the largest cherry tree grove in New England. These trees were originally planted in the 1950s, and put on a great display of blossoms every spring,
RELATED: Spring Break: The Best Things To Do in Connecticut with Kids on Vacation
Bring a bucket and fill it with arrangement-worthy blooms.
3. Colorsblends House and Garden – Bridgeport
The Colorblends House and Garden is an urban oasis. April through early May, guests can visit this show garden for a bit of inspiration. This spot is a wonderful place to snap a few photos of your family for Easter or Mother's Day.
4. Laurel Ridge — Daffodils
You can't predict nature, but usually, sometime in April, daffodils make their appearance on Laurel Ridge in Litchfield. Make sure to pack your camera for picture-perfect vistas filled with these beautiful blooms.
5. Halfinger Farms – Daffodils
Don't miss Dancing Daffodils at Halfinger Farms in Higganum. Pick-your-own daffodils generally kick off in late March and run through early May. Make sure to give the farm a call to check for picking conditions at (860)345-4609.
RELATED: 20+ Spring Day Trips That Connecticut Kids Will Love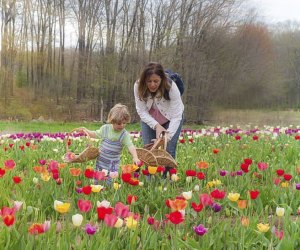 You'll definitely want to keep the camera handy at Wicked Tulips. Photo courtesy of Wicked Tulips Flower Farm
6. Wicked Tulips Flower Farm – Tulip Fields
The newest member of the Connecticut flower scene is Wicked Tulips Flower Farm in Preston. Guests are invited to purchase a ticket to enter the flower fields and pick up to ten tulips. With over 75 varieties of tulips to pick from, it may nearly impossible to pick your favorites!
7. Irwin Park – Daffodils
Thousands of daffodils spring into bloom at Irwin Park in New Canaan. Pack a picnic and just take in the sites and smells at this public park. The beautiful blooms are lovingly maintained by The New Canaan Garden Club.
RELATED: Best Nature Centers in Connecticut To Visit with Kids
Bright yellow daffodils brighten everyone's mood!
8. Hubbard Park – Daffodils
Over 600,000 daffodils burst into bloom at Hubbard Park in Meridien. The flowering patches are scattered around the park, making it the perfect location for a little urban hike. The annual Daffodil Festival attracts thousands of visitors every spring.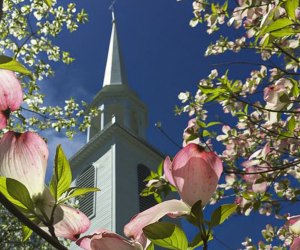 Greenfield Hill Dogwood Trees in full bloom, photo courtesy of visitct.com
9. Greenfield Hill — Dogwoods
The Greenfield Hill section of Fairfield is always lovely for a relaxing Sunday drive. But, nature truly puts on a show every spring when the Dogwood trees blossom along the winding roads. The blossoms are usually at peak bloom around Mother's Day for the Annual Dogwood Festival.
All photos by Ally Noel unless otherwise indicated.