20+ Spring Day Trips That Connecticut Kids Will Love
There are plenty of spring day trips available to Connecticut families ready to hit the road in search of some new sights. The region is full of fun spots that have reopened to offer kids and grown-ups the chance to enjoy zoos, farms, adventure parks, and more seasonal attractions—all while allowing for everyone to sleep in their own beds at the end of the day.
Check out these top places to visit and things to do in Connecticut this spring. We tried to keep all options within a reasonable drive from most points in the state. For more seasonal inspiration, read through our Spring Fun Guide.
Editor's note: While we are trying to promote safer activities that occur outdoors or with social distancing guidelines in place, please keep your family and others safe by always wearing a mask and maintaining an appropriate distance.
Spring is the best time to see Connecticut's waterfalls. Hit the trail to see the water really flow and get ready to see those awestruck kid faces! Pack a picnic lunch to make a day of it.
OUR LATEST VIDEOS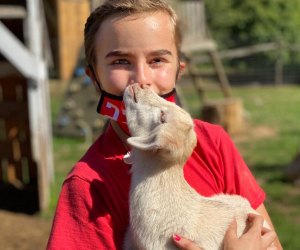 Photo courtesy of Flamig Farm
One of our favorite places to go in the spring is Flamig Farm for its sweet petting zoo and playground. The spring baby animals are a must-see. Expect free-roaming chickens doing chicken-y things, as well as alpacas, horses, pigs, ducks, turkeys, and more farm animals. Picnic tables available for lunchtime, and the whole excursion is fairly wallet-friendly, too. Reopens Saturday, March 27.
Come to the Connecticut shoreline to enjoy the Mystic Seaport Museum. See the intricate artwork of seafaring men on exhibit including pieces of a narwhal tusk, scrimshaw, and other personal belongings. The Museum has also refurbished its exhibit of figureheads, the sculptures placed in honor at the front of historic vessels. Of course, there are plenty more things to do in Mystic for families.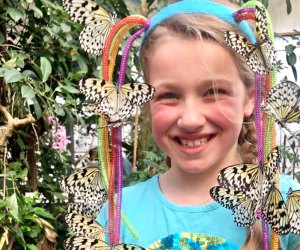 Butterflies are close enough to touch in Deerfield but masks are now required, please! Photo courtesy of Magic Wings Butterfly Conservatory
This is a very special place indeed. Step into an 80-degree bubble and be enveloped by gentle, winged creatures of all colors and types. Buy your tickets online due to reduced capacity.
Feed the local alpacas at this 30-acre Connecticut farm, which also hosts community events. You'll also see horses, sheep, ducks, and geese. Bonus: admission is free for non-event days and the parking plentiful.
Visit with more than 50 dinosaurs at this outdoor adventure park located at Nature's Art Village. Walk the dinosaur trails, but leave room for time on the playgrounds, mini golf, maze, and more. The splash pad reopens May 22 but most other attractions reopen March 26.
RELATED: Easy Spring Break Weekend Getaways for New England Families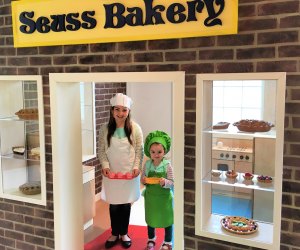 The Seuss Bakery is open for business! Photo by Mommy Poppins pre-COVID.
Get to know one of the most famous children's authors of all time. Only a half-hour from Hartford, we loved our visit to the Dr. Seuss Museum. It celebrates the work of Ted Geisel (a.k.a. Dr. Seuss) who was a Springfield, Massachusetts, native. Kids will love the hands-on exhibits including the Marble Maze, the Lorax Recycle Game, and the Seuss Bakery. Don't forget to check out the other great museums housed on the property as well. Purchase timed tickets in advance.
While you await the grand opening of the nearby Legoland New York, make a trip to the Discovery Center in Westchester. Lego-lovers will be in heaven to be surrounded by Lego-themed activities. Take in a 4-D Lego movie, go for a spin on the Merlin's Apprentice ride, build Lego racers, and try your luck at the earthquake table. Reserve a two-hour time slot online (some attractions remain closed, such as character meets.) The Discovery Center reopens March 26, 2021.
Spring is a great time to visit the zoo, and the Roger Williams Zoo in Providence opens a new "Asian Lantern" stunning light show for spring evenings, beginning April 15. The rest of the zoo is open now and ready to welcome visitors who reserve tickets online in advance. Children will enjoy alpacas to zebras and everything in between. Some attractions may be temporarily closed, including the pony and train rides.
Children are generally fascinated by American Indian culture and history. Let them expand their knowledge with a visit to the Institute for American Indian Studies. There are over 3,000 archeological artifacts onsite including arrowheads, artwork, and pottery fragments. They can also go inside Sachem's House Classroom and try grinding corn, cooking, and gardening. Outside are replica Native American homes. Some kids might enjoy the new snake display, too!
In just two hours, you can be at one of the premier aquariums on the East Coast. The New England Aquarium, situated on Boston's Central Wharf, is a great destination for animal lovers of all kinds. Wave to the harbor seals as you enter; say, "Hi" to the penguins on the first floor; and wind around the huge, centrally located ocean tank. Some attractions are closed or limited during the pandemic, and timed tickets are required.
If your kids love to climb, do physical things and challenge themselves physically, we have a great place for you to go. The IT Adventure Ropes Course is one of the largest indoor ropes courses in the world, and we were thrilled with our visit. You'll also find zip lines, bridges, cargo nets, walls to climb, and more. Little kids are welcome.
Do your kids love the book The Very Hungry Caterpillar? Or maybe you prefer Polar Bear, Polar Bear, What do you Hear? Either way, you will be immersed in the art and storytelling of the Eric Carle Museum as his books come alive at this museum. It is also an educational hub for children to learn from picture books of many authors. Current exhibits include: "Picture the Dream: The Story of the Civil Rights Movement Through Picture Books," "Little Books, Big Feelings," and "Now and Then: Contemporary Illustrators and their Childhood Art." Ticket reservations recommended.
RELATED: Guide to Parks & Playgrounds Around Connecticut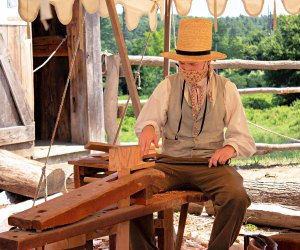 Old-fashioned crafts like barrel-making are on display here. Photo courtesy of Old Sturbridge Village
You and your children will be transported back in time as you walk the village green and stroll the gardens at Old Sturbridge Village. Speak with actors in period costume, meet some of the heritage breed farm animals, stroll the gardens, and enjoy takeout from the onsite Bullard Tavern and your experience will be complete. In the spring, participate in the Maple Days and try some tasty maple syrup. Many buildings remain closed due to covid-precautions and advance tickets are required, but visitors can still experience a number of demonstrations and the grounds as a whole.
Climb through the forest at the just reopened Adventure Park in Storrs! The Adventure Park consists of 80 platforms installed throughout the trees with coordinating ropes, cables, and zip lines. There's even an adventure playground park for ages 3-6. Reservations recommended.
Spark their sense of wonder by visiting with some of the sea animals that live at the Maritime Aquarium. There are so many living things to see at the Aquarium from jellyfish to sharks to river otters. And if you'd like to take it one step further, take one of the cruises leaving from the Aquarium to spend some time with seals in their natural habitat. Online ticket reservations required at this time.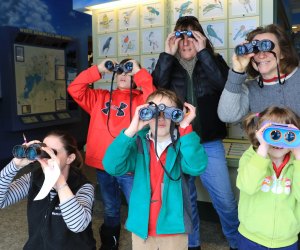 There's birdwatching at the White Memorial Conservation Center's observation deck. Photo by Marlow Shami/WMCC taken pre-COVID
There really is always something going on at the White Memorial Conservation Center. Check its calendar before heading out for the day and then enjoy 40 miles of hiking trails, Bantam River, Catlin Woods, and Ongley Pond. There are picnic tables to eat a snack or lunch at and bird feeding areas. Bring your camera as there are bound to be critter sightings! Note: The nature museum remains closed at this time but plenty of programming for kids continues outdoors here.
A lot of people swear this is their favorite zoo of all the zoos in the Greater-Hartford area, and it's reopening just in time for spring. It packs a lot in for a "little zoo," with more than 850 animals. If you have a reptile lover, head over to the Earth Discovery Center. If you are more of an African Plains appreciator, spend time with the zebras and giraffes. The Zoo also has a train ride, a Safari Sky Ride, and the Soaring Eagle Zipline (for an additional cost). A drive-thru option opens April 3, while the walk-thru begins April 12. Online tickets are a must.
This Connecticut them park reopens for weekends starting May 8, so get those tickets booked! Roller coasters, bumper cars, and water rides await.
Fort Adams, named for President John Adams, was built in Narragansett Bay to protect the shores from enemy attack. Built around 1824, it was active through WWII. Kids and grown-ups will enjoy exploring the old fort and seeing the cannon! Open year-round with free parking. Afterward, check out all the other sights in historic Newport. Here are some other great trips in the East too.
21. Bronx Zoo — New York, NY
Every child who grows up in Connecticut should go to the Bronx Zoo at least once in their lifetime. It's super fun to take the train down from the Nutmeg State and see the aviary (my personal favorite), reptiles, rhinos, and ring-tailed lemurs. Expect to spend the whole day wandering the park as there are thousands of animals to see. Ticket reservations are required at this time.
Sip a New England wine outdoors at a picnic table while the kids run amok. We think the parents deserve a little downtime after a very long year!
An earlier version of this article first published in 2019.