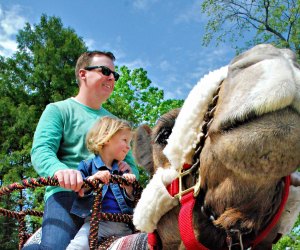 Spring Family Day Trips That Connecticut Kids Will Love
With winter in the rearview mirror, Connecticut families are ready to hit the road in search of some outdoor fun. Luckily, the region is full of spots that offer kids and grown-ups the chance to enjoy budding flowers, reemerging wildlife, and reopened seasonal attractions—all while allowing for everyone to sleep in their own beds at the end of the day. All within a reasonable drive of anywhere in the state, these day trips feature parks, playgrounds, and other attractions that really shine in springtime. For a wider selection of seasonal activities, read through our spring fun guide.
1. New Haven, CT
If you have a flower aficionado in the family, springtime is a great time to visit the hometown of Yale University. Late April, there's a Cherry Blossom Festival in Wooster Square that celebrates the magnificent trees with live entertainment, food trucks, and even a pet-friendly area if you want to bring Fido. In nearby Meriden, there's also a festival to celebrate flowers—in this case, their famous daffodils—but you can see the yellow and white blossoms blanketing Hubbard Park from late-April through May. Pack a picnic lunch or dinner and delight in the arrival of spring.
2. Farmington Valley, CT
With lakes, farms, and terrific ice cream, this pretty region along the western boarder of Hartford County is worth exploring for a day (or two) as everything starts to turn fresh and green. Stop in Simsbury to visit spring-born baby animals at Flamig Farm, and then get a scoop of red raspberry with chocolate chips at Tulmeadow Farm. On the other side of the valley you'll find hiking trails galore at Roaring Brook Nature Center in Canton. If you can get there the first weekend in May, visit the annual May Market, full of farm-fresh treats and crafts, at Farmington's Hill-Stead Museum.
3. Mystic, CT
Come to the Connecticut shoreline to enjoy what the Mystic area has to offer in warmer weather. A not-to-miss attraction is the Mystic Aquarium, where kids will enjoy looking at tropical fish, jellyfish, penguins, and the awesome Beluga whales. But just nearby is also the Mystic Seaport Museum. The Museum offers a Children's Museum where kids ages 7 and under can hope aboard a ship and "swab" the decks!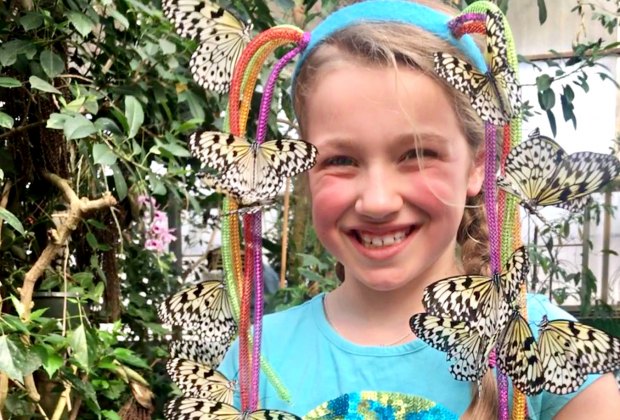 Butterflies are close enough to touch in Deerfield. Photo courtesy of Magic Wings Butterfly Conservatory
4. Deerfield, MA
Head north on 91 and you will find Magic Wings. A butterfly museum kept at a balmy 80 degrees all year long, this is the place to go when you are feeling spring isn't coming fast enough. See hundreds of different butterflies and walk among them in a open atmosphere, Right down the street is the Rock Fossil and Dinosaur Shop. Open during the warmer months, you can learn about dinosaurs, dig for dino-bones, pan for "gold", and find fossils. Finish the day at Richardson's Candy Kitchen, where you can buy a take-home bag of sea salt caramels that will get you excited for beach days in the coming weeks.
5. Westchester County, NY
Wildlife lovers should head west to the Wolf Conservation Center, just over the border in South Salem, NY. Behind a clear glass barricade, kids can see wolves up close as well as learn all about their behavior and particular plight. Because wolves tend to have their babies from April through June, spring is a special month to visit these majestic creatures. It's not far to continue on to Ward Pound Ridge Reservation, a haven for springtime butterflies and home to the Trailside Nature Museum, one of the oldest of its kind in the United States. Kids can check out the mounted animals, American Indian artifacts, and interactive displays.
6. Providence, RI
Too often we forget about little Rhode Island to the east of us. In about two hours, you can reach Providence, where a great spot to spend a springtime afternoon is sprawling Roger Williams Park. At the Roger Williams Zoo, kids can enjoy camel rides, feed animals, and see giraffes, elephants, and zebras. Also head on over to Roger Williams Park Botanical Center, a super place to see tropical vegetation.