Old Sturbridge Village Day Trip: Living History Museum and Farm Fun Near Boston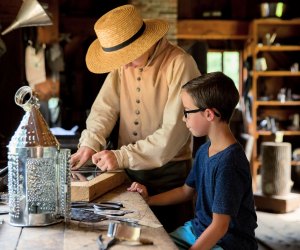 Kids love to "time travel" through books like Magic Tree House, so it's no wonder their eyes light up when they step into Old Sturbridge Village, New England's largest outdoor living history museum. Located just an hour from Boston and just 45 minutes from Hartford, Old Sturbridge Village depicts a rural New England town in the 1830s, and invites visitors to interact with costumed historians going about their "jobs," from blacksmithing to beekeeping. On a recent day trip, my 8-year-old son and I watched a militia member fire a musket, a tinsmith craft a drinking mug, farmers (and their oxen) press apples into cider, and more—all over the course of three fun outdoor hours.
Read on for our family day trip guide to Old Sturbridge Village, which is offering free admission for kids through November 28, 2020. While in the region, be sure to see our picks for the top things to do in nearby Springfield, Hartford, and the Berkshires.
2020 note: Old Sturbridge Village has taken safety steps to operate during the pandemic, including moving all demonstrations and activities outdoors, reducing hours, and limiting capacity on the grounds. Masks are required. On-site lodging is closed until further notice.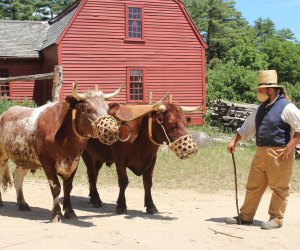 Everyone's wearing masks in 2020, even the oxen. Photo courtesy of Old Sturbridge Village
Best Time To Go to Old Sturbridge Village
Much like 19th-century culture it's modeled after, Old Sturbridge Village plans its daily activities around the seasons. It's open year-round, with special celebrations and demonstrations that suit the time of year. In December, the village is filled with holiday decor and merriment, with "Christmas by Candlelight" evenings featuring storytelling, sleigh rides, and musical performances (the format will change in 2020 to focus more on outdoor and socially distant celebrations). Starting in March, maple sugaring-inspired "Maple Days," sheepshearing-focused "Wool Days," and even spring cleaning activities take center stage. Come summer, kids can see harvesting demonstrations, cooking demonstrations, crafts and craftsman, and more.
On fall "Cider Days," farmers demonstrated how oxen were used to help press apples into cider. Photo by author
Our most recent visit was in October, which meant we could enjoy the changing fall colors on our way to Sturbridge. After a quick check-in at the vistors center, we were free to start roaming the 200-acre, remarkably well-tended property, full of interesting animals and people as well as well-preserved buildings and antique tools. To suit the crisp weather and coming Halloween, there was even a pumpkin patch with perfectly orange heirloom pumpkins dotting the landscape. Since we went on the annual "Cider Days" weekend, our first stop was to the Cider Mill, to watch farmers press apples to prepare them for cider making. My son was amazed to see the giant oxen lumbering around the old-fashioned crank that smushed apples collected from the property's expansive orchard.
Top Things To See and Do at Old Sturbridge Village
Visitors receive a map and list of daily highlighted activities upon arrival to Old Sturbridge Village. You can stroll around the property on your own, or take a ride on "The Carryall," a horse-drawn wagon that winds around the village, making frequent stops. Here are some of the stops my son and I enjoyed the most during our visit: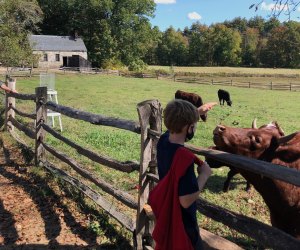 Friendly cows and sheep greeted us as we walked through the village. Photo by author
Farm Animals: From sheep to cows to horses, friendly farm animals are part of the culture at Old Sturbridge Village, and seem happy to stroll up to the fence to interact with children.
Fitch House: One of the small houses on the grounds, the Fitch House shows a slice of 1830s domestic life, as women use (and describe) doing laundry with antique machines and handmade soap, and take trimmings from a kitchen garden. Visitors can peek inside their house to see what a child's bedroom or ironing board looked like.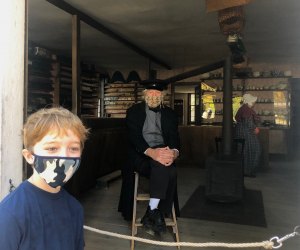 "Asa Knight" will tell you about the medicines, cheeses, decorative items, and more that he sells at his shop.
Asa Knight Store: A stop at this store really brought me back to my days watching the Olsens bustling about their shop on Little House on the Prairie. The store is perfectly organized with an array of fascinating goods, from decorative fire bellows to chocolate, and the proprietor took time from the doorway to point out every curiosity to my inquisitive son.
Tin Shop: Tinsmiths are busy at work to gently bend and solder tin into lanterns, mugs, and more as visitors watch. In a stop by their outdoor workshop, my son and I learned not only about the craft, but also trade between New England and England.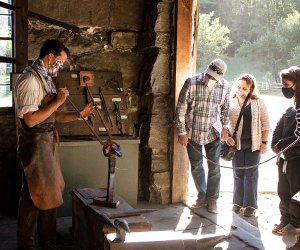 Visiting the Blacksmith shop. Photo courtesy of Old Sturbridge Village
Blacksmith Shop: From the wheezing of the giant bellows that feed the fire to the pounding of glowing iron into shape, the goings-on in the blacksmith shop hold kids rapt for awhile.
Musket Demonstration: Lucky you if your visit to Old Sturbridge Village coincides with a musket demonstration. A colorful and loquacious gentleman held court in front of a rapt group of onlookers to show how to load and fire a musket (deep into the fall foliage, for safety).
Gardnens and Bees: Located at the end of our route around the village, the extensive herb garden and bee colony were unexpected highlights of our visit. A big plexiglass box allow visitors to observe the work of the honeybees that were so important to villagers' garden, featuring hundreds of herbs and plants that were useful during the period.
Nature Trails: Short, pretty hikes wind around the property and even across a historic New England covered bridge on the farm side of the village.
Old Sturbridge Village Dining and Shopping
Visitors like us who want to linger at Old Sturbridge Village will be pleased to know there are several spots to grab a bite to eat around the property. The Bullard Cafe serves up several options, from typical kid food (chicken tenders and mac-'n-cheese) to period favorites, like individual (and surprisingly tasty) shepherd pies and chicken pot pies. There's also a spot at Miner's Grant for baked goods and hot cider or maple coffee, and an ice cream stand.
Just like most museums, visitors exit through a gift shop, but browsing the one at Old Sturbridge Village is worth your time. There are colonial-inspired crafting kits, replica tools, toy muskets, cookbooks, and more that can serve as souvenirs for this fascinating trip back in time.