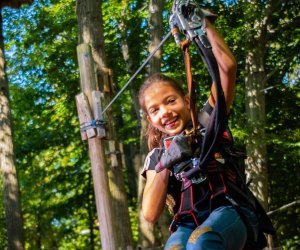 Zip Lines and Ropes Courses in Connecticut for Outdoor Family Adventures
Do you have a child who loves adventure—or who can often be found scaling walls or scrambling up trees? While a family hike is always a great outlet for these high-energy kiddos, you might want to up the ante with a day trip to an outdoor zip line course or ropes course in Connecticut. Our state is home to a number of zip line courses with a range of age-appropriate challenges that will excite thrill-seekers young and old.
What if the weather is cold or wet? Kids can put their climbing skills to the test at It Adventures Ropes Course in New Haven, or monkey around at these Connecticut indoor obstacle courses instead.
2020 update: These zip line and ropes courses have all taken steps to promote social distancing and safety practices, including capacity restrictions and gear disinfection. Contact the specific businesses for detailed information.
This Adventure Park is the largest forest climbing park in Connecticut. Platforms are secured in the treetops along with ropes and zip lines. Seven trails are available with tons of different zip line options on multiple levels of elevation (and difficulty). You can choose tickets for two or three hours. To climb in the main portion of the park, kids need to be at least 7 years old, but little sibs ages 3 to 6 will have a ball in the adjacent Adventure Playground.
OUR LATEST VIDEOS
Older kids and grown ups can work up to higher and longer ropes and zip lines. Photo courtesy of Nomads Outdoor Ropes Course
Nomads is a guaranteed good time for your kids, with a long track record for safety as well as fun. This outdoor ropes course has 7 ropes trails to follow on multiple levels of intensity. The courses are built in the trees and kids (ages 7 and up) can travel from platform to platform, pausing when they need to.
Adventure Park at the Discovery Center in Bridgeport makes sure kids are outfitted securely in 2020—with safety-checked harnesses and masks! Photo courtesy of Ally Noel
Located in Southern Connecticut, this is a tree-top adventure park with 11 trails. Before hitting the trails, everyone receives a thorough training. They also have a feature called Monkey Grove, a good place for families to climb together. Guides are on site to provide assistance to climbers. Multiple levels of climbing experiences are available and are labeled similar to a ski slope (from purple to double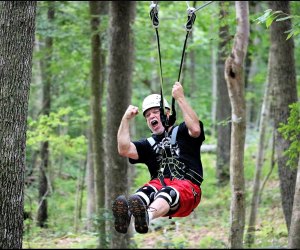 More than 50 forested acres provide an exciting backdrop for zipliners. Photo courtesy of Fields of Fire Adventure Park
A smaller climbing park with only 5 trails, this fun place is set on 50 heavily wooded acres. Yellow and green courses are for kids or beginners. Climbers must be at least 7 years old and 60 pounds. There are tons of bridges, zip lines, and treetop stops. They are open at night and have an awesome fire-pit to hang out at. They even have a Gagaball pit!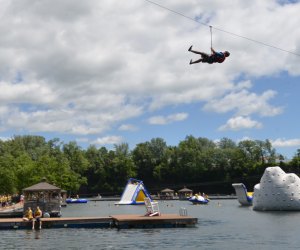 Zipliners in Portland fly over water! Photo courtesy of Brownstone Exploration and Discovery Park
This place has everything for outdoor fun, including this thrilling twist on ziplining: Older kids can zip over and into the water! There are 14 ziplines to choose from. Enjoy many other activities, including wakeboarding, rope swings, kayaking, scuba diving, hiking, biking, and "cliff" jumping.