Water Play at Brownstone Exploration and Discovery Park in Portland, CT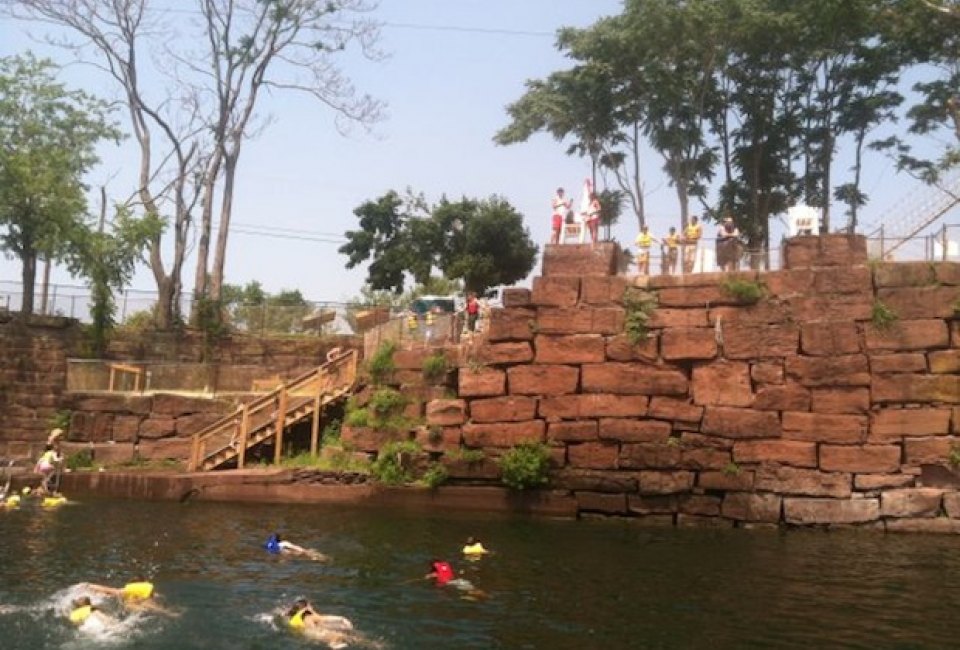 4/1/18
- By
Mary Beth Lawlor
At last we made the trip out to Portland, CT to zip through the sky and jump off of cliffs into the water at the Brownstone Exploration and Discovery Park. This is a water adventure park like no other. Located in an old quarry, where you guessed it, they once mined brownstone, they have ziplines, trampolines, rock climbing, wakeboarding, scuba diving, and much more. We arrived in the morning without a hitch. They open at 10am during the week and close at 7pm. In order to save time we should have printed out our waivers and purchased our day passes online but thankfully the lines weren't too bad so it wasn't a big deal. Read on for the scoop and then check out our CT Water and Beach Fun Guide and the Mommy Poppins Theme and Water Park Guide for more fun options.
When we drove by the park I was a bit dismayed about how far the parking area was from the entrance however once we left the car and began the long walk a welcoming van pulled up and asked us to hop in. If you have your own life jackets bring them or use one of the zillions of free jackets they have as you enter. Everyone must have a life jacket once they are in the park.
There are places to sit throughout the park. Some people brought their own folding chairs. They sell food but you are also allowed to bring in your own. We packed up some snacks and plenty of water. Once we claimed our spot by the ziplines we went off looking for adventure. The kids wanted to do "the blob", where you jump into the water and swim out to a rock climbing wall. Once you get to the top you walk out onto a diving board and jump onto a "blob" that is floating in the water. It's a gigantic pillow type thing that, once bounced upon, propels the human at the other end into the water.
That done, we proceeded to the glacier: a large white floating structure with many handholds on it. The idea is to climb to the top using just the hand holds and then slide off into the water. It was challenging but two tweens who were with me were able to do it.
Next, we swam over to the brownstone wall where people were jumping off into the water. One was 15 feet high and another jump was 25 feet high. I managed the 15 footer while the more adventurous in our party jumped from the 25 foot ledge - repeatedly. We slid down the water slide, climbed more rock climbing walls, zip-lined here and there over the quarry until the fun had to stop. Thunder...and then lightning. I'd never seen so many people get out of the water so fast! Our trip was cut short but not too far off from my desired depart time. Tip - wear sandals or water shoes. Leaving the park you must walk on very hot blacktop and a few delicate feet were burned while exiting.
Would we go back again? No question. We still have a few things to try. Fun for everyone of all ages? You betcha. My youngest son enjoyed a 12 and under area for a bit. If you haven't been, take the plunge. If you have, leave a comment about what your favorite thing at the park is. I now have a whole new appreciation for brownstones!
Brownstone Exploration and Discovery Park

Originally published 7/13/2012.

Places featured in this article:

Sign up for our free
newsletters.
Mommy Poppins is a family activity website that helps people find things to do with kids.
©
2023
MommyPoppins. All Rights Reserved.
mp-prod4-v4.32.99
We use cookies and other data collection technologies to provide the best experience for our customers.
Learn More
Sign up for the Mommy Poppins Newsletter today!