A Visit to It Adventure Indoor Ropes Course in New Haven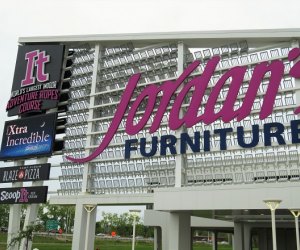 5/23/16
- By
Clementina Verge
Looking for an adrenaline rush? Connecticut has got It!
Located in New Haven, the It Adventure Ropes Course, self-proclaimed as the world's largest, will leave you physically challenged and breathless with excitement. Zip lines, suspension bridges, ice cream, and pizza guarantee a fun-filled family outing and memorable experience.
Conveniently located off I-95, the course opened in December 2015 and is nestled inside Jordan's Furniture store. A quick walk through the store's showroom will bring you face to face with a 45-foot-high water show. Accentuated by changing colors and vibrant music, this is just the beginning of the wow factor.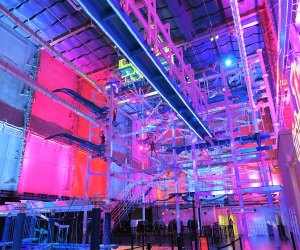 Above and around stretches a labyrinth of 60-foot-high ropes with four levels; four 180-foot-long zip lines whiz adventurers over the light and water show. After a quick check-in at the ticket counter, followed by a brief stop in the equipment area where an attendant will harness you, you're ready to climb to new heights. Zigzag swinging beams, cargo nets, suspension bridges, rope ladders, and plank-walking are just some of the attractions.
As long as participants are 42 inches tall, their age and level of experience doesn't matter because harnesses and bungee cords ensure safety at all times. If your children stand at least 48 inches and are comfortable going alone, you can set them free while you sit back with a good book or a cup of coffee; if you're longing for some uninterrupted adult conversation, this could also be a great date opportunity.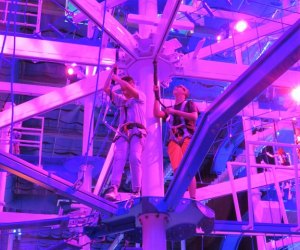 Patrons can choose from four adventure packages: For $25, you can experience the rope course and the four zip lines. For $5 more, participants have the option of exiting the course via the Jump It free-fall simulation. Or, you can keep it simple and master four climbing challenges for $10.
Toddler-sized adventurers can navigate Little It, which is set lower to the ground and offers shorter bridges and beams. Of course, children are harnessed throughout their expedition and a parent must be at their side the entire time. Admission is $8 per child and accompanying adults do not pay. My little one enjoyed the experience, but lasted only 15 minutes before she said that she was tired and asked to stop.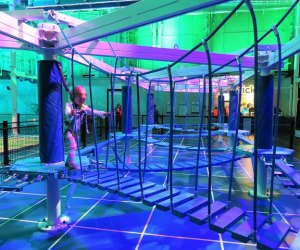 When you need a break, think twice. The one big and unfortunate catch is that once you enter the climbing area, you cannot exit for refreshments or even a bathroom break (no refunds are issued once a person is harnessed). This applies to all climbers - little or not. If you need to leave for whatever reason, it will cost you another $25-$30 to resume the experience. Perhaps management will rethink this stipulation, and give patrons the option to exit and rest, even if it results in tickets priced slightly higher.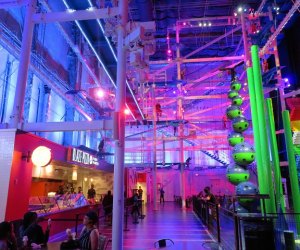 My husband lasted about 90 minutes, and my eldest climbed another half hour more. Their grins and waves as they soared above testified to the great time they were having. My youngest and I were happy to relax in the dining area, watching the awesome water show and listening to energizing music that unites generations (because the latter is subjective, think Gloria Gaynor, Donna Summer, Michael Jackson, and Elvis...among other well known voices). I enjoyed the atmosphere, while my little climber was mesmerized by the water show and the ice cream.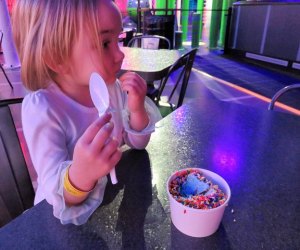 Scoop It boasts 50 flavors of creamy, delicious ice cream (long live rum raisin and chocolate chip mint - with sprinkles, of course). Service is quick and very friendly. Before dessert, you can also sit down for a meal from Blake Pizza. Choose from a variety of salads and eight signature pizzas ($7.95 each). The thin-crust, "fast fire'd" pizza truly did look good, but, unfortunately, my family cannot vouch for its taste because...when life gives us Frank Pepe less than two miles away, well, we go with the pizzeria that has been a landmark in New Haven since 1925.
Final verdict: though It can add up to being a costly adventure, the experience is unique, family-friendly for all ages, and a "must do". If you come from a distance, it's worth the drive and you can easily spend a day (or more) in the New Haven area, enjoying the Yale Peabody Museum of Natural History, visiting the PEZ Visitor Center, or letting the kids choose from our 25 Things To Do in the New Haven Area list. I will encourage out-of-state friends to visit at least once, and for those driving to other destinations throughout New England, It would make for a great road trip stop.
It Adventures Ropes Course is open seven days a week: Monday through Thursday from 10 a.m. to 9 p.m.; Friday and Saturday 10 a.m. to 10 p.m.; and Sunday from 11 a.m. to 7 p.m. Groups of 10 or more receive a 10 percent discount. Parking is free, restrooms are clean, and courtesy lockers are provided to store your belongings before you embark on this great adventure. So go ahead, and conquer It!