Legoland New York Delays Opening to Summer 2021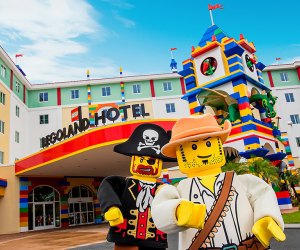 The long-awaited Legoland New York Resort is the latest casualty of the coronavirus pandemic. The resort, located in Goshen, New York, 60 miles north of New York City, announced Tuesday its opening date has been delayed to summer 2021. It was previously scheduled to open on July 4, 2020. An exact date has yet to be announced, but for now, consider all those plans to peruse Miniland or meet Master Builders to be on hold.
The resort said its decision came after consultation with the CDC.
"Nothing is more important to us than the health, safety, and security of our team, the partners we work with, and the communities we serve," said Stephanie Johnson, the New York resort divisional director. "We are in an unprecedented situation that has affected businesses worldwide. By opening Legoland New York Resort in 2021, we are building an attraction that not only meets our high standards it also gives our guests the best possible experience."
While tickets have been on sale for months, any would-be visitors will have their annual passes and single-day tickets honored during the 2021 season; those with vacation packages will be given the first priority to book when reservations are available.
The amusement park, geared toward ages 2-12, will be the third Legoland to open in the U.S., joining the parks in California and Florida. Visitors to the Hudson Valley park will be able to explore seven themed "lands" featuring more than 50 rides, attractions, and shows—including a brand-new ride exclusive to the New York location.
Bricktopia houses Legoland's new ride, the Lego Factory Adventure, where riders get a mini figure's point of view as Lego bricks are made.
An on-site, 250-room hotel is still on track for a 2021 opening, too, bringing with it Lego-themed rooms and plenty of space to build with the iconic blocks. The hotel will be a year-round attraction, while the theme park plans to operate seasonally from April through November annually.
Tickets are still on sale on the Legoland site, and 2021 vacation bookings open soon. Any questions about previously purchased tickets or vacation packages can be answered via email.