Amusement Parks Near NYC: Top Thrill Rides and Roller Coasters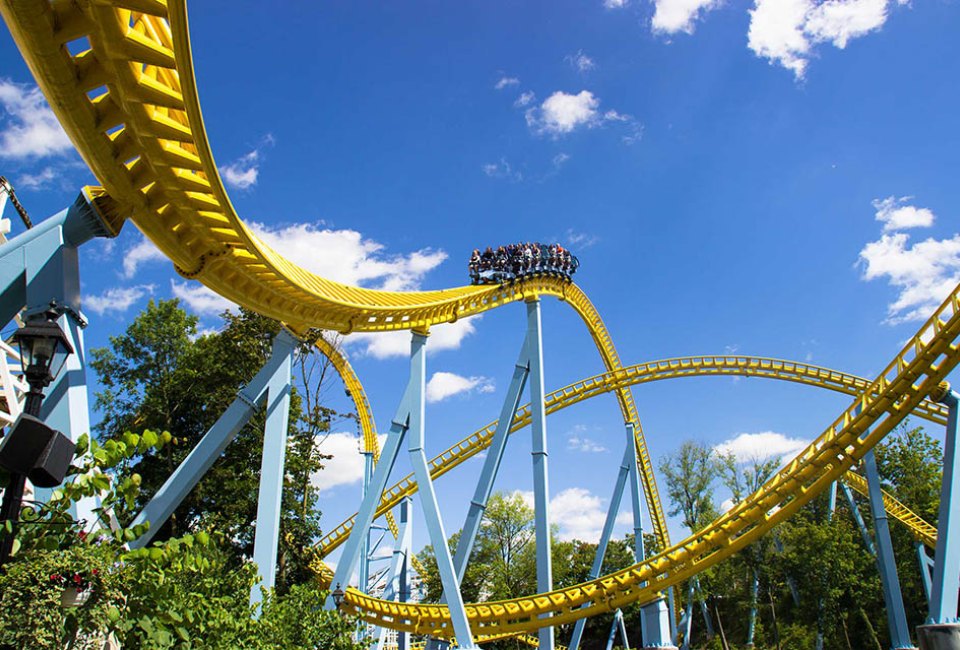 6/30/22
- By
Kaylynn Chiarello Ebner
Is your family daring enough to take on one of the fastest, highest, twistiest roller coasters or other thrilling rides at these amusement parks near NYC? From amusement parks on Long Island to New Jersey's top amusement parks, and Pennsylvania-area amusement parks, we've found 10 of the most scream-inducing, white-knuckle-causing roller coasters and thrill rides for your crew to try. So take a deep breath, hold on tight, and get ready to experience the ride of your life.
Subscribe to our newsletters to get stories like this delivered directly to your inbox.



Six Flags' Kingda Ka takes riders from 0 to 128 mph in less than four seconds.
Top Thrill Rides at New Jersey Amusement Parks
They call this coaster the king for a reason! At 456 feet high(!), this is the tallest coaster in the world. It also reaches speeds of 128 mph, making it the fastest roller coaster in North America. Kingda Ka features an upside-down, U-shaped track that bolts straight up to the sky at a 90° angle and then drops riders right back down in a 270-degree spiral. This monster at the family-friendly Six Flags amusement park is not for the faint of heart. Minimum height to ride: 54-inches.
GaleForce is a Jersey Shore great. It climbs 125 feet in the air before a 90º drop. Reach speeds of 64 mph as you launch, twist, and turn through seven thrilling elements. Minimum height to ride: 48-inches.
RELATED: Great Amusement Parks in New Jersey for Preschoolers and Toddlers

The Jersey Devil looms large over the Pine Barrens where the mythical monster which inspired it is rumored to romp.
The Jersey Devil is the world's tallest, fastest, and longest single-rail roller coaster. Since its opening in 2021, it's developed a legendary following. Riders hit 58 mph and experience a 130-foot drop during a smooth, thrilling ride along 3,000 feet of track. Minimum height to ride: 48-inches.
Spinning disc meets pendulum in this exciting ride. Sway and spin inside the Frisbee with lots of free-fall sensational fun. At night in beautiful Ocean City, the bright lights make for a spectacular ride. Minimum height to ride: 54-inches.
Looping Star at Keansburg Park lives up to its name with an inverted loop and lots of twists and turns. This steel coaster is perfect for first-time, upside-down riders or those who like slightly less-intense thrills. Minimum height to ride: 49-inches with an adult; 56-inches to ride alone.
RELATED: Best Things To Do in Coney Island with Kids: Luna Park, Aquarium, Beach, Mermaids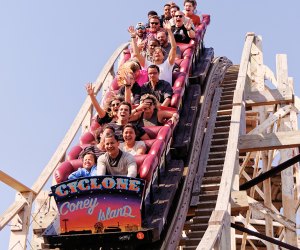 To say the Cyclone has stood the test of time is an understatement. The well-known ride recently celebrated its 95th birthday.
New York Amusement Parks with Great Thrill Rides
Some things never get old. This iconic Coney Island wooden roller has been thrilling riders since it was built in 1927. It boasts 2,640 feet of track, an 85-foot drop, and reaches speeds of 60 mph. Minimum height to ride: 54-inches.
It takes nerves of steel to ride this super tall coaster. The tallest and fastest in New York, this thrill ride climbs 208 feet and reaches speeds of 75 mph. First up is a 70° plunge before zooming across three hills that will no doubt have you screaming for more. Minimum height to ride: 54-inches; maximum height: 76-inches.
RELATED: Family-Friendly Escape to Lake George's Great Escape Lodge

The FireBall is the newest addition to the family-friendly Adventureland Amusement Park on Long Island.
Brand new for Summer 2022 at Adventureland, the FireBall is one of the hottest tickets on Long Island. It's a vertical coaster with swinging gondolas that travel down a series of S-shaped tracks giving you a free-fall sensation. While it only reaches speeds of 15 mph, you'll get dizzy twisting, turning, and swaying down the track. Minimum height to ride: 42-inches with an adult; 48-inches to ride alone.
RELATED: Long Island Water Parks, Slides, and Pools to Cool Off this Summer

Talon is a white-knuckle-inducing coaster at Dorney Park.
Amusement Parks in Pennsylvania with Fun Thrill Rides
At first, you'll feel like you're boarding a ski lift, but don't get too comfy. The Talon is the tallest and longest inverted roller coaster on the East Coast, so you'll be spinning around the outside of the track with your feet free dangling through the air. There are plenty of upside-down swings and some optical illusions that make you feel like you're just nearly missing the ground. Talon safely falls in the white knuckles category. Minimum height to ride: 54-inches.
This is one of the biggest and baddest rides at Hersheypark. You'll be on the edge of your set as you climb 200 feet into the air before zooming downhill at 75 mph. Pummel through four high-speed turns and scream your heart out on the five zero-G airtime hills. Minimum height to ride: 54-inches.
Photos courtesy of the parks
Click Here to Sign Up!
i