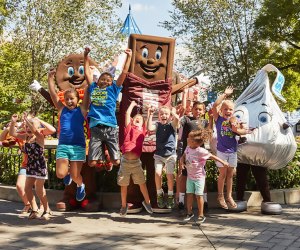 Family Getaway to Hershey, PA: Hersheypark, Chocolate World, Zoo
While there are plenty of family vacation options in our area, my family's destination of choice this year was Hershey, Pennsylvania. The town, smack dab in the center of the state, has been dubbed the Sweetest Place on Earth thanks to the region's namesake chocolate factory and iconic candy bar.
The main attraction, Hersheypark, is the perfect short-week or long weekend getaway solution for kids who aren't ready for a long car, train, or plane trip. It's just over three hours away from the New York City area and barely two hours from Philadelphia. (Tip: Leave before dawn and the kids will sleep through half of it).
I was hesitant that my 5- and 2-year-old boys would be too small to enjoy the trip, but Hershey offers much more than just roller coasters. There's water park fun, a zoo and gardens, chocolate galore, and plenty of great places to stay, including right on site with the treat-filled amusement park. There are even additional family sights in nearby Harrisburg, Pennsylvania.
Here is a breakdown of the top sights to see with kids.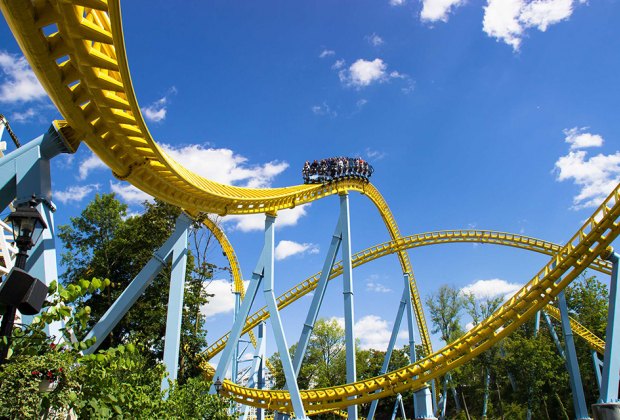 There are so many rides in Hersheypark, it will take more than one visit to get through them all!
Hersheypark
The main attraction for families visiting Hershey is, of course, Hersheypark. Built in 1907 by Milton Hershey as a perk for his chocolate factory employees and opening to the public in the 1970s, the theme park is well-known for its 14 innovative and thrilling roller coasters. There's Fahrenheit, where cars of riders are pulled back and up simultaneously before they are shot off into series of twists and turns and the little-kid friendly Trailblazer that takes you through pioneer country. There are spinning teacups and the Frog Hopper for preschoolers and coasters like Skyrush that take you through five zero-G airtime hills for teens.
But Hersheypark is much more than just coasters. The park is also home to The Boardwalk, an 11-acre seasonal water park that is a destination unto itself. The Boardwalk is introducing two new rides for the 2018 Summer Season: Breakers Edge, a thrill-filled water coaster, and Whitecap Racer, a humongous water slide. From food truck events to live stage entertainment, there is something for everyone. While we spent just one day at the park, we easily could have spent two by dedicating a full day to the Boardwalk.
Admission starts at $66.95 for adults and $44.95 for kids 3-8 years old, but check the site for money-saving packages and sales. Children under 3 are FREE!
RELATED: 6 Pennsylvania Weekend Getaways for Families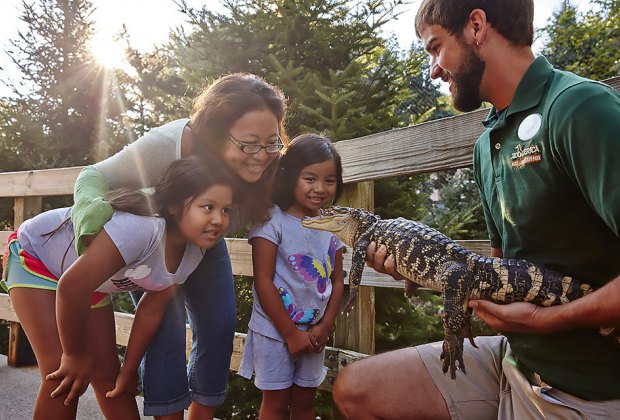 ZooAmerica is a great place to cool down and catch your breath from the rest of Hersheypark.
ZooAmerica
Included in your Hersheypark admission, ZooAmerica is a unique attraction all its own. Home to more than 200 animals from five regions of North America, the zoo is a lovely reprieve from the sights and sounds of the rest of the park and young children can spend hours exploring the 11-acre zoo. It was certainly a good escape for my family. My toddler could safely wander the tree-lined paths as we all caught our breath. You can also visit the zoo independently—starting at $11.50 for adults and $9.50 for children 3-8.

The best part of Chocolate World is getting the chance to make your own chocolate bar. Photo by the author
Hershey's Chocolate World
True confession: I messed up our schedule and didn't realize that Hersheypark was closed on our second day. (Obvious tip here: Check seasonal schedules before booking.) It was raining. The day seemed shot. So we hopped into the car and headed to Chocolate World, adjacent to the park, to take a quick peek—we ended up staying for hours!
Admission is FREE and includes a trip on the Hershey's Great American Chocolate Tour Ride through an imaginary Hershey's factory that illustrates how chocolate is made and explains why Milton Hershey chose this particular part of Pennsylvania for his enterprise—and you get a candy sample at the end. For a fee, you can participate in other activities as well.
We almost did it all. We created our own candy bars, where families choose from ingredients, watch their bars travel down a factory belt, and get wrapped in customized tins. We watched the animated 4D Chocolate Mystery Movie, a fun (if a bit commercialized) interactive film where characters can speak out to the audience. My favorite attraction was the Trolley Works tour that roamed through Hershey with an in-depth history lesson. It may have been the candy samples at every turn that converted me. The tour may not be exciting for the little ones, but I found it fascinating. There's also a Chocolate Tasting Experience for connoisseurs of the confection. Combine that with some serious chocolate supply shopping, a quick lunch in the food court, and we burned through an entire afternoon. There are plenty of special events, especially during the Halloween season, so check out the calendar.
Adventure bundles to participate in Chocolate World attractions start at $15 for adults and $11 for children. Children under 3 are FREE.
The Hershey Story
To learn all about the history of Milton Hershey and the town, take a trip to downtown Hershey for a visit to The Hershey Story museum. There's plenty to touch, smell, and taste. The main exhibit chronicles the life of the chocolate pioneer. There is also the Chocolate Lab, where families can get hands-on with chocolate making, and of course, chocolate tastings. Admission is $12.50 for adults and $9 for kids 3-12 years. The Chocolate Lab and Chocolate tastings are separate.
RELATED: Dutch Wonderland: A Fairy Tale Theme Park in Amish Country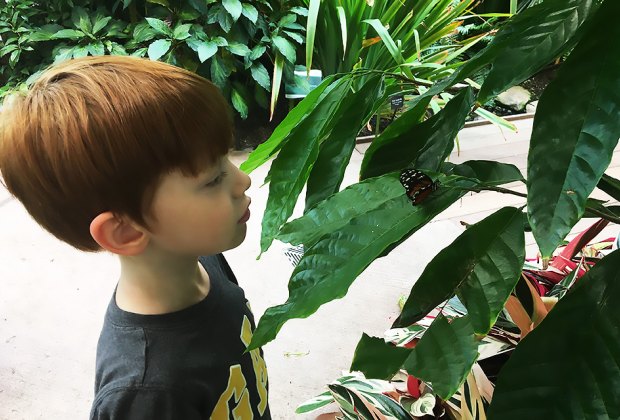 Hershey Gardens is a great escape from the thrill and chills of the theme park. Photo by the author
Hershey Gardens
For a sugar-free adventure, check out this beautiful green space created by Milton Hershey in 1937. Hershey Gardens is 23-acres of bountiful beauty and kid-friendly play. Families will enjoy the many themed gardens, the year-round butterfly atrium, and the hands-on children's garden. The butterflies were a major hit with the boys, as these beauties fly overhead and land at arm's length. The garden is open seasonally. If you're a fan of roses, June is the best time to visit as the flowers should be in full bloom. Admission is $12.50 for adults and $9 for kids 3-12 years. Various ticket packages are available.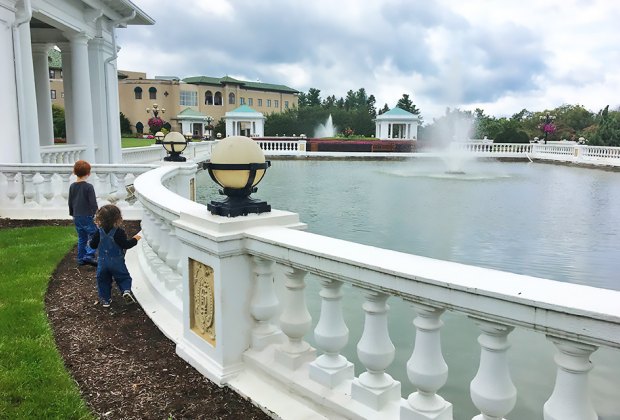 The Hotel Hershey is not only an excellent family hotel with beautiful grounds, it's a great romantic getaway, too. Photo courtesy of the author
Lodging
Our family had the privilege of spending our four-day getaway in luxury at The Hotel Hershey. In the midst of the Great Depression, Milton Hershey built the magnificent space as a means of employment for the town's residents. Stepping into the hotel is like stepping back in time, into the glamour and opulence of an age past. The hotel is equipped with both indoor and outdoor pools, a chocolate spa, restaurants, family activities, a drop-off kids' club, and more. Although it was perfect for our children, I believe it makes for a romantic getaway as well.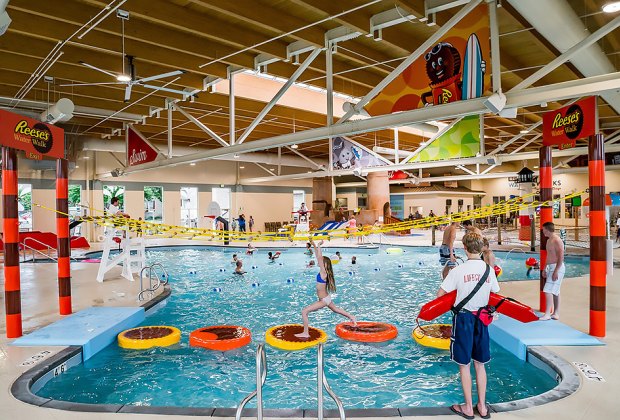 The Hershey Lodge is another official resort of Hersheypark, complete with the indoor Water Works splash zone.
There are also many other worthy places to rest your head. Hershey Lodge and Hershey Camping Resort offer great experiences and easy access to Hersheypark. The Lodge includes indoor and outdoor pools and splash pads, including Water Works with interactive fun, an arcade, mini golf, and more kid-entertainment, while the camping site, includes pools, as well as an entertainment schedule that features character and animal visits. With each of these lodging choices, you get a slew of perks, including discounted admission tickets, early and late hours at Hersheypark, discounted or free admission to both The Hershey Story and Hershey Gardens, and a shuttle service to get you where you want to go.
Things to Know
Hersheypark has complimentary Wi-Fi and a helpful app that lets you customize your day at the park and, more importantly, see how long the wait times are for the rides.

While commonly thought of as a summertime destination, many of the activities above are open year-round, and both Hersheypark and Chocolate World offer cool special activities in the fall and winter, especially for Halloween and Christmas.

Be sure to check closings and schedules for all attractions and accommodations before you plan your trip.

If you don't want to waste your time in line, splurge for a Fast Track Pass that will allow you to skip the lines on nine of the park's popular coasters. Available on-site only and on a first-come, first-served basis.

Hersheypark offers tons of dining options for every meal: character dining, full-service restaurant meals, lots of kiosks in the park, and you can even bring your lunch and dine in the designated picnic area.

Summer weekdays are the least busy, with crowds ramping up on Fridays and continuing through Saturday. For the least-crowded experience, visit during a weekday or on a Sunday (with the exception of a three-day weekend), or come in the early evening when the crowds thin a bit.
Photos courtesy of Hersheypark except where noted