25 Things To Do with Kids in Harrisburg, Other than Hershey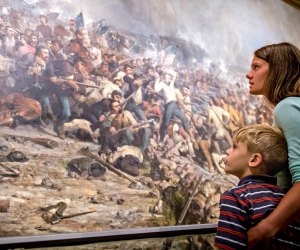 When many of us think about Harrisburg, PA, our minds immediately take us to the state capitol, politics, or maybe just a turnpike exit—not necessarily the stuff long weekend family trips are made of. However, given the time to map out an itinerary, the Hershey-Harrisburg area is a fabulous destination for families to enjoy, beyond HersheyPark and Pennsylvania's political hub.
Here are our top 25 picks for must-see spots in Harrisburg and the surrounding area. We recommend planning out your visit, rather than just winging it when you arrive. You'll be able to park and walk to some of these places, but as in any city, parking and navigating an unfamiliar area can be a challenge. If you're making a long weekend out of it, consider staying in a hotel outside the city so you can easily access everything within the city limits, as well as the suburban spots.
Looking for more fun in the area? Visit nearby Lancaster!
The State Museum of Pennsylvania
This museum is full of Pennsylvania history, but we're not exclusively talking about William Penn, the Civil War, and the like. Kids of all ages will enjoy the archeological exhibits, art displays, as well as the expected history lessons here. Children under 6 have a great time exploring the hands-on area of the Curiosity Connection.

Building cars at the Whitaker Center



Whitaker Center
My 4-year-old and 2-year-old could have spent an entire day here, exploring science in a fun format. With three floors of imaginative, engaging exhibits, this hands-on experience was a total hit with our family. Plus, check the most recent schedule—there is also a concert venue and an IMAX movie theater with really diverse show lineups.
The Midtown Scholar
This astoundingly huge bookstore is a destination in and of itself. This book lover's mecca boasts a café, a large assortment of rare and used books, and an impressive children's area with furniture that's sized just right, some unusual titles, and even a section of 1st edition Little Golden Books. Grown-ups will likely get lost in this reader's haven as well.
The Broad Street Market
Kids and parents will love exploring all the food and treats available here, and even the pickiest eaters will find something they like for lunch. Don't miss Fudge-O-Lutely, Popped Culture, and The Harrisburger. Their names say it all.
The Millworks
If your family decided to just grab some a few snacks from the market, and you're looking for a sit-down meal, The Millworks is right around the corner. Grown-ups and older kids will appreciate this place the most, especially if they are interested in buying local, eating local, and admiring local art. Your creative tweens and teens will especially love exploring the works of local artists in this unique venue, after enjoying a meal made almost exclusively from Pennsylvania resources (many of them in the central PA area).Try your hand at milking a cow at the Farm Show

PA Farm Show Complex
Did you realize that the Farm Show Complex does more than farm shows? This venue hosts a huge variety of expos, many of which can be enjoyed by the entire family. Plus, check the schedule before visiting and try to catch a Harrisburg Heat arena soccer game. Arena soccer is a unique experience, different than the stadiums you might be used to.
The PA National Fire Museum
This unique museum is housed in an 1899 Victorian firehouse, Reily Hose Company No. 10. It features an amazing assortment of artifacts from the hand-drawn firefighting equipment of the old days to the modern tools of today. It's a must-see for history buffs and children who can't get enough fire trucks and gear.
Popcorn Hat Players Children's Theater
Most children love a good show, and the Popcorn Hat Players sure do know how to put one on. The players write original adaptations of fairytales and classic stories, using kid-friendly comedy and improv. Parents and children alike are sure to have a good time at any of the shows, so check the latest schedules for seating and tickets before you arrive.Create your own flavor at the Turkey Hill Taste Lab

The Turkey Hill Experience
This one isn't technically in Hershey or Harrisburg, but for families driving to and from central Pennsylvania, it's a fun stop to make on the way. Located in Lancaster County, this one is going to be a hit for kids of all ages—not to mention the grown-ups. After all, it's not every day that you can get unlimited free samples of ice cream and drinks, create your own ice cream flavors, play in a ball pit, and sit in a milk truck all in a matter of hours. Consider saving the Taste Lab experience for older children because there's quite a bit of sitting and listening involved, but the results are tasty! Bring a small cooler and save the taste lab for the end of your visit because everyone goes home with a pint of ice cream.
Hershey's Chocolate World
We couldn't leave The Sweetest Place on Earth off of this list! Although summertime and Christmas are popular times to visit HersheyPark, there are a ton of things to do year-round at Chocolate World. Take advantage of the free attractions, like the Chocolate Tour Ride, but don't overlook the ticketed attractions, either. Our family especially liked the 4D Chocolate Mystery and the Create Your Own Candy Bar experience. There are other attractions that may be more appropriate for the older ones, like the Chocolate-Tasting Experience (think wine-tasting, but with candy) and Trolley Works.
The chocolate lab is a tasty treat at the Hershey Story. Photo courtesy of Hershey Foundation/VisitHersheyHarrisburg.org

Antique Automobile Club of America Museum
Whether you've got a teen who can't wait to get his first car or a little one who can't get enough of anything with wheels, this is the place to be. "Cruise through time" while checking out these exhibits—visitors will see everything from model trains to Henry Ford's 1896 model Quadricycle to a Mini Cooper that's been modified into a snowmobile. Indian Echo Caverns

Indian Echo Caverns
In nearby Hummelstown, families can get a 45-minute tour of underground wonders! Kids of all ages are sure to like this spot, whether they're budding geologists or they just think that caves are super cool. Families can even pan for gemstones at the end of the tour, and the tiniest adventurers will likely enjoy the petting zoo as well.
ZooAmerica
This is an adorable zoo experience that's affordable and much simpler to navigate than the larger, city zoos.Everyone loves to see animals and their antics, and here, you can actually see them. Make it a whole day—it's adjacent to HersheyPark and Chocolate World, so it's a fun way to round out a family trip to Hershey. If you have a family membership to another zoo, check to see if it's part of ZooAmerica's reciprocal program because you might get discounted admission.
Cocoa Kayak Rentals
Outdoorsy families are going to want to check out the Swatara River from this perspective. These guys offer guided and unguided trips, and it's only minutes from Hershey. There are a variety of different skill levels offered, so don't worry if the kids (or parents) aren't expert paddlers. The minimum age for this experience is 6.

Harrisburg Senators Baseball
While you're in town take in a baseball game! This minor league team plays on Harrisburg's City Island in the Susquehanna. The stadium also has a fun Kids' Zone that's great for little ones who can't quite get into cheering for the team yet. It's a good time for everyone!
Harrisburg Islanders Soccer
Speaking of City Island, Harrisburg also has a pro soccer team that plays from September through March at Metro Bank Park. Who knew that central PA had so many fun activities for sports fans? Or an island, for that matter?
Hershey Bears Hockey
Harrisburg isn't the only place for sports teams (or sports-loving families). The sweetest place on earth boasts an AHL team with a fun mascot that's sure to delight the entire family, whether they're die-hard hockey fans or not.
City Island Railroad and Carousel
Near Metro Bank Park is an old-fashioned carousel (great for all ages) and a really unique opportunity to see the island while riding on a scaled-down version of a Civil War-era steam train or San Francisco-style trolley. After checking out the train and the merry-go-round, take the kids to Harbortown Playground, next to City Island Beach.
Pennsylvania State Capitol
We really can't get by without acknowledging the actual capitol. Older children, tweens, and teens will get the most out of the Welcome Center and 30-minute guided tour of the building. History buffs and fans of beautiful architecture are bound to like this piece of PA history
.
Pride of the Susquehanna
The Pride of the Susquehanna is an authentic paddlewheel riverboat that was built as a community service project by the Harrisburg Area Riverboat Society. Check the website for schedules, and also keep an eye on special, kid-friendly events that take place throughout the year.
Toys on the Square
This unique toy store is in the heart of nearby Hummelstown, just a few minutes from Harrisburg and Hershey. Not only does this shop carry unusual and educational toys, it also provides pottery classes and other workshops for the entire family. Kids might want to spend the whole day at this off-the-beaten-path spot.
Let's Pretend
In Middletown, which is about 10 miles from Harrisburg, lives an indoor play center developed with the idea that adults and children can play together, free of modern-day technology. If you're looking for a fun way to spend an afternoon really interacting with the kids, Let's Pretend is the place to be.
Wildwood Park
The cool part of this park isn't just the trail and boardwalk network that are perfect for a laid-back, hiking experience—it's also the nature center. There are plenty of hands-on exhibits for children and grown-ups. Kids might enjoy climbing through a tree or perusing the book nook while parents check out the gift shop or eye up the info about the Susquehanna Valley's natural resources. Best of all, it's free to explore the indoor and outdoor areas of this park.
Fort Hunter Mansion and Park
Originally built as a fort to provide protection along the Susquehanna during the French Indian Wars, Fort Hunter was a self-sufficient farm and community in days gone by. Nowadays, families can tour the restored mansion, enjoy a self-guided walking tour of the grounds along the canal, and take in a little bit of lesser-known Pennsylvania history.
Adventure Zone Playground
Yes, technically, it's just a playground, but one look will make you understand why it could be a must-see on a family trip. Sometimes family trips tend to be overscheduled, and the little ones are itching to just run around and play freely. The playground includes, slides, climbing areas, swings, monkey bars, sliding poles, a toddler area, maze, and games—best of all, the entire play area is 100% accessible, allowing all children to play together.
Photos courtesy of VisitHersheyHarrisburg.org