Visiting Hersheypark: Our Guide to the Sweetest Theme Park in Hershey, PA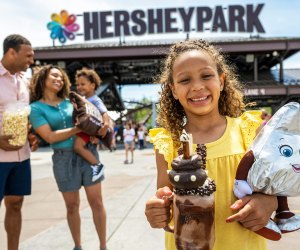 Forget all about the Happiest Place on Earth, Hersheypark is officially the Sweetest Place on Earth. Hershey's is best known for its chocolate treats, but the candy empire also boasts an epic amusement park—located smack dab in the middle of Hershey, PA. There's something for everyone at Hersheypark, whether you're a chocolate lover or a thrill-seeker. And if you're both ... heaven awaits. One of the best things about Hersheypark is that it's a great vacation for the whole family, from babies to grandparents and everyone in between. You won't find teens thinking they're too grown up for it, or little kids terrified or bored at a park that has nothing but roller coasters. Plus, everywhere you turn, there's chocolate.
Wherever you live, Hersheypark is a travel-worthy destination. Read on for tips on taking a trip to every candy-craving kid's dream theme park. Make a whole vacation of it, exploring all of Hershey, PA and nearby Harrisburg, too. For more theme park vacations, check out our Guide to the Best Family Amusement Parks and Water Parks in the US.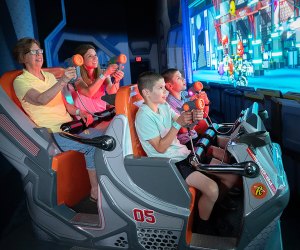 Everyone can play together on these "sweet" family rides.
Rides and Attractions at Hersheypark
The rides are the main attraction at Hersheypark and they do not disappoint! Between rides, catch a meet-and-greet with Hershey characters or snap a selfie in front of the iconic Hershey Kiss fountain.
While Hersheypark is big on thrills, there are plenty of family-friendly rides everyone can enjoy together. Hit the road on the Twin Turnpike Classic Cars, Tea Cups, Scrambler, Monorail, Bumper Cars, Ferris Wheel, Railroad, and many more.
Hersheypark has no fewer than 14 roller coasters ranging from mild to wild. Little ones will love the tame Coca Cruiser while thrill seekers will gladly scream their heads off on Hersheypark's longest and fastest coaster, Candymonium. Don't miss the sooperdooperLooper, which was the first upside-down roller coaster on the East Coast.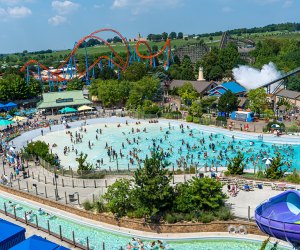 Hersheypark's 11-acre water park keeps you so cool, chocolate won't melt in your mouth.
When the temperatures rise, Hersheypark's 11-acre water park opens for the season. Ride down the Coastline Plunge, take a dip in the wave pool, visit the Shoreline Playground splash park, or visit the zero-entry Bayside Pier. A trip to the water park can be a day on its own or a great way to cool off between riding roller coasters.

It's not all scary roller coasters; littles love the Hopper. Photo by Sydney Ng
Even the tiniest tots will have plenty to do at Hersheypark. There are small airplanes, swings, trains, and even bugs to ride, plus mini versions of classic rides like The Scrambler and Frog Hopper.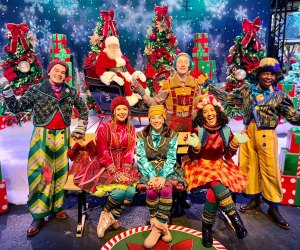 And ho-ho-hold onto your red nose, Hersheypark Christmas Candylane is a winter delight.
Seasonal Events at Hersheypark
Visit Hersheypark during the year's spookiest season to experience Dark Nights, an immersive and haunting experience with scare zones and four haunted houses, with attractions like Twisted Darkness and Midway of Misery. Younger visitors will love the Glow Dance Party and classic characters all dressed up to trick-or-treat—it wouldn't be Hersheypark without plenty of treats to match those tricks!
Christmas is the sweetest time of the year at Hersheypark! The park is decked out in more than five million lights. Santa and his reindeer visit the Hersheypark Christmas Candylane. Rudolph fans can get up close in Santa's Stables before they both fly back to the North Pole. The Boardwalk is decked with trees so be sure to check out TREEville to be dazzled and learn the story of Hersheypark.
Springtime in the Park
Parts of Hersheypark take a winter hiatus, but when spring has sprung the park throws open its gates and more than 50 Hersheypark attractions re-open for the year.
Summer Season
Summer is a great time to enjoy everything that Hersheypark has to offer. Once summer starts, all of Hersheypark's rides open, including the entire water park. There are also additional dining options during the summer and special events, including fireworks on the Fourth of July.

ZooAmerica
Related Attractions near Hersheypark
ZooAmerica is adjacent to Hersheypark and has separate admission (unless you're a Season Pass Holder to the park). This zoo is dedicated to the conservation of North American habitats and wildlife, and is a great part of the Hersheypark experience. You can even take a behind-the-scenes tour. Definitely leave an extra day for this adventure.
Also near the park, and equally part of the Hersheypark excursion (despite its separate admission fee), is Chocolate World, where you can take a chocolate tour, create your own candy bar, take a decadent trolley tour through Hershey, PA, and so much more to satisfy your sweet tooth. No trip to Hersheypark is complete without a visit to Chocolate World, so book your tickets here when planning your adventure.
What to Eat at Hersheypark
Hersheypark has no shortage of dining options from quick-service pizza to a sit-down restaurant with chocolate specialties. Here are some of our favorites.
The Chocolatier is a sit-down restaurant featuring pieces of rides past and present. Enjoy Hershey's Cocoa Spice Rubbed NY Strip, ribs with Hershey's Chocolate Barbecue Sauce, Reese's Peanut Butter on a chicken sandwich, or Hershey's Chocolate Drizzled House Bacon. Eat indoors or on the restaurant's expansive patio. There is also a kids' menu, exclusive desserts, and signature cocktails. Some recipes were developed with the help of students at the Milton Hershey School.
You will be able to smell the signature Crabfries a mile away emanating from this iconic eatery. Stop by one of Hersheypark's two Chickie's & Pete's locations to grab some buffalo chicken cutlets or a BLT to go with your fries.
Even the pickiest of eaters will usually go for cheese pizza! Hersheypark has two delicious locations for Dispatch Pizza.
Grab a burrito or kid's tacos at Moe's Southwest Grill, which also has great vegetarian options.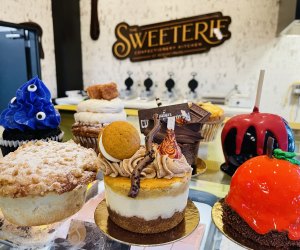 Did someone say sweets? It's time to indulge, at the Sweeterie.
Sweets & Treats
No visit to Hersheypark is complete without getting a chocolate treat! Head to Milton's Ice Cream Parlor or the Sweeterie for decadent sweets. Gift shops in and around Hersheypark also carry a large selection of Hershey candy, some in giant sizes.

Who needs Mickey, when you can meet a like-sized candy bar?
Know Before You Go
Plan Ahead Can Save You Time (and Time is Chocolate)
Not all rides are open year-round so be sure to check to see if your favorites are operating when visiting at a time other than summer. Similarly, operating hours and dining options change by season.
Download the Hersheypark app before your visit. This is an essential tool to help you find your way around the park, check wait times, find out height requirements, order ahead from some dining locations, and more.
Check height requirements for rides ahead of time. It can help make the day run more smoothly if children are prepared for which rides they can and cannot go on ahead of time.
Parking and Accommodations
Purchase a parking pass online before you arrive at the park to save a few bucks.
If your child has a disability, check with Guest Services as soon as you arrive to see if your child qualifies for accommodations, such as return times for kids who have a harder time waiting in line. Visit the park's Accessibility page for more information on accommodations and quiet areas throughout the park.
During Your Visit
Consider purchasing a Fast Track pass to accelerate wait times for rides--although be aware that prices can be high.
Not everywhere in Hersheypark takes cash so be sure to bring a credit card with you or set up an electronic payment option.
Where to Stay
You can't see it all in one day, so plan to stay and play for at least a few days. Hershey has several official nearby hotels, including the Hershey Lodge, Hershey Hotel (featuring an amazing grown-up spa), and the Hersheypark Camping Resort, so prepare to make a vacay out of your visit!
Unless noted, photos courtesy of Hersheypark