Hershey, Pennsylvania with Kids: 22 Things To Do on a Sweet Family Getaway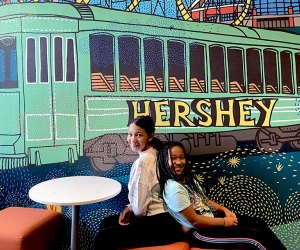 11/17/22
- By
Jody Mercier
You might think of Hershey, Pennsylvania, with its towering, roller-coaster-filled Hersheypark as a summer-only destination, but family travel to the sweetest place on earth is always in season. Located in the south-central region of the state, Hershey, Pennsylvania, is an easy road-trip destination from the New York metro area and Philidelphia and has enough family-friendly entertainment and candy-fueled fun to leave your kids asking for a return trip. Here are our top things to do in Hershey, Pennsylvania with kids.
Find more fun family road trip destinations in our Guide to Day Trips and Weekend Getaways.
Subscribe to our newsletters to get stories like this delivered directly to your inbox.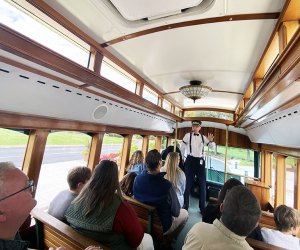 A ride aboard a Hershey's Trolley Works Tour is a historical trip back in time filled with plenty of fun facts and sweet bites of chocolatey samples the town is known for.
Best Things To Do in Hershey, Pennsylvania with Kids
It's all aboard a charming pale yellow and green trolley for one of these fun historical tours of Hershey, Pennsylvania. A Historical Trolley Tour runs several times daily for 75 minutes each trip and conductors dressed in old-timey garb narrate your journey through town detailing the history of this factory town, Milton Hershey, and his roller-coaster career that finally landed him and his chocolate empire right back in the town where he was born. Plenty of samples of the factory's top treats are passed as you listen. Special-themed seasonal trolleys include a Trick-or-Treat Trolley, Holly Jolly Trolley, and a Sweet Lights Trolley during the holidays. The Original Trolley Show offers similar sights to the Historical Trolley, but lasts about half as long and is led by two actors who, true to its name, tell the story with a little more razzle-dazzle that's better suited to younger audiences.
Hersheypark's sprawling real estate empire includes a variety of performance venues, including the outdoor Hersheypark Stadium, the indoor arenas at the Giant Center and Hershey Park arena, and a beautiful theater. These varied venues host everything from big-name concerts to traveling Broadway musicals, and popular kid-friendly touring shows. Bookmark the event calendar to book your show tickets as soon as you book your trip.
Catch the rising stars of this AHL hockey team on the ice at the Giant Center, which sits in the shadows of Hershey Park's soaring coasters. The hockey club serves as a development club for the Washington Capitals and plays a season that runs from October through early April.
RELATED: 13 Family-Friendly Weekend Getaways near NYC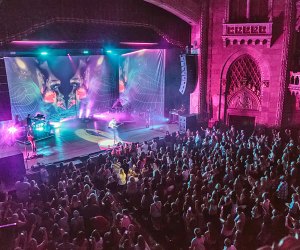 The Hershey Theatre's stunning architecture is an awesome backdrop for a live concert, play, or performance. Photo courtesy of Hershey Entertainment and Resorts
Located on Hershey's main drag—the aptly named Chocolate Avenue—The Hershey Theatre was built during Milton Hershey's mini-New Deal. The Great Building Campaign ensured his factory town thrived during the Great Depression and produced this jewel among other local landmarks. It draws upon Venetian style and a soaring, atmospheric ceiling mimics the great outdoors, changing scenes from dawn to dusk. See the architectural gem during a live show or book a tour.
Outdoor enthusiasts won't be disappointed during a visit to the region. Outdoor adventure abounds, and the Hershey Harrisburg Adventure trail is proof. Explore expansive nature trails and rail trails for hiking and biking, and paddle or drop a line in a local river or creek.
If you need a break from the sweet attractions in town, explore this local outlet mall outpost with kid-friendly stores like Janie & Jack, the Disney Outlet, Carter's, and more.
RELATED: Bucks County, PA with Kids: 30 Top Things To Do as a Family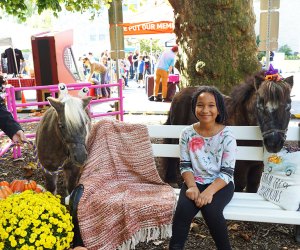 Shop local vendors or pose with local ponies during the annual Choctoberfest in ChocolateTown Square Park.
A town with street lights shaped like Hershey Kisses can't throw a traditional Octoberfest, but you can expect the same sort of fall fun at this annual event held in ChocolateTown Square Park. Live entertainment, vendors, and free-flowing Hershey's chocolate are trademarks of this mid-October event.
Learn about the remarkable Milton Hershey School during a visit to its Founders Hall Visitors Center (currently closed for renovations). This beautiful, sprawling school, founded by Hershey and his wife, offers a world-class, tuition-free boarding school education for low-income students on sprawling, beautiful campuses in the heart of Hershey.
If you've got an eye for old-fashioned cars, save the date for the first week in October, when the Antique Automobile Club of America takes over the Hersheypark grounds to stage one of the largest car shows and flea markets in the US. Enjoy the chromed-trimmed eye candy, flea market shopping, races, a talent show, and an old-time movie night.
RELATED: Guide to Theme Parks and Water Parks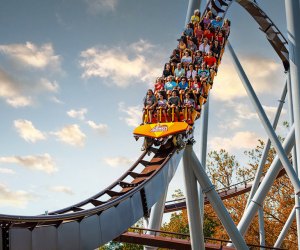 Ride Candymonium or one of the other soaring coasters at Hersheypark. Photo courtesy of Hersheypark
Top Attractions in Hershey, Pennsylvania with Kids
The fun at Hersheypark is well documented in our full review! This destination-worthy theme park is a near year-round attraction, reinventing itself from a thrill-and-splash-filled summer destination to the haunt-filled Dark Nights attraction come Halloween season, before going candy-cane sweet in November and December with Christmas Candlyane.
If you don't make it to Hershey for the aforementioned Eastern Fall Meet, you can get a taste of motor vehicle history at this museum all year round. Take kids back in time through displays of everything from antique road maps to license plates, buses, and—of course—classic cars.
What began as a rose garden for Catherine Hershey in 1937 has blossomed into a 23-acre museum of plants, complete with a dedicated children's garden, a year-round Butterfly Atrium, and plenty of family-friendly educational programming.
Take a walk on the wild side at this 11-acre zoo dedicated to the animals of North America. Home to more than 200 animals, you'll find everything thing from desert dwellers to arctic mammals. Its exhibits are so inviting, a young, wild black bear cub even once broke into Zoo America.
RELATED: Ultimate Road Trip Planner: How to Have the Perfect Family Road Trip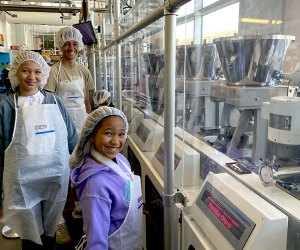 Step onto the factory floor at Hershey's Chocolate World where you can make customized candy bars to take home.
Though the real Hershey factories are visible all over town—and a Trolley Works Tour will lead you past them—visitors aren't allowed inside. Instead, the factory experience is re-created at Hershey's Chocolate World, where you can take a FREE Hershey's Chocolate Tour or opt for paid experiences like stepping onto the faux factory floor to make your own chocolate bar, stuff a Reese's Cup, or enjoy a Hershey's Unwrapped Chocolate Tasting Journey. Hershey's Chocolate World is also the jumping-off point for all Trolley Works tours and houses a food hall where you can grab a quick chocolate-tinged meal. Be forewarned: The whole spot is an over-the-top sweetshop.
The Milton Hershey story might have an enchanting ending, but the road to chocolate fame was paved with setbacks. Learn the story of the town's patriarch, his dedication to philanthropy, and more at this main street museum. Special interactive exhibits make the story accessible to kids, and there are plenty of sweet extras here like a Chocolate Lab where you can play with your food before you eat it.
Located just outside of Hershey, visit this geological wonder. The limestone caves here were carved by water over thousands of years. Step inside—where it's 52 degrees year-round—on a guided tour. Stick around afterward to enjoy a picnic, playground, and petting zoo.
Family-Friendly Restaurants in Hershey, Pennsylvania
Hearty Italian fare is on the menu at Fenicci's of Hershey, which has been a mainstay for family-friendly dining since 1935. Its extensive selections include kid-pleasing pizzas, steaks, seafood, risottos, pastas, and more all served in the building where the Reese's Peanut Butter Cup got its start.
Scratch-made goodness is served in the rustic confines of The Mill, a painstakingly restored Curry Mill whose stone walls and imposing beams provide plenty of eye candy while you wait for your meal. A dedicated kids' menu keeps little ones happy, while mom and dad can tip back a craft cocktail and nosh on seasonal farm-to-table selections at brunch or dinner.
As if a town called Hershey didn't have enough sweet treats, find an outpost of Duck Donuts right on the main drag where you can get the warm, custom-topped confections to-go or enjoy them on the patio out front.
Classic American fare is on the menu at The Chocolate Avenue Grill, which promises friendly, small-town service catering to your every need. A kids' menu is available, and you can even bring a well-behaved pup if you're dining on the patio.
RELATED: Legoland New York Hotel Extends the Bricktastic Fun Past Bedtime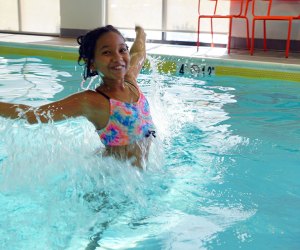 The on-site saltwater pool at Tru by Hilton Hershey Chocolate Avenue offered plenty of candy-free fun during our stay.
Family-Friendly Hotels in Hershey, Pennsylvania
Located just off the main drag, Tru by Hilton Hershey Chocolate Avenue was our home base on our recent trip. I hadn't even finished checking in before my kids beelined for the foosball tables in the lobby, and that was just the beginning of the fun. During our stay, we enjoyed the simple, but modern accommodations in our adjoining double-queen rooms, had fun splashing in the saltwater pool, and ate more than our share of silver-dollar pancakes topped with everything from whipped cream to chocolate chips and—of course—Hersey's Chocolate Syrup at the complimentary breakfast buffet. The reimagined lobby, with room to hang out, work, and play, meant we weren't all cooped up in our hotel rooms when we wanted a little downtime. This tired, travel-weary mama was thankful for the 24/7 complimentary hot Lavazza Coffee and a Eat and Sip selection at the front desk that was as well stocked as our corner bodega. Staff at Tru by Hilton Hershey Chocolate Avenue was friendly and helpful—priding themselves on treating customers as if they were friends caring for friends.
If your primary focus while you're in town is visiting the theme park, consider booking one of the official Hershey resorts. Choices include The Hershey Lodge, a 665-room hotel nestled in the center of town with an on-site water park; The Hotel Hershey, an elegant oasis perched on a hill overlooking the town and well-known for its luxurious spa; and the Hersheypark Camping Resort, where you can park your RV, pitch a tent, or rent a cabin. A stay at any of the resorts comes with discounts on theme park tickets, extra hours to explore its attractions, and shuttle service to the park's front gate from each of the resorts.
Unless noted, photos by the author