Ultimate Road Trip Planner: How to Have the Perfect Family Road Trip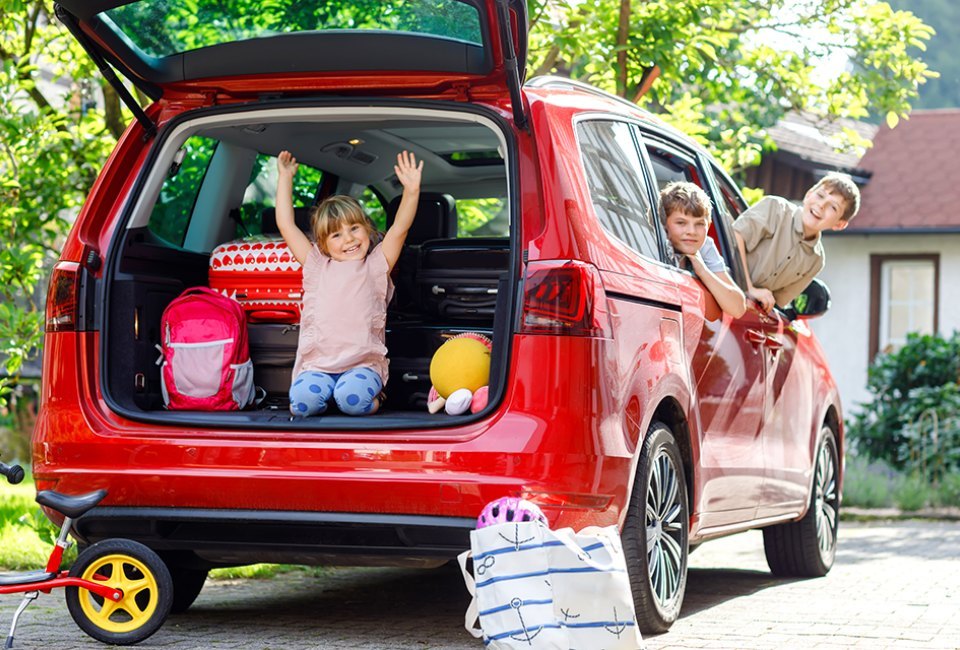 8/4/22
- By
Meghan Rose
Road trips are seared into American culture as a family rite of passage, but planning and taking road trips has sure changed since I was a kid. I remember sticking my head out the hand-crank window to keep cool—no AC in our car!, playing road trip games like counting license plates, eating road trip snacks like granola bars, and pulling over so my parents could plot routes on their folding maps. Now family road trips means multiple devices for in-car entertainment, snackle boxes, and tricked-out Airbnbs.
From fun road trip games to tasty road trip snacks to podcasts the whole family will love, we've got everything you need to plan the perfect family road trip right here. And if you don't know where to go, that's not a problem! Wherever your starting point, we've got some fabulous ideas, complete with exactly where to stop and what to see along the way.
10 Tips for Before You Start Your Family Road Trip
AKA, my savvy mom secrets to success. I've got teenagers, so I've had a lot of time to road test these tips, pardon the pun. Our first few trips of even a few hours were miserable. But living in California and wanting to leave the state without buying plane tickets, I knew we needed to get better. So, before you even start planning what to pack in the car, or even where to go, file away these top tips.
1. Plan for those who get car sick
This is my family's number one concern, as my daughter gets easily car sick. So we need to be extra careful when planning long trips. She can't read for entertainment, so we need to download extra podcasts and audiobooks. Windy roads mean we need to stop every 15 minutes and go extra slow, so if there's a straighter path, we need to plan to take it. Certain smells trigger her, like peanuts. We learned this the hard way! So, think carefully before packing your snacks, or think about eating meals in the car.
2. Give your car a once over
Not only should you fill the car up with gas, but check oil, AC or heat, and that your car charging stations work, as you will have cranky kids and can get stranded if your devices can't charge. Also, clean out your car and put a trash bag or receptacle in the car; this will be your home on wheels for a while, and it's so much more comfortable if it doesn't look like Oscar the Grouch lives there.
3. Are your dates flexible?
While you know you don't want to travel on busy holiday weekends, when you have kids in school, that can be unavoidable. But if you're taking a few days off, try to spread them out so you can leave and return at the least busy times possible; instead of vacationing Saturday to Saturday, try a Tuesday to Tuesday schedule.
4. Choose your route with care
As I mentioned, if you have a carsick-prone kid, avoid those winding roads. But you also want to find a balance of scenic drives—half the adventure of a road trip is sightseeing along the way—and roads that are mainstream enough to have bathrooms, restaurants, and gas stations.
5. Download a good gas app
Speaking of gas stations, download a gas app, like GasBuddy, which will help you plan when you need to stop, and where you can go to save money on gas.
RELATED: The Mommy Poppins Family Travel Guide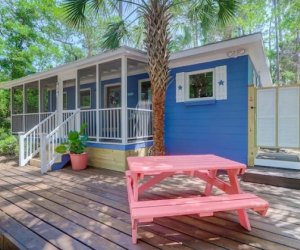 The Coral Sky bungalow in Folly Beach is just steps to the beach. Photo courtesy of Airbnb
6. Book hotels, campgrounds, or Airbnbs as early as possible
As soon as you know where and when you're going, make reservations! The best places fill up fast, and having a comfy place to crash at the end of the long day keeps everyone from getting cranky. Add something special to your trip by booking an Airbnb with something special: find a beach house, a tree house, or even a spaceship.
7. Don't be too ambitious
Don't plan for days where you need to spend 10 hours driving, at least not until you have kids who can take turns at the wheel! Everyone needs time to get out and stretch, and the magic of a road trip is the fun you find along the way.
8. Put together a "road trip emergency kit"
Yes, you have your basic first aid kit. But on a road trip, you might need some extras, like toilet paper (in case there's no pitstop in sight and someone really, really needs to go), flashlights, extra gum (which can help in altitudes, with motion sickness, and to keep drivers alert), lollipops (they just come in handy), and water bottles (in case your refillables are empty).
9. Get your house ready
Before you go, clean your house. It will make reentry so much easier! Make sure there's something to eat when you get home (it can be as simple as mac and cheese made with evaporated milk or as planned as a casserole stuck in the freezer). But there's nothing worse than getting home from the road and realizing that someone needs to go get some food that hasn't gone bad. If you're going for more than a long weekend, make sure you put a stop on the mail and arrange pet care well in advance.
RELATED: 100 Things To Do in New England with Kids Before They Grow Up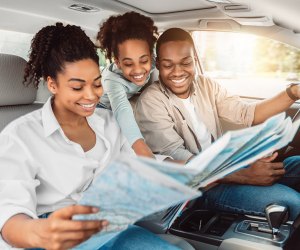 Teach kids to read a map! It's a vanishing skill. Photo by Mommy Poppins
10. Get an actual map, just like you had when you were a kid!
To bring it full circle, don't write off those paper folding maps! If you happen to travel somewhere that might have spotty internet service, having a map can be a lifesaver if your GPS won't load directions.
Road Trip Essentials for the Car
From backseat organizers to travel trays and more, we've got a list of all the road trip essentials you want to stock in your car to make your trip as easy as possible.
Road Trip Games for the Whole Family
From verbal car games to printable games to play in the car (and even a few surprises), this list will surely keep the kids busy while you drive over the river and through the tunnel.
RELATED: How To Make Your Own Granola Bars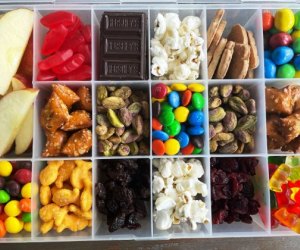 Make the ultimate road trips snack box with this tackle box turned kid snack box. Photo by Danielle Smith
Road Trip Snacks
We're borrowing from our list of camp snacks here for ideas for perfect road trip snacks: some require that you pack them in a little cooler, some are perfect served at room temperature. But may we also point out a trend that we're all over—the snackle box. Basically, you take a fishing tackle box and fill each area with a different snack. This keeps kids busy and gives them loads of options so they can find something perfect any time of the day!
Entertainment for Road Trips
Some kids can read in the car, or do Mad-Libs, or you may want to give them their own devices to use for some portions of the trip. But we're heavily in favor of entertainment that everyone can enjoy together. Things like fabulous podcasts, listening to music playlists, playing games with Alexa, and listening to favorite classics on Audible. One specific suggestion in the listening to books front is the book The Golden Compass. While many audiobooks are read by one performer (if you're looking for amazing ones, try anything Jim Dale reads aloud, starting with the Harry Potter series!), The Golden Compass is read aloud like a movie or play, with different actors playing all the parts, and it's one our family listens to over and over and over.
East Coast Road Trips
Quirky roadside attractions, beautiful scenery, and a ton of togetherness is the stuff that makes for enduring childhood memories. Travel from Maine all the way to the Carolinas with these 15 East Coast road trip ideas that will keep your family cruising the coastline. Speaking of coastline, if you are a family of campers, then peruse this list of amazing beach camping spots from Maine all the way down to Florida. We've also got ideas for several off-the-beaten-path road trips that start in Philly!
West Coast Road Trips
On the other hand, if you live on the other coast, you know the one where it's sunny and perfect for road trips pretty much year-round (yes, I'm clearly based in LA), we've got a list of epic road trips in California, which covers the coast, the mountains, the desert, and more. Two favorite road trips for left coast families are along the PCH and inland, through the Eastern Sierras. And if you want to camp by the beach anywhere from Carlsbad, CA to Olympia State Park in Washington, we've got you covered.
RELATED: The California Family Travel Guide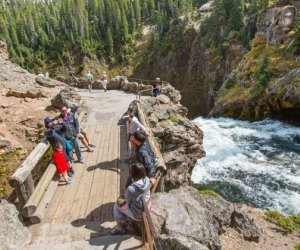 Hike along the path that passes the brink of the Grand Canyon of Yellowstone's Upper Falls. Photo courtesy of NPS
Midwest Road Trips
For families traveling in the Midwest, we've got loads of ideas for things to do at all your stops along the way, from St. Louis to Madison and loads more cities. We've also got tips for trips that stop everywhere from the Mall of America to Yellowstone National Park. Our favorite road trips in the heartland might just be the shorter ones that start in Chicago and lead to the Wisconsin Dells and Lincoln's Birthplace.
Texas Road Trips
Everything is bigger in Texas, even the road trips! Essentially any trip you take around the state constitutes a road trip, whether you're heading to the nearest theme park or to the beach. Here we've rounded up the road trips where the drive is as enjoyable as the destination. From the Panhandle to the Islands to national parks, these road trips show off everything Texans love about their home state.
RELATED: Classic and Funny Campfire Songs for Family Camping Trips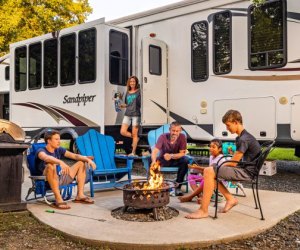 Bring your home with you on the road when you take an RV trip. Photo courtesy of KOA
RV Family Road Trip Tips
During the pandemic there was a huge uptick in people learning the joys of RV adventures. Yes, gas prices can make the RV a tad pricey, but you don't have to spring for hotels and restaurants. Taking an RV on the open road is an amazing way to road trip, but it helps to know the basics. From types of RVs to how to rent them to finding free parking & camping, our Beginners' Guide to Planning an RV Trip will help you get started.