24 Summer Camp Snacks for Kids That Aren't Boring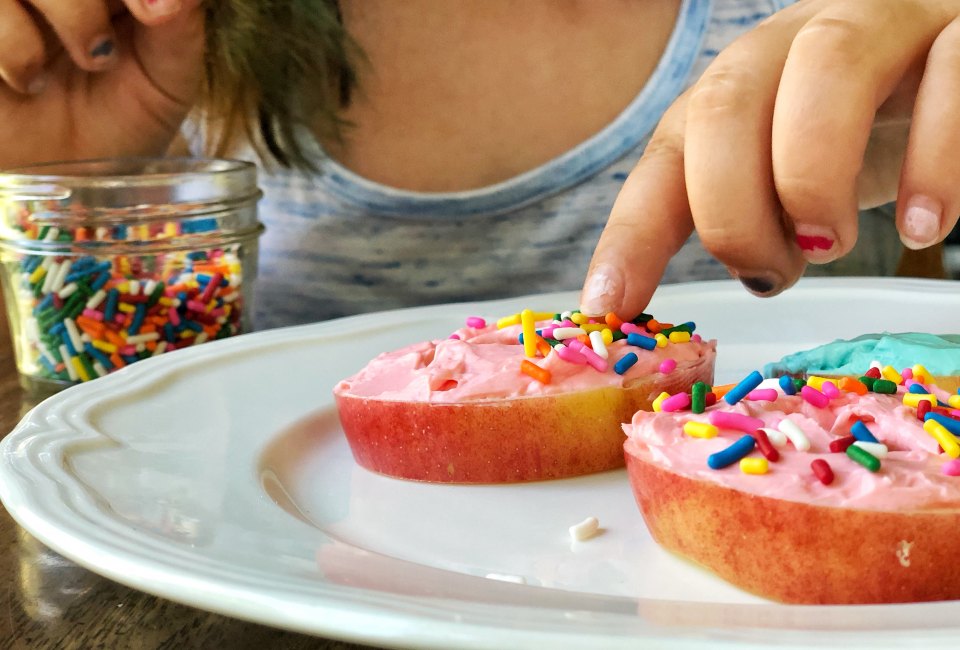 6/20/19
- By
Ally Noel
Packing for summer camp means gathering up the towels, swimsuits, water bottles—labeling everything!—and finally, ensuring your kid has a healthy snack to power them through an action-packed day.
After a year of making school lunches for kids, it might feel overwhelming to come up with creative summer camp snacks, especially if you have a picky eater who turns up their nose at the likes of a cheese stick or tube of yogurt. So we came up with two dozen camp snack foods to woo both kids and parents with cooling, energizing, and (mostly) healthy snacks.
We separated the list into four handy sections: high-protein snacks, fruit snacks, no-refrigeration required, and allergy-aware and nut-free snacks for kids. Some might be more suited to a post-camp nosh but most can be packed up and sent out the door to summer camp with your kid.
Ward off the hangries and fuel up their day with these super simple snacks for kids!

Peanut butter dipped bananas are the perfect post-camp, high-protein treat.
High-Protein Healthy Snacks
1. Breakfast Bananas
Popsicle sticks aren't just for frozen treats. Cut a peeled banana in half, and place it on a popsicle stick. Roll in peanut butter (or sun butter), and then and roll it in your choice of toppings: granola, oats, chocolate chips, raisins, coconut shreds or cereal. These healthy treats can be munched up right away, or frozen for an icy treat!
2. Fruit Cracker Pizzas
Let the kids design their own tasty treat with these faux pizzas topped with cream cheese and fruit of their choosing. Sunshine & Hurricanes came up with this healthy snack.
3. Kids Trail Mix
Trail mix is a camping food staple for good reason: it can be made ahead, doesn't spoil, and is packed with energy. Try Cheerios, raisins, pretzel minis or sticks, M&Ms, mini marshmallows, and other treats for toddlers and kids. Nuts can boost the protein component if allowed, or add sunflower or pumpkin seeds if going nut-free; roasted soy nuts or chickpeas other alternatives.
4. Frozen Yogurt Bites
These yummy morsels power kids up with yogurt bites. Make 'em by the batch, freeze, and pack with an ice pack or save for a special snack on a hot summer day.
5. Breadless Cucumber Sandwiches
Who needs bread? Make these "sandwiches" with sliced cucumber rounds, cold cuts, and cheese for a powerful protein snack.
RELATED: These STEM Camps Are Creating the Next Generation of Inventors

Hummus and pita make the perfect high-protein healthy snack.
6. Hummus, Pita, & Veggies
Hummus packs a punch of plant-based protein, fiber, and makes the perfect dip for carrots, cucumbers, and pita.
Fun Fruit Snacks (and other Cooling Treats)
7. Fruit Cones

Make your fruit salad a little "extra" by scooping it into waffle cones for a fruit cone.
8. Pineapple Ring Ice Pops
A cored pineapple and some lollipop sticks are all you need to make these ice lollies!
9. Fruit Kabobs
Thinly slice fruit (bananas, strawberries, kiwis, and melons work best), and place them on a bamboo skewer. This a great treat for backyard play dates and summer parties, too.
10. Homemade Popsicles
Turn your fresh picked fruit into a homemade popsicle that kids will surely devour after a day at camp.
11. Lemonade Slush
Nothing cools you down like a tall glass of lemonade except maybe these delicious frozen lemonades.
No-refrigeration Camp Snacks for Kids (no ice packs needed)
12. Peanut Noodles
This easy, creamy peanut sauce is perfect when tossed over cold noodles. This snack is sure to power kids through all those summer camp color wars, capture the flag, and swim lessons.
13. Banana Sushi
Spread peanut butter (or a non-nut butter) on a whole wheat tortilla. Place a whole banana onto the tortilla, and roll wrap the banana. Slice into sushi-sized pieces and enjoy.
14. Savory Muffins
Muffins aren't just the side-kick to yogurt. These savory muffins can be the star of the show. Try veggie muffins, ham and cheese, or even pizza muffins for a tempting snack.
15. Snack Lunch
Snack lunch may quickly become your go-to favorite for picky eaters. Grab a bento style lunch box, and then fill compartments with cut up pieces of veggies, fruits, beans, nuts, or just about anything else that's "snack-sized." Kids love having the option to graze and pick a little bit of this and a little bit of that for their nosh.
16. No-Bake Brownie Bites
Who wants to turn the oven on in the summer? Not me! Thank goodness these no-bake brownie bites don't require an oven. Tuck them into your camper's backpack on field trip days for a sweet treat.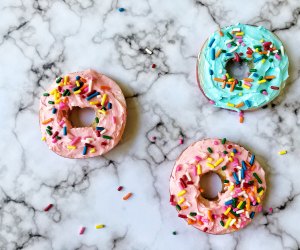 These fun apple donuts combine a healthy snack with kids' favorite dessert elements.
Nut-free and Allergy Aware Snacks for Kids
While many summer camps have gone peanut- and nut-free, those aren't the only food allergies. As food allergies increase, parents (and campers) might need to avoid things like eggs, wheat, soy, sesame, dairy, and fish and shellfish or risk a life-threatening allergy. Try these allergy-aware snack ideas for your kid's lunchbox and their allergic friends might just swoon over your consideration.
17. Apple Fruit Donuts
Apple donuts will satisfy that sweet tooth with the satisfaction of an apple's healthy crunch.
18. Chocolate Chip Oat Bars
Oat bars are a fun nut-free alternative to store-bought granola. Studded with chocolate (use Enjoy Life brand for kids with allergies), these chocolate chip oat bars ensure those with allergies don't miss out on treat time.
19. Chia Energy Bars
Everyone will be able to enjoy these gluten-free, nut-free, dairy-free, vegan snacks. Theses Chia Energy Bars are so easy to make that the kids can even help put them together.
20. Baked Apple Chips
Slice an apple very thin and place on a parchment-lined cooking sheet. Bake at 250 degrees for around an hour and you'll have homemade apple chips. Sprinkle with cinnamon sugar to sweeten these healthy snacks.
21. Popcorn
Popcorn is satisfying, fun to eat, and doesn't require an ice pack. Make this homemade popcorn right in the microwave and you'll be able to pack up this week's camp snacks in a hurry.
22. Fruit & Cheese Skewers
Create a colorful and high-protein snack by combining your kid's favorite types of fruit, along with cheese cubes, on a toothpick.
23. Sun Butter Soft Serve
This nut-free, dairy free, sweet and salty treat screams "summertime" and is a lovely way to commend your kid working hard on a new skill at camp.
24. Frozen Grapes
Frozen grapes might just be the easiest summer snack ever. Toss both red and white grapes into the freezer and they'll be ready to enjoy for the next day's camp session! Best yet, this snack will keep the rest of your camper's lunch box cool when the temps are on the rise.
Click Here to Sign Up!
i