Best Clothing Labels and Name Tags for Kids' Gear—for Camp, School, or Daycare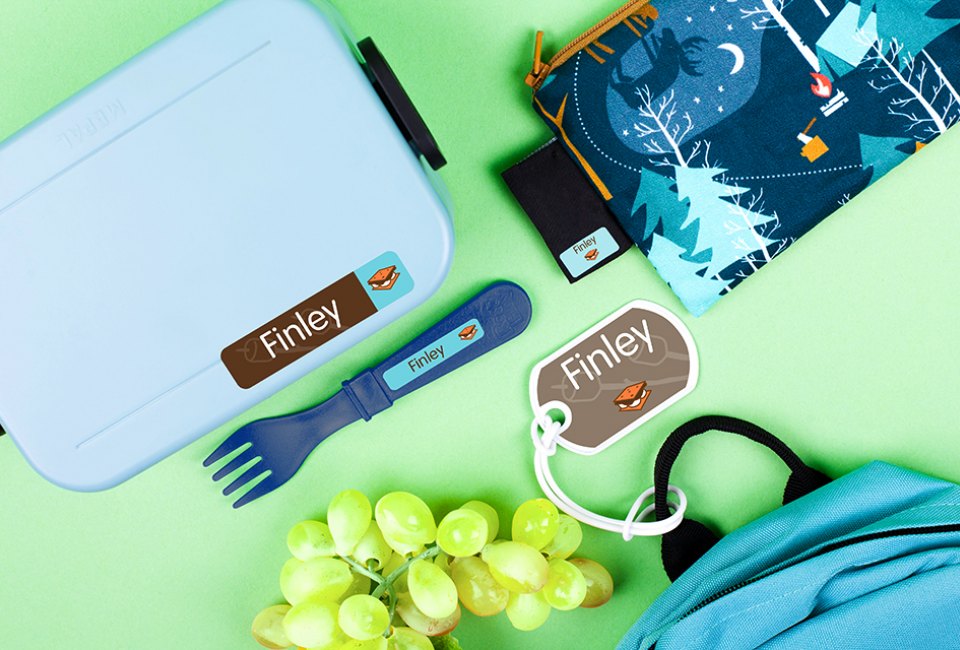 8/15/22
- By
Anna Fader
Labeling kids' gear: it's a parenting chore that just needs to get done. As kids prepare for a new school year or camp season, we need to label every article of clothing, towel, backpack, lunchbox, thermos, and every other bit of gear that will travel along to summer camp, to school, or to daycare—in the hopes that when it inevitably gets lost, it will find its way home to you. Nothing's going to make this job of labeling camp clothes, baby bottles, or school supplies fun, but we've rounded up the whole range of different ways you can label your kids' stuff, from swimsuits to water bottles and sippy cups, with beautifully embroidered personalized labels to fun, custom name tags with cute, colorful designs, to ones you can make at home.
Here are a few the best name labels for kids' and baby gear that we've found, and yes, most all offer dishwasher-safe, easy peel-and-stick options!
Check out our Back-to-School Guide or our local summer camp guide for more ideas!

Label all those sleepaway summer camp supplies with a personalized Mabel's Labels name tag.
Kids' Labels with Staying Power
From daycare to school to sleepaway camp, many moms turn to Mabel's Labels for their staying power—literally. One editor told us she has Mabel's labels still attached to certain items eight years later! These durable, waterproof name labels come in all the shapes and sizes you'll need for all (and any) kid activities, including sports and private school uniform labels. Check out the cute designs and colors available in the summer day camp label pack, from s'mores to unicorns and plenty of furry animals.
Labels for Siblings
​If you don't envision being able to get through one of those "value packs" of labels right away, but still need a bunch of labels for kids given your household headcount, check out Sticky Monkey. It's one of the few custom name label makers we found that lets parents split an order between two names. There are plenty of unisex designs from which to choose.
RELATED: Top STEM Summer Camps Around the Country

Camp supplies *might* just make it home with Stickerkid labels.
Labels for Emoji Fans
Find just about every type of label and value pack option at Stickerkid, including daycare and baby bottle packs, as well as labels for school or summer camp. Personalize your kid's labels by selecting from a dizzying number of label icon options with filters like adventure, lovable, superheroes, SummerEdition, and yes, emojis. Ships fast, which we procrastinators greatly appreciate!
Labels for Geeks at Heart
Why buy clothing labels when you can buy a gizmo and make your own. With special iron-on tape, you can turn a normal label-maker into an iron-on name tape maker, just type in your child's name and click out as many as you need.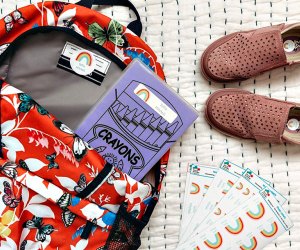 The simple but appealing designs at Name Bubbles give your kid's stuff a unique look.
Labels with Flare
The fresh, low-key designs at Name Bubbles are wooing those parents who prefer an understated look. Kids will love the rainbows, dinosaurs, and unicorns and want to put them on everything. Hey, maybe they'll actually help you! Give them a sheet of labels and let them cover those water bottles, towels, and more camp clothing and other gear with their name.
Labels that Make Kids Smile
Even iron-on labels don't have to be boring with Kiddo Tags. This site makes fun, brightly colored, and cutely designed name labels, plus special stickers for sneakers and every other possible thing you could ever want to put your name on.
The Most Traditional Labels
Just want your basic iron-on camp name labels. Campbound.com sells them at just $20 for 100. Can't beat that. The company also offers rolls of sticker name labels.
Labels for Kids with Allergies
A life-threatening allergy isn't something you want to whisper about. Instead, shout it out with bright red, orange, yellow and "medical alert" allergy labels on lunchboxes and elsewhere. We found great options at Mabel Label's, Sticky Monkey, Stickerkid, and Name Bubbles. Customize with the name of your child's allergen, emergency instructions, and phone numbers, or select a pre-filled label.
Stamps Instead of Labels
Pretend you work in the insurance claims department as you stamp your child's name into their clothes one after another with your own custom made name stamp and indelible fabric ink pad. DENIED.
All photos courtesy the name label companies.
A version of this article first published in 2008.

Sign up for our free
newsletters.
Mommy Poppins is a family activity website that helps people find things to do with kids.
©
2023
MommyPoppins. All Rights Reserved.
mp-prod4-v4.32.99
We use cookies and other data collection technologies to provide the best experience for our customers.
Learn More
t Click Here to Sign Up!