Best Places to See Cherry Blossoms as a Family in NYC
There are few more delightful ways to celebrate the arrival of spring than by viewing the beautiful cherry blossoms flowering all over New York City. In Japan, cherry blossom-viewing is taken to almost religious heights. Blooming flowers are carefully watched, enjoyed, and celebrated. Traditional Sakura Hanami parties feature eating, drinking, and music.
Everyone seems to know about the Sakura Matsuri Cherry Blossom Festival at the Brooklyn Botanic Garden, but there are other places to enjoy these gorgeous blossoms without the crowds this April and even deeper into the spring season. Here are the best places to see cherry blossoms in New York City this spring.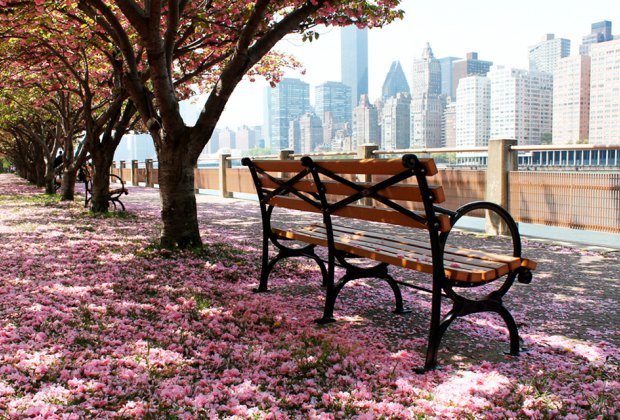 Roosevelt Island gets covered with a petal floor. Photo courtesy of Roosevelt Island Cherry Blossom Festival
Roosevelt Island Cherry Blossom Festival – Roosevelt Island
Saturday, April 13
This afternoon festival at Roosevelt Island's Franklin D. Roosevelt Four Freedoms Park includes all the traditions of a Sakura Matsuri with musical performances, Japanese tea ceremonies, dancers, Samurai sword demonstrations, and of course, ample time among the cherry blossoms. Take the tram or F train from Manhattan, or the bus from Queens to enjoy the festivities and the rest of the isle, including the promenade lined with cherry trees. FREE
Sakura Matsuri Cherry Blossom Fest – Flushing, Queens
Saturday, April 20
Take in a spring day in Flushing Meadows Corona Park and enjoy this festival showcasing traditional Japanese customs, including drumming, dancing, and a tea ceremony. FREE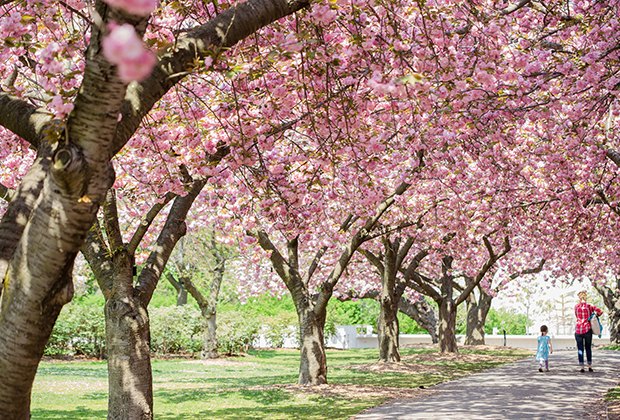 The blooms at the Brooklyn Botanic Garden are hard to beat! Photo courtesy the garden
Sakura Matsuri 2019 Cherry Blossom Festival – Prospect Park, Brooklyn
Saturday, April 27–Sunday, April 28
The Brooklyn Botanic Garden has the most lavish celebration of cherry blossoms in the city. The two-day festival includes Japanese cultural activities, music, and art. Kids enjoy sword-fighting play, Taiko drumming, manga artists, workshops, a traditional Sohenryu tea ceremony, and, of course, people dressed in Japanese costumes. The BBG's Cherry Blossom Festival draws huge crowds, so consider visiting the garden's famous Cherry Blossom Esplanade earlier in the season. Track the blossoms online to time your visit perfectly.
RELATED: Best Spring Festivals and Family Carnivals this April in NYC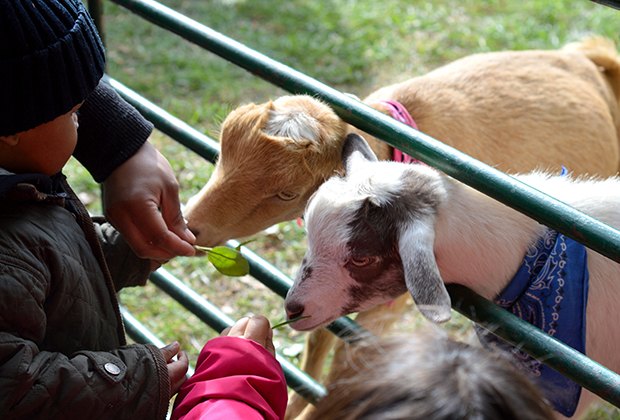 Check out the blooms at the Queens Botanical Garden's Cherry Circle, then hit the petting zoo during its Arbor Festival. Photo courtesy of the venue.
Queens Botanical Garden Cherry Circle – Flushing, Queens
While the Queens Botanical Garden does not have special events for Sakura, it does have a beautiful Cherry Circle. On Sunday, April 28, the garden hosts an Arbor Festival with gardening and environmental workshops, a beer and wine tent, and children's activities.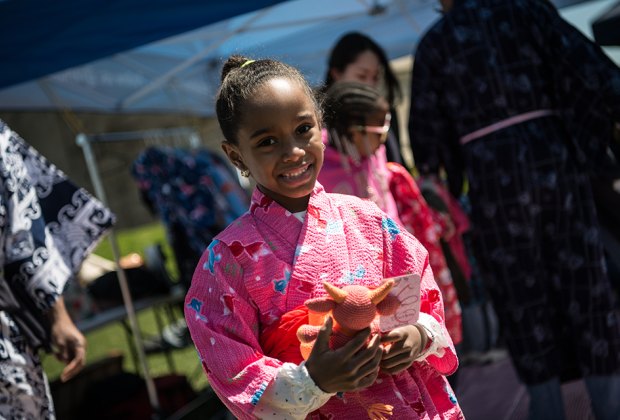 Celebrate the spring season and Japanese culture at our free festival on Randall's Island. Photo courtesy of Randall's Island Park Alliance
Randall's Island Cherry Blossom Festival – East Harlem
Saturday, May 4
Activity-packed Randall's Island hosts this annual fest. In addition to its collection of cherry blossoms, families can enjoy arts and crafts, live music, face painting, games, and more seasonal entertainment. The festival is held on Field 62 and 63, plus at the Urban Farm. FREE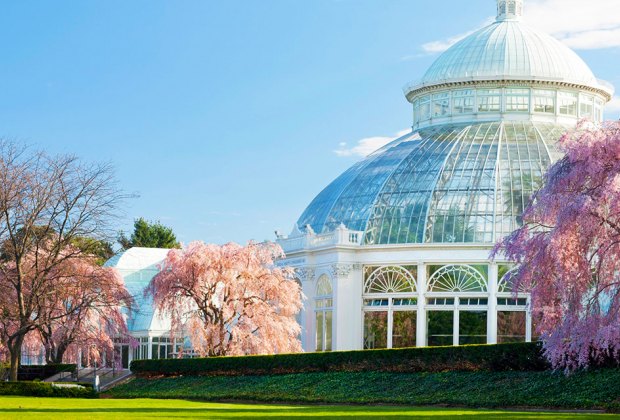 More than 200 Cherry tress are scattered throughout the New York Botanical Garden. Photo courtesy of NYBG
New York Botanical Garden – Bronx Park, The Bronx
Although NYBG's Cherry Valley doesn't get a fest, the blossoms still are sweet. There are more cherry blossoms scattered throughout the Ross Conifer Arboretum, too. While there, catch the annual Orchid Show (through Sunday, April 28). Don't forget to visit the Everett Children's Adventure Garden and the Ruth Rea Howell Family Garden, as well as take part in the garden's regular family activities.
Riverside Park Cherry Walk – Morningside Heights
Riverside Park has its own Sakura Park with a beautiful cherry walk featuring trees gifted from the Committee of Japanese Residents of New York. These were given decades ago in celebration of the 100th anniversary of Robert Fulton's steam-power demonstration on the Hudson and the 300th anniversary of Henry Hudson's discovery of the river. The cherry trees are located between 100th and 125th streets.
RELATED: Weekend Getaway and Day Trip Ideas for NYC Families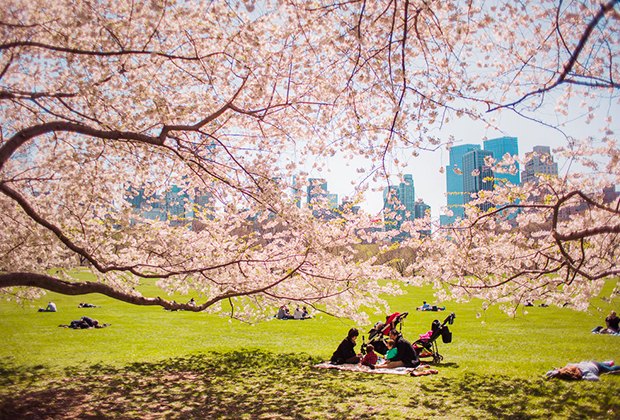 Picnic under the cherry blossoms in Central Park. Photo courtesy of Ayumi Sakamoto
Central Park – Manhattan
Central Park is a great place to view cherry blossoms and have a picnic (not allowed at Brooklyn Botanic Garden), plus visit the zoo, a destination playground, or a museum. Some of the best cherry blossom viewing sites are on the bridle path at 90th Street, East Drive at 66th Street, east side of the boathouse at 74th Street, and Cherry Hill, mid-park at 72nd Street just west of Bethesda Terrace.
This article was originally published in April 2012 and is updated annually. Jody Mercier contributed additional reporting.
Top photo by Paul Stein via Flickr. Video by Alice Grindling for Mommy Poppins