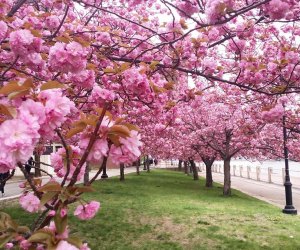 Best Places to See Cherry Blossoms as a Family in NYC
There are few more delightful ways to celebrate the arrival of spring than by viewing the beautiful cherry blossoms flowering all over New York City. In Japan, cherry blossom-viewing is taken to almost religious heights. Blooming flowers are carefully watched, enjoyed, and celebrated. Traditional Sakura Hanami parties feature eating, drinking, and music.
Although many of the annual cherry blossom festivals are on hold again in 2021, there are many places to enjoy these gorgeous blossoms this April and even deeper into the spring season. Here are the best places to see cherry blossoms in New York City this spring. Find more seasonal happenings in our Spring Fun Guide.
Editor's note: While we've attempted to provide highlights of these parks at their best, some of the features and amenities listed below are closed due to the coronavirus pandemic. Please keep your family and others safe by always wearing a face mask, and pack plenty of hand sanitizer.
Best Places to See Cherry Blossoms in Manhattan and the Bronx
Monday, April 26-Sunday, May 2
The activity-packed Randall's Island hosts its annual fest, which looks a bit different this year. In addition to its collection of cherry blossoms, families can enjoy grab-and-go cherry blossom projects, a selfie station, as well as virtual activities, which are available all week long. The in-person festival is held Saturday and Sunday on Field 62 and 63, plus at the Urban Farm. FREE
Riverside Park has its own Sakura Park with a beautiful cherry walk featuring trees gifted from the Committee of Japanese Residents of New York. These were given decades ago in celebration of the 100th anniversary of Robert Fulton's steam-power demonstration on the Hudson and the 300th anniversary of Henry Hudson's discovery of the river. The cherry trees are located between 100th and 125th streets.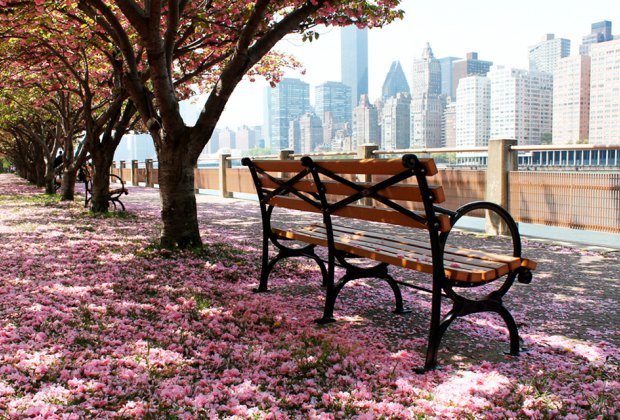 Roosevelt Island gets covered with a petal floor. Photo courtesy of Roosevelt Island Cherry Blossom Festival
Though the festival at Roosevelt Island's Franklin D. Roosevelt Four Freedoms Park is on hold this year, it is still well worth the trek to this park to view the stunning cherry blossoms. Take the tram or F train from Manhattan or the bus from Queens to enjoy the festivities and the rest of the isle. FREE
RELATED: April GoList: Best Things To Do This Month With Kids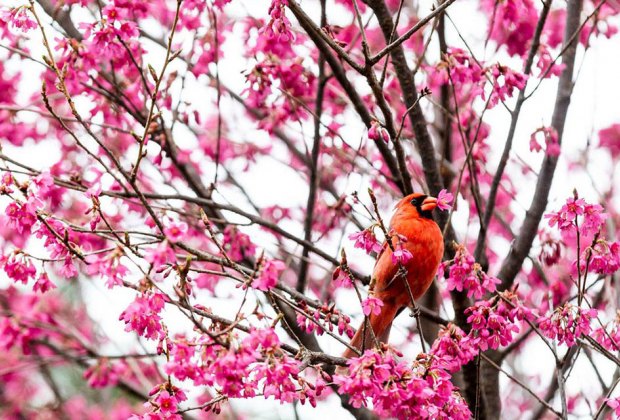 More than 200 Cherry trees are scattered throughout the New York Botanical Garden. Photo courtesy of NYBG
Although NYBG's Cherry Valley doesn't get a fest, the blossoms still are sweet. There are more cherry blossoms scattered throughout the Ross Conifer Arboretum, too. Tickets may be harder to come by than in years past, with the landmark exhibition set to open Saturday, April 10, so be sure to book your tickets soon! Don't forget to visit the Everett Children's Adventure Garden, the Ruth Rea Howell Family Garden, and The Edible Academy. Check the cherry blossom tracker to pick the best time to visit, but keep in mind, entry requires advance purchase of timed-entry tickets.
RELATED: Exploring Arthur Avenue: The Bronx's Own Little Italy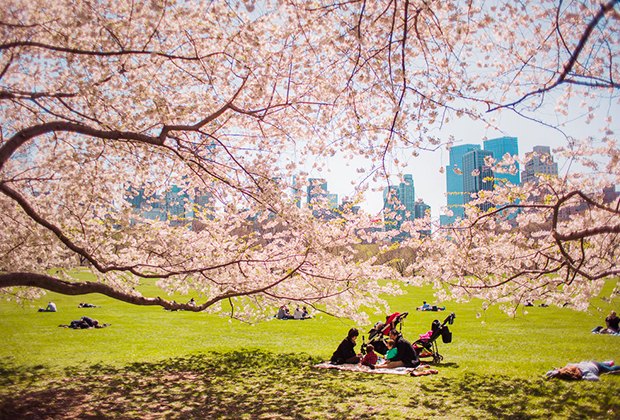 Picnic under the cherry blossoms in Central Park. Photo courtesy of Ayumi Sakamoto
Central Park is a great place to view cherry blossoms and have a picnic (not allowed at Brooklyn Botanic Garden), plus visit the zoo, a destination playground, or a museum. Some of the best cherry blossom viewing sites are on the bridle path at 90th Street, the East Drive at 66th Street, the east side of the boathouse at 74th Street, and Cherry Hill, mid-park at 72nd Street just west of Bethesda Terrace.
Best Places to See Cherry Blossoms in Queens
Take in a spring day at this expansive park and enjoy the blooms adorning the areas surrounding the Queens Museum and the Queens Theatre. For the most picturesque views, head west on the promenade toward the Unisphere. FREE
While the Queens Botanical Garden does not have special events for Sakura, it does have the beautiful Cherry Circle, where you'll find cherry trees planted along a winding path and bursting with blooms each spring.
RELATED: 10 Newly Renovated NYC Playgrounds to Visit in Spring 2021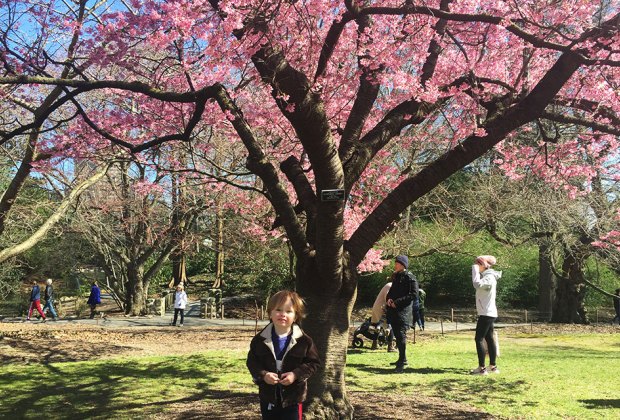 Pose for a memorable shot under the cover of cherry blossoms at the Brooklyn Botanic Gardens. Photo by Rosalind Muggeridge
Best Places to See Cherry Blossoms in Brooklyn
The BBG has the most lavish annual celebration—and perhaps collection—of cherry blossoms in the city. Though its wildly popular, two-day Japanese Sakura Matsuri festival is canceled this year, the garden is offering extended hours and outdoor programs during the cherry blossom season. Track the blossoms online to perfectly time your visit to the garden's famous Cherry Blossom Esplanade.
This article was originally published in April 2012 and is updated annually. Jody Mercier contributed additional reporting.