Little Island Opens Bringing New Park, Live Entertainment to Manhattan's West Side
5/21/21
- By
Jody Mercier
If 2020 was the year of the park, with New Yorkers flocking to green spaces in record numbers, park-going in 2021 is next-level thanks to Little Island, aka the floating park, which opens to the public today. The 2.4-acre park far out-punches its tiny footprint, thanks to the uber-creative use of space and a robust programming calendar to match.
One of our most anticipated openings of 2021, Little Island is set on tulip-shaped platforms adjacent to 13th Street in the Hudson River. Its structure is meant to look like a floating leaf, and crossing the bridge from the mainland to the park transports you to an entirely different world, with winding paths, stunning landscaping, and plenty to explore, see, and do.
Read on for all the details on this cool new west side addition, which will make a splash on New Yorkers' plans for summer fun. Find more destination parks in our Guide to Parks and Playgrounds.
Editor's note: While we are trying to promote safer activities that occur outdoors or with social distancing guidelines in place, please keep your family and others safe by always wearing a mask and practicing social distancing, and pack plenty of hand sanitizer.
Visiting the brand new green space is free, but anxious parkgoers should take note: To control capacity, you'll need to book a timed-entry ticket for visits between noon and 10pm daily. The park is open seven days a week from 6am-1am, and tickets for morning or late-night visits are not necessary.
Little Island's Design
The whimsical structure for Little Island is the brainchild of Thomas Heatherwick of Heatherwick Studio, the same designer behind The Vessel at Hudson Yards. Each of the 132 tulips emerges from the river between the wood piles preserved from Pier 54, which remain in place to encourage marine biodiversity. Each platform was engineered to meet unique load requirements meant for building a park atop them. Signe Nielson of MNLA led the landscape design, utilizing more than 66,000 bulbs, 114 trees, more than 350 different species of plants meant to provide a natural canvas as the season's change.
RELATED: See The GREEN Transform Lincoln Center's Famed Plaza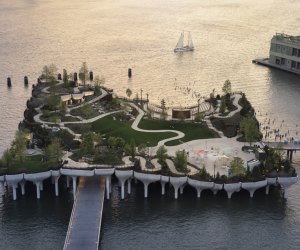 Little Island packs plenty of amenities into its small, multi-layered, floating footprint. Photo by Michael Grimm
While there's no playground at Little Island, there's still plenty for little ones to do and see. A large "Main Lawn" is situated adjacent to The Play Ground—more a plaza than a play area—with an inviting slope simply made for kids to roll down. A trio of elevated outlooks mark three of the island's four corners. While adults might be happy climbing the stairs or pushing a stroller up the ADA-accessible pathways, kids will likely thrill at clambering up a series of "boulder scrambles" built into the tiered landscaping.
Family-Friendly Programming at Little Island
One thing that's evident upon visiting Little Island is the park is much more than a green space. A robust staff has been assembled, including four artists in residence, and more than 500 live events are planned for summer 2021 alone.

The Glade is a family-friendly programming space with bleacher seats and a sloped lawn for overflow guests.
Families are likely to flock to The Glade, one of three dedicated performance venues on Little Island, where they can enjoy enriching live programming five days a week, including performances from the New Victory LabWorks, where BIPOC artists workshop programming for the stage. Other community organizations include Mommy Poppins favorites like the Children's Museum of the Arts and The Museum of the Chinese in America.
RELATED: Pier 26 Opens in Hudson River Park Bringing an Educational Green Space to Tribeca

Find the art cart at Little Island for kid-friendly materials to guide your exploration of the green space.
A Little Island Art Cart provides a mobile hub for little makers, who can snatch grab-and-go materials to provide guided exploration of Little Island's flora and fauna.
And, parents of teens, take note: Friday nights are for big kids, with The Door facilitating a series of Friday night performances meant to give teens a safe space to showcase their talents.
The robust calendar of programming begins in mid-June, and we'll have more details on our own calendar as they approach.

The Amph seats 687 at full capacity, though summer 2021 performances are likely to welcome only 1/3 capacity. Photo by Michael Grimm
While programming in The Glade is all free, the larger performance space on the isle, The Amph, is a 687-seat (in non-COVID times) performance venue, with a stage surrounded by seats on three sides and the Hudson River as its backdrop, which hosts larger-scale performances, including concerts of Broadway singers, the live return of American Ballet Theater, and a revival of Little Orchestra Society's "Things That Go Bang!" series. A limited number of tickets will be available for each, though tickets are required for most.
RELATED: See Riverside Park South's Recently Renovated Transformation

Little Island offers stunning views from every vista.
Know Before You Go to Little Island
Little Island is open from 6am-1am daily; timed-entry tickets are required for visits from noon-10pm and can be booked online.
Three concession trailers are located on The Play Ground, and open from 7am-11pm daily, serving everything from coffee and breakfast sandwiches to adult beverages. See the latest menu online.
Bathrooms, with changing tables, are located adjacent to The Glade.
Unless noted, all photos by author
Places featured in this article:
Click Here to Sign Up!
i