14 Family-Friendly NYC Openings We're Anticipating in 2021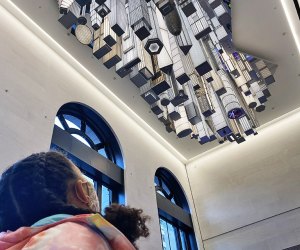 1/12/21
- By
Jody Mercier
After a year of closures, COVID, and being cooped up inside, we could all use a little hope on the horizon. So it is, we bring you our annual list of the most anticipated kid-friendly openings for 2021.
While some picks are making a repeat appearance, we're sharing them again in the spirit of silver linings and excitement for the year ahead.

Moynihan Train Hall's sun-drenched space pays homage to the original Penn Station. Photo by the author
Now open!
If you were anywhere near social media on New Year's weekend, you likely saw plenty of pictures of this new, sparkly train hall, which offers visitors a much more grand introduction to NYC than the dingy, subterranean walls of Penn Station. The 255,000-square-foot train hub is worth a visit now before the commuters come back to Midtown if only to marvel at its shiny surfaces, cool public art pieces, and wide-open, sun-drenched spaces. The $1.6 billion project transformed the 1913 Farley Post Office, a Beaux-Arts masterpiece in its time, into a project that honors Penn Station's past while turning an eye toward the 21st century. While trains are already welcoming passengers on its tracks, there's still plenty more development going on, including a food hall planned for a fall opening.
2. Ikea Queens – Rego Park, Queens
Now open!
What New Yorker hasn't had a love affair with the Swedish retailer (and its meatballs!) at some point in their life? While we have a massive, warehouse-sized version in Red Hook, Ikea Queens promises a key city-friendly difference. Located at Rego Center, it's actually subway accessible. Of course, the store, which is a new smaller scale for the furniture giant and absent of its on-site warehouse, offers delivery: a $49 flat rate for anywhere in NYC proper. Smaller items are available for grab-and-go convenience. And, speaking of grab-and-go, its Swedish to Go restaurant allows visitors to refuel while shopping or pick-up some iconic meatballs to take home.
RELATED: Stream Tons of Free NYPL Programming From Storytimes to Tutoring and More

The Greenpoint Library features elements that interact with the natural world. Photo courtesy of the Brooklyn Public Library
Open for Lobby Service; full opening TBD
Greenpoint has a brand new library and environmental education center to serve its community. The 15,000-square-foot facility made its debut back in October but is limited to lobby pick-up services only. Once it's safe to welcome visitors back to the building, expect to explore the collection in the stacks, but also a stunning outdoor environmental education center, where cisterns collect rainwater, a rooftop garden is housed, and a gardened reading deck awaits. The sun-drenched modern space has windows that double as sundials, too. You'll find a dedicated children's reading room and distinct collections for young adults. Lab spaces and event spaces are housed within, ensuring that this library becomes a community hub.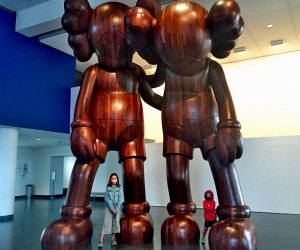 Strike a pose with the giant KAWS sculptures at the Brooklyn Museum. Photo by Ros Muggeridge

Opening February 12
The Brooklyn Museum becomes the first New York institution to provide a comprehensive overview of the borough's native son, KAWS, whose 25-year-career has evolved from graffiti art to larger-than-life sculptures. You'll get a taste of all of it in this five-part exhibition, which traces the artist's process from his early days to the present. The exhibition is supplemented by an augmented reality app letting visitors interact with the artwork via their smartphones. If can't even enough KAWS, Rockefeller Center has commissioned a brand new supersized piece that will be installed in the complex's iconic plaza come August.
RELATED: MoMA Reopens with Kid-Friendly Art Programs, Family Film, New Galleries

MoMA looks at the work of Alexander Calder and its relationship with the institution in a new exhibition. Photo courtesy of MoMA
Opening March 7
Drawn from MoMA's own collection, this exhibition highlights Calder's work by exploring his relationship with the museum. See 70 of Calder's pieces on display in the outdoor sculpture garden and a third-floor gallery, accompanied by films, historical photographs, and archival materials from the museum, which exhibited its first Calder just months after its opening in 1930.

Manhattan's getting a brand new park suspended over the Hudson River. Rendering courtesy of Little Island
Anticipated opening: Spring 2021
After a year in which outside spaces were our refuge, it seems fitting to include this ultra-cool floating park among our picks. Situated just off West 13th Street in the Hudson River, Little Island replaces a Pier 54 badly damaged by Hurricane Sandy with an innovative, immersive new park that seemingly floats on the water. The undulating platform was designed to provide different microclimates, complete with plantings to suit them. While it's a gem of landscape architecture, it's also a completely new place to play and explore with all your senses.
RELATED: Pier 26 Opens in Hudson River Park Bringing an Educational Green Space to Tribeca

The Adventure Bluff Gardens, part of The Battery Playscape, features five granite slides, boulder scrambles, and more. Photo courtesy of The Battery Conservancy
Anticipated opening: Spring 2021
Located near the SeaGlass Carousel, you'll soon find this 1.5-acre playground. Replacing a formerly dilapidated pile of wooden play beams, The Battery Playscape offers tons of room to romp. A hill houses five slides of varying lengths, there are boulders to clamber over, and perhaps our favorite feature: a collection of treehouses to explore. A giant sandbox is planned, plus water features and even a creative element. The ShowBox Theater, built in collaboration with Cheryl Henson of the Jim Henson Foundation and MacArthur Fellow Basil Twist, invites imaginative play and provides a backdrop for theatrical productions, recitals, and performances. A hand puppet nook allows little ones to bring their vision to life in puppet form.
Anticipated opening: Spring 2021
The completely redesigned Alison and Roberto Mignone Halls of Gems and Minerals were set to open at AMNH last fall as part of the museum's anniversary celebration. But, these new, sparkling halls are worth the wait. Once they debut, museum visitors can peruse 5,000 gems representing 95 different countries of origin, plus a temporary exhibition entitled Beautiful Creatures, which honors contemporary jewelers like Tiffany & Co., Cartier, and Van Cleef & Arpels, plus more, showcasing pieces inspired by the animal kingdom.
RELATED: Explore The Nature of Color at the American Museum of Natural History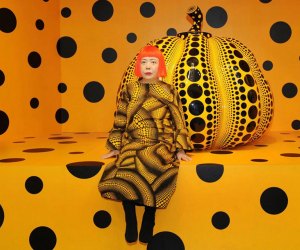 Kusama: Cosmic Nature at NYBG explores the artist's lifelong engagement with nature and includes multiple installations. Photo courtesy of the David Zwirner Gallery
Anticipated opening: Spring 2021
In announcing the postponement of last year's landmark exhibition to this year, the artist herself shared a message: "We aspire for endless love permeated with everyone's hearts of human love, a wish for peace in the world, our dreams, and wonders of hope—it is our wish that this exhibition can offer these as its greatest gift. I hope you all can wait." The message is perhaps more apropos now than when it was written last April. The exhibition focuses on the artist's fascination with the natural world and includes multiple installations—perhaps even an open-air infinity room!—highlighting her trademark polka-dots and use of mirrors. A participatory installation—a first for Kusama—will be housed in a greenhouse and transform throughout the show.

The Northeast gets its first Legoland this year! Photo courtesy of Legoland New York
Anticipated opening: Spring 2021
This opening is the granddaddy of them all in 2021 and another pick delayed by the pandemic. The Northeast gets its first Legoland, and it's said to be the biggest one ever built. Construction is well underway on the site in Orange County, about a 90-minute drive from Midtown. Once you arrive, you'll find more than 50 rides and attractions, plenty of shows, and ample opportunities to buy souvenir bricks! If you've visited the Legoland locations in Florida or California, you likely know what kind of can't-miss, kid-friendly fun awaits. Soar over the Legoland kingdom in its Dragon Coaster, earn a license in the Lego City Driving School, and take in the sights in Miniland. One silver lining to the delay: The Legoland Hotel is also opening this year, so you can stay and play!

Get ready, muggles: The most extensive collection of Wizarding World products anywhere is coming to Flatiron. Rendering courtesy of Warner Bros. Wizarding World
Anticipated opening: TBD
The concept shop, the first of its kind, was set for a 2020 opening, but that's been pushed back. If we had a working wand, we'd conjure up an earlier opening date (and a few other things...). It promises to house the largest collection of Harry Potter and Fantastic Beast products globally, an only-in-New-York line of wands, Bertie Bott's Every Flavor Beans, and more. We'd be willing to guess you can wash them down with butterbeer, too. Beyond the goods, there will be plenty of Instagram-worthy photo ops. While you wait for the brick-and-mortar, you can shop online.

The Phoenix Coaster makes its debut at Deno's Wonder Wheel Amuseument Park. Photo courtesy of the Park
Anticipated opening: Summer 2021
The beloved old-school Deno's Wonder Wheel Amuseument Park is set to introduce a brand new roller coaster this year, adding the Phoenix to its plot of beachfront property. Rising up to 68 feet tall and running along more than 1,200 feet of track, the coaster carries up to 20 passengers at a time in its 10-car train. Unlike the Cyclone to the south or the mega-thrill rides at Luna Park, it's described as a family coaster, accessible to kids over 39 inches tall. It does rotate to a near upside down 115 degrees. Its name is symbolic, according to Deno Vourderis, whose family operates the park: "Phoenix symbolizes rebirth to a more accepting and loving world. New York is known for its ability to take a punch and bounce back. I don't think any other place on earth does this better. And Coney Island is its greatest example of resilience, even in the darkest of times. It is a place people have always come to find comfort and to remember what it feels like to smile. We need this now more than ever." A new coaster isn't the only thing to celebrate at the amusement park, though; its iconic, namesake Wonder Wheel gets a belated 100th birthday celebration all season long.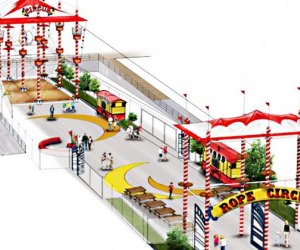 A circus-themed area houses Luna Park's new ropes course, which allows visitors to climb, zip line, and get an aerial eyeful of the beach and boardwalk. Rendering courtesy of Luna Park
Anticipated opening: Summer 2021
Another attraction delayed by the pandemic, Coney Island's biggest amusement park is growing, bringing with it a trio of new rides, a ropes course, and more amenities, including an open-air eatery and entertainment space. The big news here is the rides. Debuting during the 2021 season is a log flume ride whose tracks intertwine with a new steel coaster, which is even ADA accessible. A new ride, dubbed "Big Wavez," promises to bring King Neptune to life on a video screen equipped with motion-activated sensors. Visitors' movements create a different experience each go-round, though the one certainty is you will get wet. Consider drying off with some high-flying fun on the ropes course, which has a circus theme and varied attractions for all-ages fun.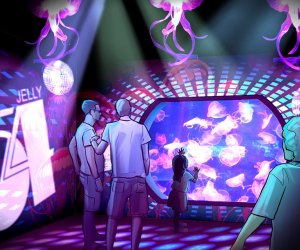 Tropical fish, rays, and sharks swim in windows at SEA LIFE at the American Dream Mall. Photo courtesy of SEA LIFE
14. More Fun at American Dream – Meadowlands, New Jersey
Anticipated opening: Multiple dates
The offerings at the mega-mall seem to multiply. In 2020, despite the pandemic, American Dream managed to debut a new indoor water park and a pair of mini-golf courses plus countless retailers and food vendors. In 2021, it attempts to top that with an indoor Legoland Discovery Center (similar to the outpost at Westchester's Ridge Hill), the long-awaited and delayed SEA LIFE Aquarium, and a 300-foot-tall Observation Wheel, with 26 climate-controlled gondolas offering a breathtaking view of the Manhattan skyline. Legoland and SEA LIFE are expected to open this spring, with the Observation Wheel following in the summer.