Sea-Themed Carousel at the Battery Is a Major New Kid Destination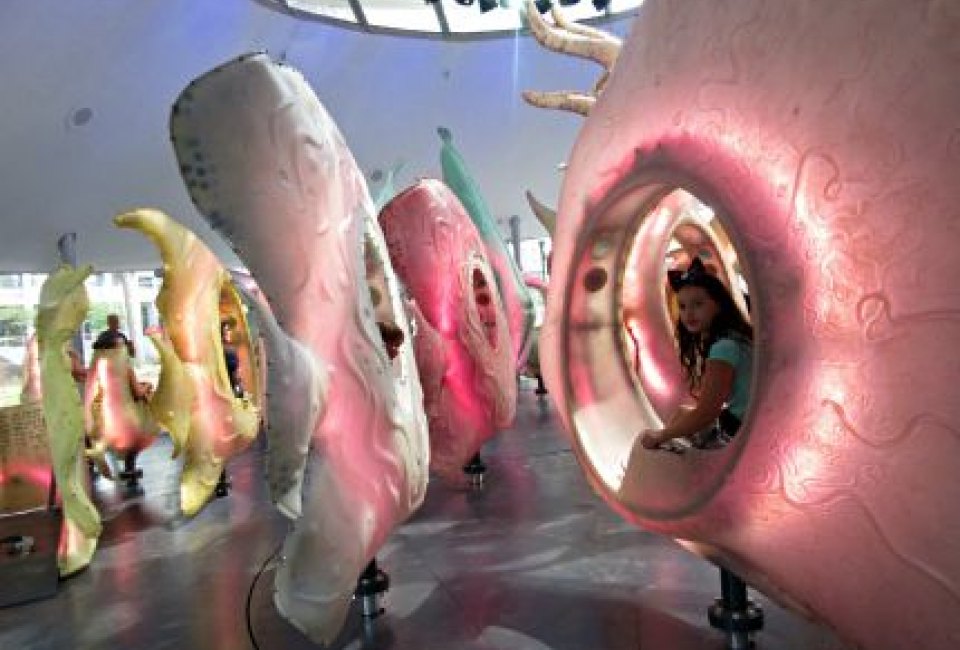 8/20/15
- By
Raven Snook
New York City has long been home to a dozen carousels, but the brand-new SeaGlass Carousel in downtown Manhattan stands apart.
More than a decade and $16 million in the making, this custom-designed ride that opens to the public August 20 is part of the Battery's ongoing overhaul (currently it's a bit of a construction zone), and its sea theme is a nod to the site's history as the original location of the New York Aquarium. No horses going round and round here; instead, riders step into 30 tall (some up to 13 feet!), iridescent fish that seem to swim inside a giant nautilus shell thanks to a quartet of rotating turntables. Glowing lights, soothing classical music and aquatic sound effects complete the virtual underwater experience.

While every news outlet has been raving about this just-opened, one-of-a-kind attraction, only Mommy Poppins has the scoop on everything families need to know before planning a trip to the SeaGlass Carousel, including tips on stroller parking and bathrooms, along with video that gives you a sense of just how special it is.
The Battery's SeaGlass Carousel is, in a word, unique.
The SeaGlass Carousel was designed by a top-notch creative team, including WXY Architecture and George Tsypin, who did the sets for Broadway's The Little Mermaid. The result is an eye-popping experience that's almost as fun to watch as to ride. (Good thing, because we anticipate long lines.) Each fish pod has its own speaker and the soundtrack is synced to a colorful light show, which enhances the immersive feel. As you bob and glide, you get a sense of what it's like to be a fish, no oxygen tank required.

While my 10-year-old usually gripes that merry-go-rounds are for babies, she had no such complaints about SeaGlass (she went on five times until I dragged her off!). That might be this carousel's best attribute: It delights riders of all ages—even I, the jaded Goth mom, grinned from ear to ear. It's also not too fast for little ones, though its movements might trigger motion sickness in some as any ride can.

RELATED: Other Family Attractions in the Battery
Good to Know Before You Go:
Rides cost $5 per person. That makes it the most expensive carousel in NYC. Luckily, credit cards are accepted. If you buy nine rides simultaneously, the tenth is free. Also, babies under 1 ride free.
Prepare to wait. We suspect it will be mobbed for the foreseeable future. Hate lines? Try going at night when there will probably be fewer folks around. SeaGlass is open until 10pm daily.
Children under 42 inches must ride with an adult. Older siblings don't cut it, and both the child and grown-up pay. Also, you are required to climb into the fish with your tot, you can't stand alongside it.
Only one child-adult pair per fish. So if you have two little ones, you'll be going twice.
Stroller parking is in flux. Anything with wheels—scooters, bikes, strollers, etc.—must be left outside the pavilion. The Battery is still working out exactly where they will go, but take note, it may not be the most secure area. Best to take your valuables with you.
Public bathrooms are just across the way in the same building that houses the fancy Battery Gardens Restaurant. There's a changing table in the women's restroom.
The seat belts slow things down. Currently, all seat belts require a special key to lock and unlock, which takes a while. Update: The seat belts have been replaced with the traditional kind, however we hear waits to get on the ride are 2 hours or more!
Choose your fish wisely. Some are difficult to mount because of their height, especially with squirmy toddlers in tow. Also, some of the fish go higher than others while a few are completely stationary (and we hear no one wants to go on the ones that don't move!).
The SeaGlass has a long list of rules posted outside the entrance, notably no gum chewing or selfie sticks.
After your ride, stick around and explore the Battery. There's an awesome spiral fountain where kids can get wet, views of the Statue of Liberty from the waterfront promenade and the historic Castle Clinton. Sadly, the playground right across from the SeaGlass is woefully out-of-date with broken-down wooden equipment. But the Battery Conservancy plans to renovate it in 2017. Meanwhile, the Woodland Gardens surrounding the carousel should be finished by the end of the year.

If you're looking for a place to eat, skip the expensive Battery Gardens Restaurant and Table Green concessions and head inland. We ate at the iconic (and not badly priced) Fraunces Tavern and then visitied the museum upstairs. If you head further north into the heart of the Financial District, you'll find lots of inexpensive, kid-friendly eats, including at nearby Brookfield Place, home to an indoor food court with eateries like Little Muenster, a grilled cheese sandwich specialist and other kid-friendly options like Shake Shack.
RELATED: Financial District Kids Neighborhood Guide

The pavilion spirals up into a skylight that lets the sun shine in.
SeaGlass Carousel is located in the Battery, enter the park at State Street and Peter Minuit Plaza. The 1 train to South Ferry is the closest subway station. Open daily 10am-10pm every day March-December; weekends and public school holidays in January and February, weather permitting.
Places featured in this article:
Click Here to Sign Up!
i