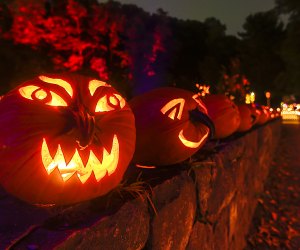 How To See the Great Jack O'Lantern Blaze in 2021
A must-do Halloween attraction in the tristate area is the Great Jack O'Lantern Blaze. Now in its 17th year, this impressive walk-through experience predates the trend of walk-through and drive-through attractions that developed during the COVID era.
Returning in 2021, this year's Great Jack O'Lantern Blaze is scheduled to run 59 nights between September and November to meet attendance demands. Nevertheless, the event's popularity necessitates some advance planning. Timed-entry tickets must be purchased online in advance. A new flex ticket option, introduced for the 2021 season, allowing visitors to purchase a pass for access to any session throughout the season, has already sold out.
For those traveling from NYC, The Great Jack O'Lantern Blaze is worth the splurge and is accessible via public transportation. The event even made our list of 100 must-do events with kids in New York State before they grow up. Prefer to head east? A second location spawned last year on Long Island, at the Old Bethpage Village Restoration
Read on for all you need to know about the event of the Halloween season—an overview, tips for visiting, and a rundown of what's new for 2021. Be sure to bookmark our Fall Fun and Halloween guides for more seasonal fun, and keep an eye on our activities calendar for other must-do events!
Be sure to sign up for our newsletters to get posts like this delivered to your inbox.
OUR LATEST VIDEOS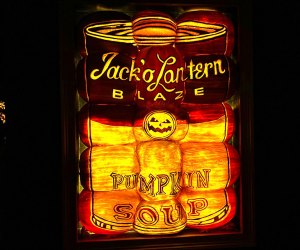 The Great Jack O'Lantern Blaze comes to life with thousands of flickering pumpkins. Photo by Susan Miele
The first thing to understand about the Great Jack O'Lantern Blaze is it's a jaw-dropping original. Every fall, the grounds of Van Cortlandt Manor overflow with more than 7,000 incredibly detailed pumpkin sculptures, with everything from traditional grinning jack-o'-lanterns to inventive sculptures of dinosaurs, animals, flowers, scarecrows, totem polls, snakes, giant spider webs, creatures from Greek and Roman mythology, and much more.
RELATED: Great Fall Foliage Destinations in Westchester and the Hudson Valley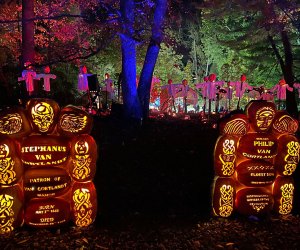 The Blaze is seasonally spooky; make sure very young visitors are comfortable with that. Photo by Susan Miele
Beyond pumpkin carving, an added dazzle comes from special effects, including a revolving pumpkin carousel and mechanical windmill, as well as others that employ lighting techniques to suggest motion. Other highlights are a giant Statue of Liberty, the Pumpkin Zee Bridge, signs of the zodiac, and a medieval castle guarded by jack-o'-lantern owls.
Each year's Blaze features new exhibits. The Museum of Pumpkin Art, in which classic paintings are reimagined with pumpkins, debuted in 2019; in 2020, pumpkin tributes to first responders were added. This year's additions are a New York City streetscape and an immersive Hudson River walk-through experience.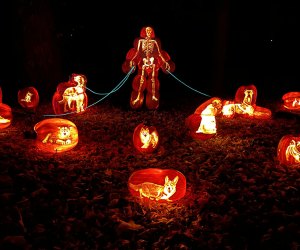 Jack-o'-lanterns stretch as far as the eye can see. Photo by Susan Miele
While the event is more entertaining than scary, the Blaze can be overwhelming for some, and creepy music blares from speakers around you. Kids with sensory issues might not enjoy the excitement.
As in years past, tickets are available on a timed-entry schedule, but carrying over from 2020 is the option to change your date or time up to 72 hours before your scheduled reservation. A $2-per-ticket exchange fee is assessed. Note, however, it might be difficult to find a desirable alternative with availability.
With respect to COVID-19 safety measures, masks are required for unvaccinated visitors, while those who are vaccinated are only required to wear masks in bathrooms and shops. Capacity is reduced this year, as was the case in 2020. Ticket-buyers must abide by Historic Hudson Valley's COVID Courtesy Code.
Depending on your pace, it takes 30-45 minutes to traverse, in addition to the transitional time of arriving and queuing up. According to the FAQ on the Blaze website, you'll see about 7,000 jack-o'-lanterns during your visit. Not all of them are made out of organic pumpkins, though. Some of the most intricate creations were crafted from "art pumpkins" to allow their preservation. It takes more than 1,000 volunteers to help bring the Blaze to life, and their work shows.
The Great Jack O' Lantern Blaze takes place at Van Cortlandt Manor in Croton-on-Hudson on select evenings from Friday, September 17 through Sunday, November 21, 2021. The Long Island Blaze runs Wednesdays through Sundays from Friday, October 2 through Sunday, November 1. We'll bring you more details on the Long Island installation and how you can score tickets as we are able to confirm them.
The Croton Blaze is accessible via public transportation. Take a one-hour train ride from Manhattan on Metro-North to the Croton-Harmon station. The Great Jack O'Lantern Blaze is a 10-minute walk or five-minute cab ride away.
RELATED: Great Fall Getaways from the New York City Area

Tip: Buy tickets for dusk, so you can watch the jack-o'-lanterns come to life as darkness falls. Photo by Susan Miele
Know Before You Go
No tickets will be sold on-site. Be sure to purchase your timed-entry tickets ASAP to ensure you don't miss out.
The Blaze is tough to navigate with a stroller (and wide, double strollers might not fit through all the passageways). The grounds sometimes get muddy, so it's best to leave the Elvira heels at home.
Visitors experience the Blaze by walking along a trail in a single direction. Those wishing to stop to take pictures are asked to stick to the right to allow others to pass on the left.
Try to buy tickets for around dusk. That way you can watch the jack-o'-lanterns come to life as the darkness envelopes them.
This was originally published in 2012. Writer Susan Miele contributed to this 2021 update.