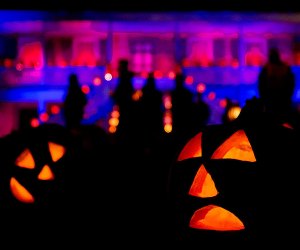 The Great Jack O'Lantern Blaze Rises in the Hudson Valley Again
There are some experiences every family should try once. Then there are annual events that, after you try them, you vow to do every year forevermore. The Great Jack O'Lantern Blaze in Croton-on-Hudson, a Hudson Valley Halloween staple with thousands of hand-carved jack-o'-lanterns, falls firmly in the latter category.
The downside of the Blaze is that tickets start selling out way in advance... like early September. The 2019 shows begin Friday, September 20, and run through Saturday, November 30—thus extending the Halloween season straight through Thanksgiving. Our NYC readers should know that the Blaze is definitely worth splurging on, even if you need to rent a Zipcar. It's also accessible via public transportation.
Read on for what you need to know about this Halloween spectacle, including details about this year's installations, including several new features. Looking for more fall fun? Be sure to sign up for our newsletters!
The first thing to understand about the Blaze is that it's a jaw-dropping original and totally worth the schlep. The grounds of Van Cortlandt Manor overflow with more than 7,000 incredibly detailed pumpkin sculptures, with everything from traditional grinning jack-'o-lanterns to massive sculptures of dinosaurs, robots, animals, flowers, scarecrows, totem polls, snakes, giant spiderwebs, creatures from Greek and Roman mythology, King Kong, and much more. It's truly breathtaking: There are intricately carved pumpkins flickering in the darkness as far as the eye can see.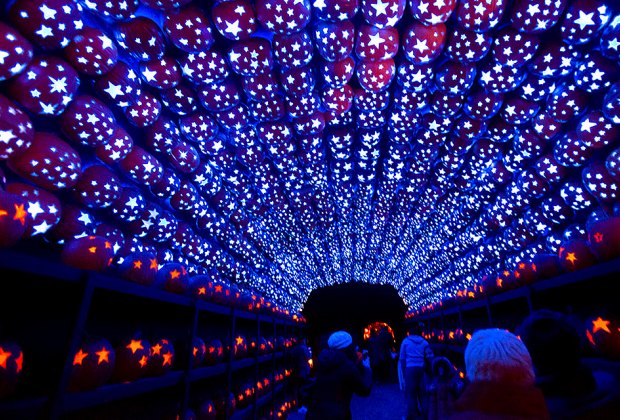 The Pumpkin Planetarium is an awesome sight.
Attractions include a fully functioning Pumpkin Carousel with a 20-foot diameter (sorry, only pumpkins get to ride), a giant Statue of Liberty, the Pumpkin Zee Bridge, a working windmill, the signs of the zodiac, and a medieval castle guarded by jack-o'-lantern owls. New for 2019 is the Museum of Pumpkin Art, in which classic paintings are reimagined with pumpkins. Watch out for the swooping jack-o'-lantern bats, and gaze in awe at the Pumpkin Planetarium

The fully functioning Pumpkin Carousel was introduced in 2017. Photo by Susan Miele
While it's not especially scary, it can be overwhelming, and creepy music composed by Richard Christy from The Howard Stern Show blares from speakers all around you. Kids who are afraid of the dark might not be ready.
Tickets are sold in 30-minute increments, and that's about how long it will take you to get through the whole thing, depending on your pace (the host site recommends allowing 60 minutes to walk through and 90 minutes for the overall experience). When you arrive, there's a holding tent where you can buy hot apple cider, seasonal treats, and Halloween tchotchkes. According to the FAQ on the Blaze website, you'll see approximately 7,000 jack-'o-lanterns during your visit. Not all of them are made out of organic pumpkins, though. Some of the most intricate creations were crafted from "art pumpkins" so they can be preserved. It takes more than 1,000 volunteers to help bring the Blaze to life, and their work definitely shows.
Note: Although tickets sell out very quickly, in past years additional dates have been added to meet the demand, so check back at a later date if you don't find options that work for you initially.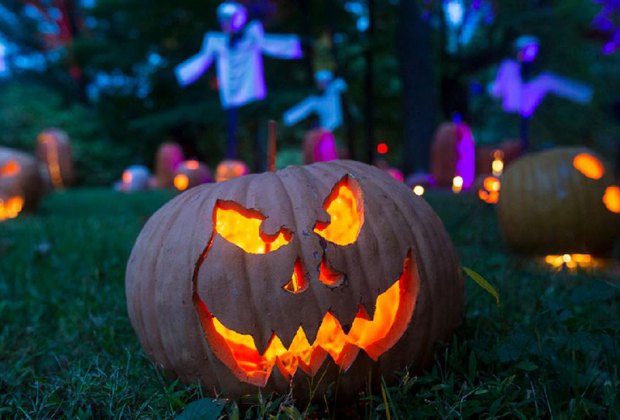 Tip: buy tickets for dusk, so you can watch the jack-o'-lanterns come to life as darkness falls.
What to Know Before You Go
The Blaze is tough to navigate with a stroller (and wide, double strollers may not fit through all the passageways). The grounds sometimes get muddy, so it's best to leave the Elvira heels at home.
There's often a traffic jam at the start of the tour (think tourists gawking in Times Square at Christmas). You don't need to wait for them; just walk on by. Everyone goes at their own pace.
The route strategically takes you through the gift shop.
Try to buy tickets for around dusk. That way you can watch the jack-o'-lanterns come to life as the darkness falls around them.
Consider buying tickets for after October 31. The Blaze runs past Thanksgiving (which also has been associated with pumpkins, so it's all good!).
Still not convinced that the Blaze is worth the trek? Just do a Google image search—it's even more spectacular in person.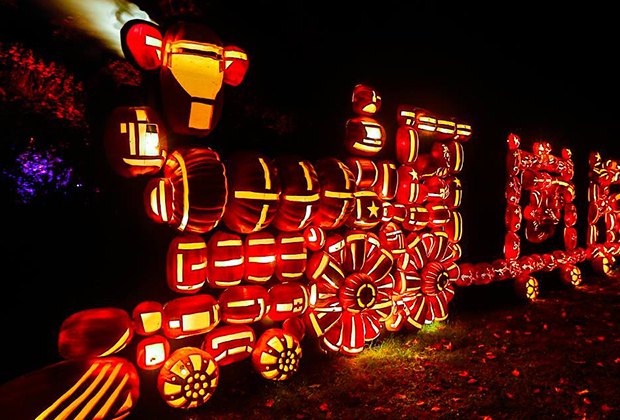 The pumpkin train is a Blaze favorite.
The Great Jack O' Lantern Blaze takes place at Van Cortlandt Manor in Croton-on-Hudson on select evenings from Friday, September 28, through Saturday, November 24, 2018. Times vary. Saturdays: $29 for adults, $22 for children ages 3-17. Other nights: $23 for adults, $17 for children ages 3-17. Advance tickets are a must!
The Blaze is accessible via public transportation. Take a one-hour train ride from Manhattan on Metro-North or Amtrak. Get off at the Croton-Harmon station, and then it's just a five-minute cab ride or a 10-minute walk.
Unless noted, photos courtesy of Historic Hudson Valley.
This was originally published in 2012 and is updated regularly.
Van Cortlandt Manor
525 South Riverside Drive
Croton-on-Hudson, NY 10520