29 Fall Day Trips from NYC for Families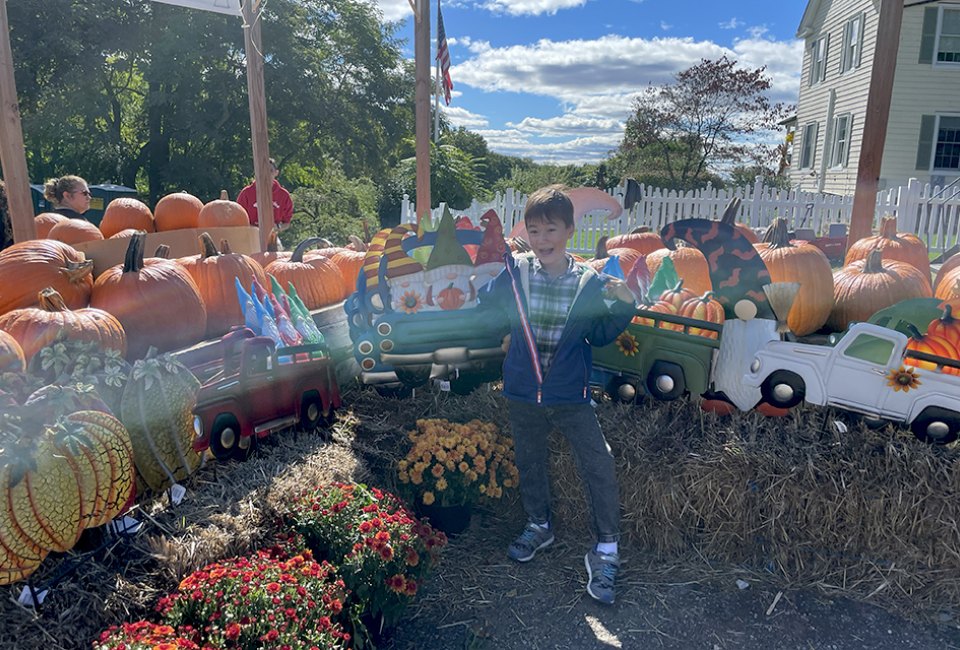 9/25/23
- By
Katia
We're dreaming of fall day trips from NYC because sometimes fresh scenery—even for a day—can do wonders to reboot and re-energize a weary New Yorker's soul. With that in mind, we've rounded up 29 family-friendly fall day trips from NYC.
Whether fall in your house means an afternoon harvesting nature's bounty at local farms, heading out for a hike, or something else, we've found a fall day trip from NYC to fit your style.
Some of these 30 family-friendly fall day trips are even accessible via public transportation. Read on for our top fall getaways for families that are sure to inspire your love of the season, and find more getaways in our Day Trip and Weekend Getaways Guide.
Subscribe to our newsletters to get stories like this delivered directly to your inbox.

Fall is the perfect time to go apple picking. Photo by Diana Kim
Best Fall Day Trips from NYC for Families
1. Apple Picking
Enjoy the crisp fall air and the sweet smell of apples by visiting one of these nearby apple orchards for a day trip full of harvest fun.
2. Doughnut Tasting
Eat your way through the treat of the season—apple cider doughnuts—at these Westchester farms.
3. Explore the North Fork
The North Fork of Long Island is great for leaf-peeping, cider doughnuts, and (most importantly!) a visit to a family-friendly vineyard.
RELATED: 10 Farms in Westchester and the Hudson Valley with Family-Friendly Fun

Try your hand at archery during the New York Renaissance Faire on weekends from late August through early October. Photo courtesy of the Faire
4. Renaissance Faire
Step back in time at Sterling Forest for the New York Renaissance Faire, which plays weekends through early October.
5. Ride a Mountain Coaster
Hit one of these local thrill rides where you can whirr down the mountainside.
6. All-Aboard for a Hudson Valley Getaway
Embark on a no-car-required getaway to one of these charming towns in Westchester and beyond.
RELATED: 20+ Fall Weekend Getaways near NYC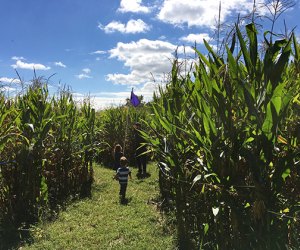 Get lost in The Amazing Maize Maze in Queens. Photo by Rose Gordon Sala
7. Corn Maze
You don't have to clear city limits to visit the Amazing Maize Maze at the Queens County Farm Museum, NYC's only corn maze.
8. Petting Zoos
Snuggle up to animals at these kid-friendly petting zoos, including White Post Farms on Long Island.
9. Long Island State Parks
Enjoy the magnificent state parks of Long Island for some nature-themed fun.
RELATED: Best Halloween Events in NYC for Kids and Families

Check out the family-friendly hiking trails in and around NYC. Photo by Diana Kim
10. Bask in Fall Foliage
Enjoy the foliage at one of these family-friendly hiking trails dotting Long Island.
11. Hit the Shore
Fall is a fine time to visit the Asbury Park beach and boardwalk with fewer crowds.
12. Visit State Historic Sites
The Hudson Valley is home to several historic sites, including Olana State Historic Site and the Saugerties Lighthouse, where you actually stay overnight.
RELATED: Visiting the Adventure Aquarium in NJ: 10 Best Things To Do and See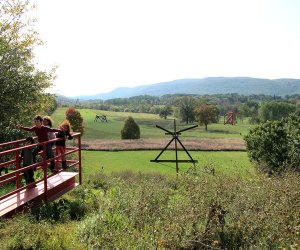 Autumn is the perfect season to visit Storm King Art Center. Photo by Eva Schwartz
13. Storm King Art Center
Visit Storm King Art Center in Orange County, New York. Enjoy the art, let the kids run around, picnic, and marvel at the changing leaves.
14. Picnic at Bear Mountain State Park
Take a picnic and explore the grounds of Bear Mountain State Park.
15. Hit the Rails
Pedal your way along abandoned rail trails on quad bikes for a fun outing and plenty of leaf peeping.
16. Whale Watching
Early fall is prime whale-watching season and we've found 10 whale-watching cruises near NYC.
RELATED: Family-Friendly Hiking Trails in NYC to Tackle This Fall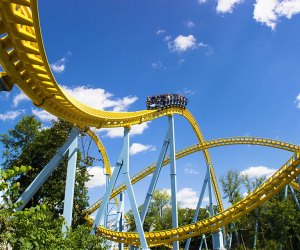 Hersheypark's Skyrush reaches speeds of up to 75 mph and includes five zero-G airtime hills. Photo courtesy of the park
17. Conquer Some Thrill Rides
Most theme parks are open well into the fall and these amusement parks near NYC serve up big-kid thrills.
18. Pick Some Sunflowers
New Jersey, Long Island, and the Hudson Valley come into full bloom with sunflower picking at these flower farms near NYC.
19. Visit Mystic
The seaside town of Mystic, Connecticut, overflows with family-friendly attractions including the Mystic Seaport Museum and Mystic Aquarium.
RELATED: Catskills with Kids: 35+ Family-Friendly Finds in Sullivan County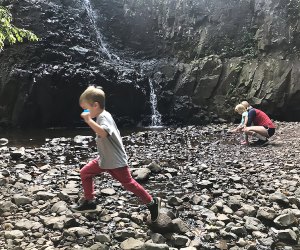 Northern New Jersey is home to a collection of fun waterfall hikes easy enough for families. Photo by Rose Gordon Sala
20. Take a Waterfall Hike
If leaves aren't enough eye candy, explore one of these waterfall hikes in Northern New Jersey.
21. Liberty Science Center
Hop across the river to visit one of our favorite Jersey-kid spots: the Liberty Science Center.
22. Hit an Out-of-Town Museum
Weather iffy? Head to Long Island's "museum row" to hit the Cradle of Aviation, Firefighter's Museum, and more great kid spots in Garden City.
23. Ride the Pumpkin Train
Kids love trains and Halloween, so combine the two with one of these Halloween and fall train rides in New Jersey.
RELATED: Family-Friendly Hiking Trails in NYC to Tackle this Fall

Van Cortlandt Manor in Croton-on-Hudson is the backdrop for the stunning Great Jack O' Lantern Blaze. Photo by Tom Nycz for Historic Hudson Valley
24. The Great Jack O'Lantern Blaze
Marvel at what they do with pumpkins at the Great Jack O' Lantern Blaze at Van Cortlandt Manor in Croton-on-Hudson or Old Bethpage Village Restoration on Long Island.
25. Daycation at South Mountain Reservation
Experience the best of the 'burbs by spending a day exploring New Jersey's South Mountain Reservation with the Turtle Back Zoo, hiking trails, a destination playground, and more.
26. Drive the Hudson Valley
Take a scenic drive or hike through these leaf-peeping hot spots in Westchester and the Hudson Valley.
RELATED: Weekend Getaways Near NYC: Lake Resorts in New York State

Take the kids to Legoland in Orange County for a day of adventure. Photo by Diana Kim
27. Visit Legoland
The sprawling resort in Orange County has tons of fall fun on tap, including its Brick-or-Treat Monster Party.
28. Indoor Water Parks
Make summer last a bit longer with a day pass to the indoor water parks at Camelback and Kalahari resorts and explore the rest of the family-friendly fun in the Poconos with kids.
29. West Point
The US Military Academy at West Point is an easy, history-filled day trip for families. Take a tour, visit the always-free West Point Museum, or catch a pageantry-filled football game. The views of the Hudson River below are truly post-card-worthy.
Originally published in 2011.
Click Here to Sign Up!
i