5 Metro-North Day Trips for Families in Westchester and Beyond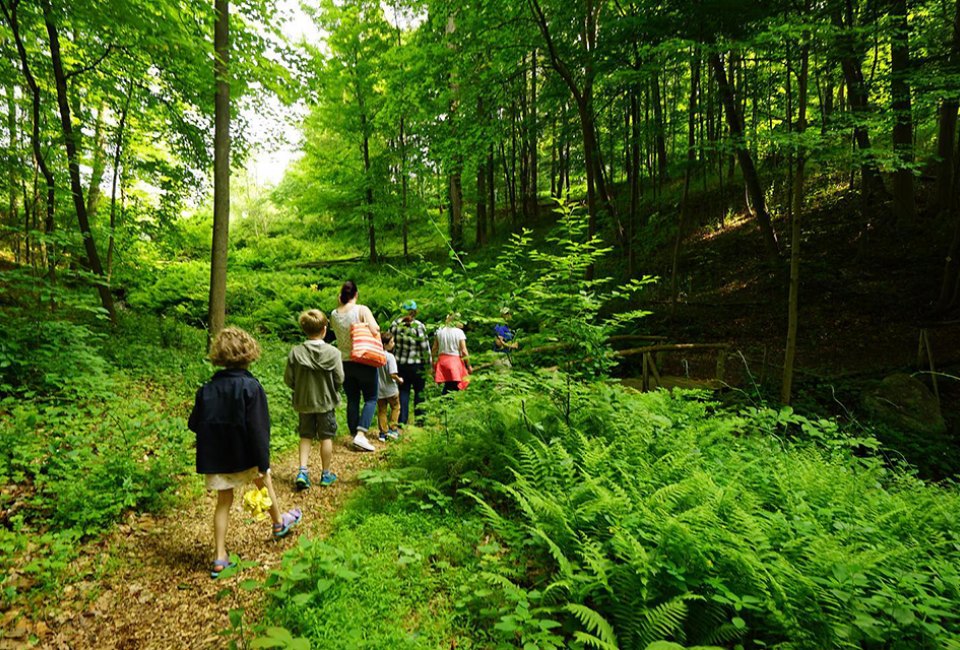 11/11/20
- By
Sonia Gonzalez
A ride on the Metro-North can whisk your family away to close-enough-to-see-in-a-day destinations minus the hassle of a car. Even better, the Metro-North offers discount packages and deals for many nearby attractions in Westchester, the Hudson Valley, and Connecticut. So, grab a ticket out of town to explore these five train-friendly destinations along popular Metro-North lines.
All are less than under an hour and a half from Midtown Manhattan, and Westchester families are likely to find these little mini family day trips are made extra special with the thrill of a ride on a train.
Editor's Note: While we are trying to promote safer activities that occur outdoors or with social distancing guidelines in place, please keep your family and others safe by always wearing a mask and maintaining an appropriate distance. If you arrive at a venue that appears too crowded, try using the see all locations in this article or "nearby" search feature on our event calendar to find something else to do. Keep in mind, many of the attractions listed below now require reservations or timed-entry tickets to visit, so plan your adventure in advance.

Spend a day learning about farming and agriculture at the Stone Barns Center for Food and Agriculture. Photo by Ben Hider for Stone Barns
Tarrytown, Westchester County
Metro-North Train Line: Hudson
45 minutes from Grand Central
This picturesque town is one of several along the Hudson River (collectively known as the Rivertowns). A quick jaunt on the Metro-North is rewarded with sweeping river views and a laid-back vibe that feels light years away from the bustling city. A five-minute walk from the train lands you on the town's Main Street—home to several family-friendly restaurants, the dog-friendly Coffee Labs Roasters, and the whimsical A Nu Toy Store—perfect for whiling away an afternoon.
Other family-friendly day trip destinations near the Tarrytown Metro-North station include the Gothic Revival mansion (currently the interior is closed) and sprawling grounds of Lyndhurst and Stone Barns Center for Food & Agriculture. Each is a 10-15 minute taxi ride from the train station. We're also fans of the Rockefeller Estate, Kykuit, though it's closed for the remainder of the year.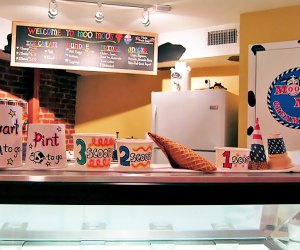 Don't miss indulging in a scoop (or three!) from Moo Moo's Creamery. Photo courtesy of the shop
Cold Spring, Putnam County
Metro-North Train Line: Hudson
1 hour, 15 minutes from Grand Central
A historic hamlet just north of Westchester County, Cold Spring offers small-town fun close enough for day-trippers. The town's Main Street is just a three-minute walk from the train station, home of the beloved Hudson Valley Shakespeare Festival—you'll definitely want to catch a performance if you visit in-season. Along Main Street, you can also peruse antique shops, shop for unique toys and games at The Gift Hut, and dine at one of the town's many kid-friendly restaurants. Head southwest on Main Street and take a right on West Street for the self-proclaimed "world's best homemade ice cream" at Moo Moo's Creamery. Enjoy that cold and creamy treat on the shop's front porch and take in the breathtaking, unobstructed views of the Hudson River.
Hail a cab and make your way to Boscobel House & Gardens, just a mile and a half away. Boscobel hosts many family-friendly events. Special rates for Metro-North riders are available.

Stroll the grounds at Dia: Beacon. Photo by Meagan Newhart
Metro-North Train Line: Hudson
1 hour, 30 minutes from Grand Central
Just an hour and a half from Midtown Manhattan, Beacon offers tranquility and quintessential small-town appeal. Take in Beacon's art scene at Dia: Beacon and the outdoor sculpture park Storm King Art Center (10-12 minute taxi ride from the train station; shuttle service is available on weekends during summer months). Both currently require reservations.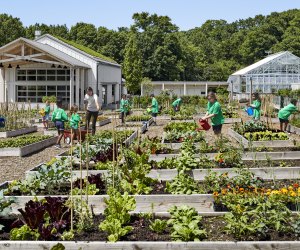 The NYBG's Edible Academy operates year-round. Photo by Robert Benson Photography for NYBG
The Bronx, NYC
Metro-North Train Line: Harlem
20 minutes from Grand Central
You don't have to leave the city limits to enjoy a day trip filled with nature, stunning landscapes, and children's activities. Hop the Harlem line to the New York Botanical Garden station, which leaves you right across the street from the New York Botanical Garden's Mosholu entrance. Save money with the Metro-North's New York City Getaway program, and on weekends, peak fare is half off with a City Ticket.
Majestic animals and kid-friendly fun abound at the world's largest urban zoo, The Bronx Zoo: Hit the Children's Zoo, the Bug Carousel, Butterfly Garden, Congo Gorilla Forest, and more. Or tackle Treetop Adventure, the aerial ropes course and zip line. Score deals on general admission or total experience packages by riding the Metro-North.

The John Jay Homestead features sprawling grounds and manicured gardens to explore. Photo courtesy the homestead
Katonah, Westchester County
Metro-North Train Line: Harlem
1 hour from Grand Central
Looking to get beyond city limits? Head for Katonah along the Harlem line. The Katonah Museum of Art is minutes from the Metro-North station and offers discounts year-round for Metro-North riders. Take in world-class art exhibitions, explore the outdoor sculpture garden, and definitely drop into The Learning Center, an exhibition and activity space designed just for kids.
The John Jay Homestead State Historic Site—home of statesman John Jay, the first Chief Justice of the United States—is also in Katonah. Currently, only the outdoor exhibits are open, but there's plenty more to explore on the expansive 62-acre estate, with seven beautifully appointed gardens. You can hike the homestead's perimeter, take a self-guided tour, or even fish in the on-site pond.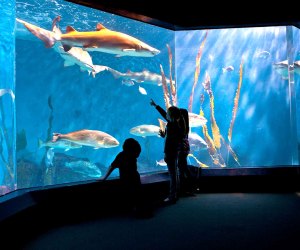 Visit the sharks at the Maritime Aquarium at Norwalk. Photo courtesy of the aquarium
Norwalk, Connecticut
1 hour from Grand Central
Ready to touch a shark? Marvel at all forms of aquatic life, from frogs and sea turtles to seahorses, seals, and otters at the Maritime Aquarium at Norwalk. The aquarium is within walking distance of the Metro-North station, so you'll be face to face with marine life in no time flat. Discount packages are available for Metro-North riders.
Beyond the aquarium, South Norwalk (SoNo to the locals) offers lots of visit-worthy attractions, including nearby Oyster Shell Park and the historic Lockwood-Mathews Mansion Museum, which currently requires a tour reservation to visit. The Stepping Stones Museum for Children, another favorite area attraction, is currently closed.