See Bronx Zoo Like a Local: Top Tips for a Great Visit with Kids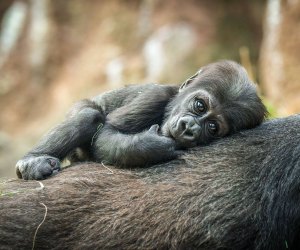 10/17/19
- By
Sonia Gonzalez
First opened in 1899, the Bronx Zoo has been a top destination for local NYC families, tourists, and animal lovers of all kinds for generations. I've been a regular at this zoo since I was a child, and now that I'm a parent of three kids in the Bronx, we consider it an extension of our backyard. With its very own show on the Animal Planet channel (the irresistible The Zoo), the Bronx Zoo is arguably the world's most famous zoo.

Located in the heart of the Bronx at the southern end of Bronx Park and near the borough's own Little Italy, the Bronx Zoo is easily accessible via public transit or by car. One visit is sure to leave a lasting impression, though you'll need more than one trip to experience all there is to see and do. And since it is the nation's largest urban zoo, it helps to have some pointers before you go—especially if you are visiting with kids. So read on for 10 tips on visiting the Bronx Zoo like a local.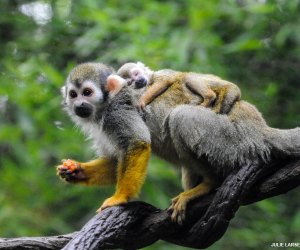 The Children's Zoo will awe kids and adults alike. Photo by Julie Larsen Maher for WCS
1. Know your entry points
The Bronx Zoo is too big to experience in one day, so for maximum efficiency map out your route in advance, including where to enter. The Southern Boulevard Gate, on the west end of the zoo, is your best entry point if you plan to visit the Children's Zoo, Madagascar!, and the Zoo Center to the left or the Bug Carousel and World of Reptiles to the right. Enter through the Asia Gate at the south end of the zoo for camel rides, the Wild Asia Monorail (the only way to see elephants and red pandas), Jungle World, and Nature Trek. On the north side, you'll find the Fordham Road Gate, featuring Fountain Circle and quick access to the Sea Lion Pool, Aquatic Bird House and Sea Bird Aviary, and Birds of Prey. The Bronx River Gate, on the east end of the zoo, is close to the World of Birds and Tiger Mountain. This is also the best entrance to access Treetop Adventure, an aerial ropes course and zipline that opened in 2017.
Parking is available at all entry gates; however, Fountain Circle at the Fordham Road Gate—considered premium parking—is extremely limited and more expensive than the other lots. The Zoo Shuttle is another way to zip between exhibits, but keep in mind, it runs daily only from June to September (except Wednesdays) and on weekends only in May and October.
RELATED: Free Times to Visit NYC Zoos, Gardens, and Museums

Winter is a good time to hang out in the indoor JungleWorld. Photo by Guy Dickinson via Flickr.

2. Make time to see some "extras" if you can
You might accuse me of being the Bronx Zoo's No. 1 fan, but I love all the exhibits, and I do think the extras are worth the money. The Congo Gorilla Forest and Tiger Mountain are must-sees, so work them in if it's your first visit. Beyond the majestic animals, the exhibits are painstakingly designed to inform visitors about the animals' natural habitats and the threats they face, as well as offer information on how we can all help keep them safe in the wild. Some parts may be harsh for the littlest visitors (i.e. the image of a severed gorilla's head in Congo Gorilla Forest and traps and weapons used by poachers in Tiger Mountain), but can be passed easily without younger kids seeing and are important conversation starters for older kids. The Children's Zoo is also fantastic, from the farmyard and other animals to the little whimsical touches and events that make it fun for little ones. Of course, Nature Trek is perfect for young visitors and Treetop Adventure is a must for older kids, teens, and adults.

My kids spent more time playing in the Nature Trek than they did looking at animals!
Nature Trek, opened in 2017, is a wonderful addition to the zoo—winding paths, swaying bridges and large tunnels are interwoven in the treetops, offering a bird's eye view for young visitors. There's nothing too scary or too fast, and there's even a lower level for leery toddlers to navigate. Beyond that, little ones will delight in the nature play zone, an interactive nature-themed play area where kids can build nests (or forts!), make animal tracks in the sand, and more. Nature Trek Play Partners are always on hand to facilitate the activities and encourage creative and exploratory play.

Take fun to new heights at Treetop Adventure. Photo courtesy of the zoo
Treetop Adventure takes fun to new and daring heights with a climbing feature and a zip line. An aerial ropes course features seven elevated obstacles with varying levels of difficulty. Swing through the treetops using ropes, crawl through tunnels, even skateboard from tree to tree! My family of five tackled one of the ropes courses together. It was challenging, a little scary, definitely safe, and loads of fun for everyone. Finding something my high schooler enjoys as much as my middle and elementary school kids is a definite win, and my daring ten-year-old was able to keep up and sometimes even lead the pack. The 400-foot zip line lets visitors zip straight across the Bronx River and back. This is a standalone destination, so if you don't plan on visiting the zoo, head straight to the Bronx River entrance. Using any other entrance requires the purchase of zoo admission and a 15-minute walk to the obstacle course and zip line. Annual memberships are available for Treetop Adventure and with the many different courses with varying degrees of difficulty, a membership is definitely worth considering.
3. Visit off-season
The Bronx Zoo is open year-round, and fall and winter are great times to visit. It's less crowded, and some animals can be more active in cooler temperatures. Plus, if it's too cold to enjoy the outdoors, you can warm up inside at exhibits such as JungleWorld, World of Reptiles, and Mouse House, where, aside from mice, you can gawk at the adorable fennec fox, chinchilla, and more. Treetop Adventure is also open year-round, weather permitting.

Visit the land before time on the Dinosaur Safari. Photo courtesy of the zoo

4. Know what's open
Many exhibits are open year-round; however, some are only open during warmer seasons. Butterfly Garden, the Children's Zoo, Wild Asia Monorail, and Zoo Shuttle are seasonal operations. Some animals, like those in the African Plains exhibit, will not be outside during the coldest months. Check info on the specific exhibits you want to see before heading out. The zoo also mounts special temporary exhibits like this year's Dinosaur Safari, a separately-ticketed trek through a woodsy environment where animatronic dinosaurs growl, hunt, and even care for their babies in a series of lifelike scenes. (Dinosaur Safari closes on November 3, 2019.)

RELATED: NYC Museum Guide: Best Exhibits for Kids

Enjoy October at the zoo when the hay maze is one of several Halloween attractions.
5. Don't miss special holiday events
October is one of my favorite times to visit the Bronx Zoo. Test-drive your Halloween costumes at the annual Boo at the Zoo, which transforms an already fun-filled zoo into a Halloween lover's paradise. Past years have included beautiful Jack-o-Lantern displays, an interactive costume parade, pumpkin carving demonstrations, a hay maze, magic shows, candy trails, an "extinct animal graveyard," and so much more. There are also special events like Spooktacular Night Walks.
This year the Bronx Zoo is also bringing back its spectacular holiday lights after a 10-year hiatus, with beautiful animal-shaped lanterns, LED light displays, and animatronic illuminated displays throughout the zoo. The zoo stays open late on holiday lights nights, which also include caroling, ice sculptures, train rides, and performances. The lights are on view from late November through early January and require a separate ticket.

6. Pack a picnic
While food, snacks, and beverages (mostly your standard nuggets, fries, and burgers) are available for purchase, outside food is permitted at the Bronx Zoo. Sandwiches and fresh cold fruit go a long way on hot summer days and my kids like parking on a bench near their favorite animals while they refuel and hydrate. If you prefer a table, the Dancing Crane Cafe is open year-round and has indoor seating as well as an outdoor pavilion with tables overlooking a marsh. Other cafe areas and food stands are open seasonally, some with tables.

7. Know your trivia
A trip to this iconic zoo is more enjoyable if you have a few fun facts up your sleeve.
With the opening of its African Plains exhibit in 1941, the Bronx Zoo was the first zoo in the country to create an environment that closely resembles the native animals' natural habitat. Rather than cages, animals—including predators and prey—roam on relatively open terrain. Lions, wild dogs, zebras, gazelles, and other animals share the same habitat, safely separated by cleverly designed and hidden moats. This design remains today, having paved the way for similar, more humane practices in zoos across the nation.
Architecture buffs will appreciate many areas of the zoo that are officially designated as landmarks, including the Rainey Gate entrance on Fordham Road and the entire area beyond, all the way to the far end of Astor Court. This includes Rockefeller Fountain (more on that below). A unique historic landmark at the zoo, the Rocking Stone, even dates back to the Ice Age! Weighing 30 tons and reaching about 7 feet high, it's a glimpse into our ancient past.

This elaborate sculptural fountain has a long and controversial history. It once stood in Como, Italy. Photo by Wally Gobetz via Flickr

8. Visit Rockefeller Fountain
The stunning three-tiered marble fountain located at Fountain Circle in Astor Court on the north end of the zoo dates back to the late 1800s and was constructed in Como, Italy. Featuring a swan on the top tier and sea creatures ranging from seahorses and dolphins to mermaids and mermen, the fountain was purchased by William Rockefeller and presented as a gift to New York City. It was installed at the Bronx Zoo in 1903 and moved to its present location in 1910. Designated as a New York City landmark in 1968, Rockefeller Fountain is worth checking out.

9. Purchase the best package
There is plenty to see with a general-admission ticket, including bears, giraffes, and sea lion feedings, as well as many indoor exhibits such as Madagascar!, the Zoo Center, Birds of Prey, and more. However, there are additional fees if you plan to ride the Zoo Shuttle and Wild Asia Monorail or visit Congo Gorilla Forest, Tiger Mountain, the Children's Zoo, Nature Trek, and other select experiences. These entry fees can add up to more than a Total Experience ticket.

10. Take advantage of discounts
Generous ticket discounts are available for active-duty or reserve members of the military and undergraduate students. You can often score a one-time discount by signing up for the zoo's email newsletter online, and, of course, if you plan to visit often, becoming a member can save you money. Also, signing up for the IDNYC card (NYC residents only) entitles you to a FREE membership to the zoo if you are not already a member. Or visit for free. General admission is waived for the public every Wednesday, though this does not include the additional fees for select exhibits and experiences.

The Bronx Zoo is located at 2300 Southern Boulevard. It is open seven days a week year-round and is easily accessible via public transit. Follow the signs (and strollers) as you exit the subway. Check the zoo's website for details on hours and admission. Treetop Adventure can be accessed without paying zoo admission if you use the Bronx River entrance; check the website for ticket information.
This article was first published in September 2016 but is updated annually.
Top image: Children's Zoo. Unless otherwise noted, all photos by the author.